This content has been archived. It may no longer be relevant
You may have noticed this year, we are launching new additions to our content every month. And since it's the first Friday of March, let's premier another one, our new monthly feature, Ask The Well Dressed Life. 🙂
Last month, we asked for your questions and you had dozens!
So, if you have a question you'd like me to answer, simply add it to the comments below. I'll either answer it here or use it to inspire an individual post. For example, stay tuned for a round-up of dresses perfect for the spring wedding season, by popular request.
Today we're talking about whether you should have your colors done, maternity clothes, scarves, and the constant battle to find seasonal tops with longer sleeves.
Here we go …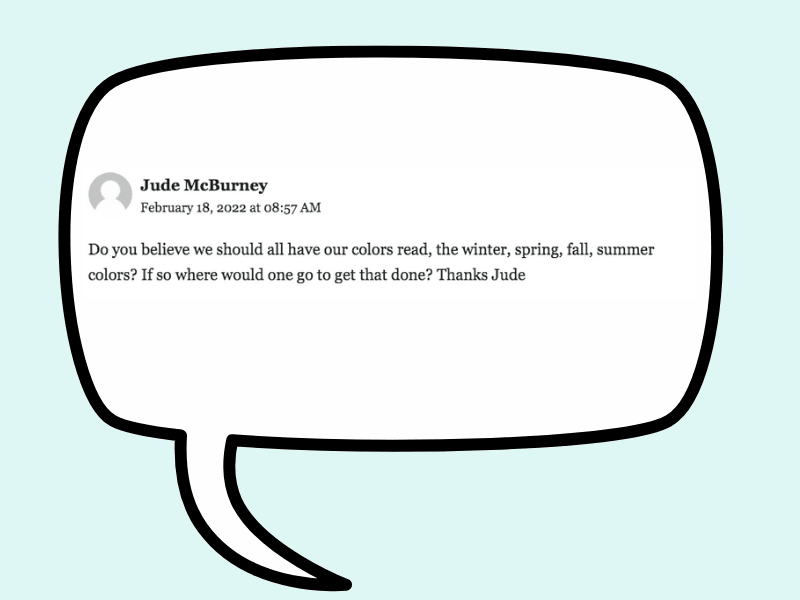 Hi Jude,
I think the more you understand the fundamentals of getting dressed, the more intuitive and easy it becomes. So learning about fit and alterations, how to dress your body type, and in this case, personal color, can be incredibly beneficial.
But I do I think it's a must?
I certainly think it's helpful to know what looks best on us; I just find that sometimes, the guidelines you receive when you get your colors done can be limiting.
However, many readers have had their colors done and found it helpful.
So if you choose to do it, I would work with someone local and in person. A quick google search in your part of the country should give you many options. Read reviews and only work with some you connect with.
I wouldn't recommend trying to do it on your own or buying a book because it can be pretty confusing. Color Consultants go through a depth of training and are accredited and should be able to easily explain the process and results.
And remember not to be so prescribed with it. For example, a color consultant would tell me to stop wearing so much black, but that's never going to happen; I love it 😉
I would, however, HIGHLY recommend finding a makeup artist in your area and having them help you learn about the right products, colors, and applications for your makeup.
Especially as we age, understanding how to highlight our best features with skincare and product, I think, from a color perspective, THAT will have a more significant impact, at least to start.
Thanks for your question!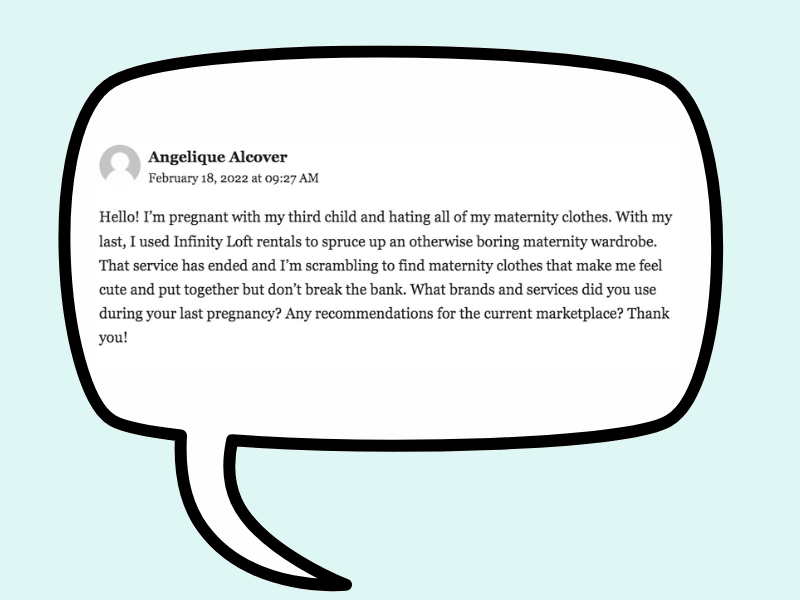 Congratulations, Angelique!
I hope you are well and feeling ok!
Every pregnancy is different, but I found, consistently with all of mine, that only buying clothes when I needed them was the best strategy, even though it goes against everything I preach.
It is such a pain in the neck, but it helps prevent you from overbuying.
With my third pregnancy, I was working a lot, traveling, and had a lot of events in my second and third trimesters.
Here's what I did:
I bought bottoms at Nordstrom and a lot of basics from Old Navy and H&M, and always searched A Pea in the Pod for sales on tops and dresses.
For special and interesting pieces I had a lot of success with Rent-the-Runway. I ordered a TON from their maternity collection, from dresses for work to cocktails. It was super helpful. They also include non maternity but "bump-friendly" pieces, so the variety was great.
My best tip for anyone trying to wardrobe a bump is to keep your basics simple and use tops and layers to create different looks.
And make sure you treat yourself to blowouts and manicures and wear your favorite jewelry every day. 🙂 It's those little details that help you feel like yourself. xx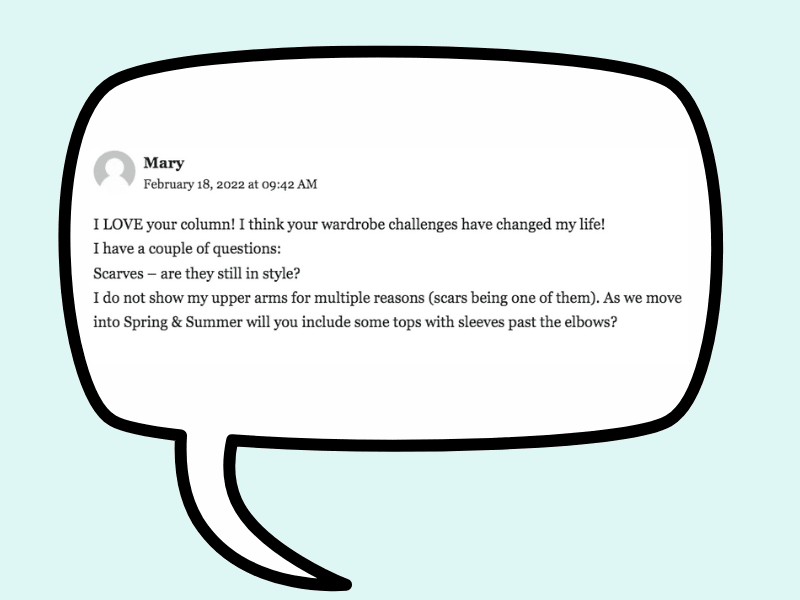 Thank you so much, Mary!
Hearing that really does brighten my day. And, as a side note, our next challenge starts on April 8th to get us ready for the spring and summer.
So, for scarves, yes, absolutely, they are always in style. But here's the thing, the pattern and style do matter IF you care about staying current and modern.
For example, we are not seeing many chunky knit infinity scarves anymore or heavy plaid blanket scarves.
Instead, the updated version of them are oversized wraps and poncho styles in the cold weather.
Since scarf patterns and colors follow general style trends, there are LOTS of neutrals right now that focus more on textures rather than print.
And, speaking of print, because the 90s are trending too, you'll see silk squares in bold prints, think Hermes-inspired patterns and smaller scale prints on bandana-sized scarves.
If you have some vintage designer scarves, pull them out of storage and start incorporating them into outfits build around better neutral basics.
As for elbow length tops, as you said, they are really hard to find, since most end right above your elbow.
You'll want to look for a "bracelet length" sleeve. I found a few, like this one from NYDJ, and a pattern from Vince Camuto, and finally, the brand CeCe will have some options for you as the season progresses, like this new style they have at Nordstrom in a few colors.
Talbots will also have some offerings, like this summery white and black blouse.
You may want to consider altering some long sleeve tops to the length you prefer. You'll end up giving yourself more options, and the cost to take a sleeve up is minimal.
I hope that helps and I'll keep my eye out for others 🙂
Keep your questions coming! Drop them in the comments below:
Follow Me on Instagram for Real Life Fashion and Style Advice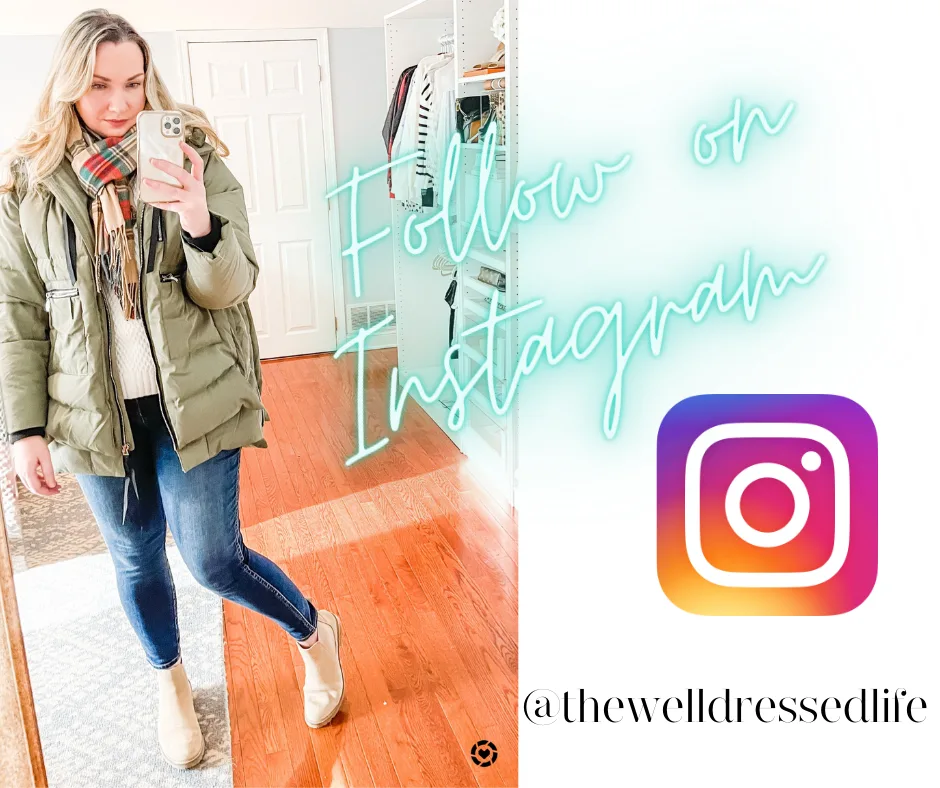 Follow The Well Dressed Life on Instagram for Realistic Style Advice, Fun Behind the Scenes, and Tons of Exclusive Tips and Content.
Our Style Content is Inspired by Our Readers
Our readership inspires all of our posts and is not sponsored or paid for by brands or retailers.
Recommendations are based on my experience as a personal stylist and wardrobe consultant for over a decade. I worked with busy, down-to-earth women who wanted to look chic and feel confident but were often confused by so much of retail.
Some links are affiliate links, which means if you purchase via our site, we receive a small commission.

If you enjoy our content and would like to help us grow, please follow on Instagram and join our Private Facebook Group to access more advice and exclusive in-depth conversations with other like-minded women.
Learn about our mission to help women look and feel their very best, every day, here.
Sign Up for Daily Content and Receive Our Free Classic Wardrobe Checklist