As expected, we hit the ground running in April. We went from being cooped up in the house to barely catching our breath on the weekends, and it seems like May is going to be the same. We pretty much live and die by our color-coded dry erase calendar.
In the midst of the busyness, I'm trying to create space in our schedule and my mind to be present. I have everything I ever wanted, and I never want to lose sight of that blessing in the midst of building our careers and raising our family.
Last weekend, I was parking my car in our driveway and saw a pile of pink and purple scooters by our back patio, a sign that I'm walking into a house filled with 11 and eight-year-old girls. At that moment I felt both overwhelming gratitude and kind of sad. I was thankful for the happy life we have and how my kiddos have what seems like the kind of innocent childhood I had growing up. And also sad because I can feel in the pit of my stomach how fleeting it all is, it's like I already miss it while I'm living it.
Before I walked in, I pulled out my phone and took a quick picture. It wasn't Instagram worthy; I didn't worry about lighting or filters, it was just for me. It's a simple way to remember what matters, like writing a list of what you're grateful for at the end of each day. Only with this, it's in the moment, and I can flip through pictures when I'm overwhelmed, stuck at the airport, or feeling like I'm losing my way.
It's a practice I'm going to continue as we move into the summer months.
But before we do that, let's round up your favorite featured items from April. It's always fun for me to see what you liked, as it helps curate practical but stylish posts and continue to provide daily value. We take these into consideration when creating new content, always trying to build off of what we know many of you have. As always, please be sure to let us know your questions or suggestions for upcoming posts. Our content is fueled by your feedback 🙂
Below are your April Favs: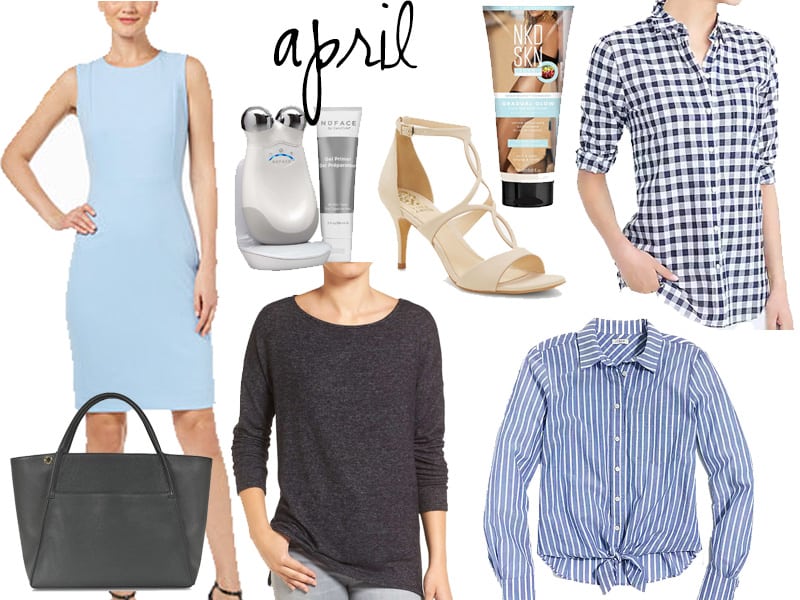 Sheath, $90 | Toning Device, $325 | Strappy Sandal, $99 | Sunless Tanner, $15 | Gingham Shirt, $28 | Gray Top, $33 | Striped Shirt, $35 | Tote: $465
Sheath, $90: This dress is the most popular dress in our blog history and for good reason. It's well made, affordable and has classic styling. At under $100 it's a fantastic value for how much wear you'll get out of it. Wear it to work or to any dress up brunch or lunch you have on the weekends.
Toning Device, $325: I was surprised but delighted to see this on our end of month report. I've had it for over a year and notice a difference in my skin, specifically, my jawline feels and looks more defined.
Strappy Sandal, $99: We actually featured a Vince Camuto version of this shoe this month, but it sold out. Turns out Sole Society has an identical pair. It's the quintessential spring/summer shoe that will work with all your dresses, and will extend the line of your leg.
Sunless Tanner, $15: I was so happy Lauren found this effective and organic self tanner early in the season. Note: this really works. Be sure to protect your hands when you apply. It turns a believable, warm shade of sun kissed goodness quickly. So much so you might want to apply it every other day, as the results are more noticeable than I was expecting.
Gingham Shirt, $28 and Striped Shirt, $35: Two simple, yet classic shirts that will update your jeans, trousers or even a pair of shorts at fantastic prices.
Gray Top, $33: This cozy top has been on our favorites list since January for good reason. It's so soft and easy to wear. You can pair it with distressed jeans, pumps and a fun necklace or go super casual with leggings and sneakers. Now that we're moving into the warm weather I can see this being what I throw on with shorts and flip flops on a chilly night at the shore.
Tote: $465: This tote, while expensive, is a total winner. We featured it in our Office-Ready Handbag Roundup last week. I love the shape, and optional functionality. If you picked it up in gray, you'll be able to wear it all year long.