You read that right!
In December, our family of four will turn into five when we welcome our new baby GIRL! We've shared the news with family and very close friends, and I'm pretty sure my kids tell anyone who will listen, but we wanted to wait until all my testing was clear and I was into my second trimester before making a big announcement. We are beyond thrilled, a bit overwhelmed but mostly counting down the days until we meet the newest addition to our crazy little circus.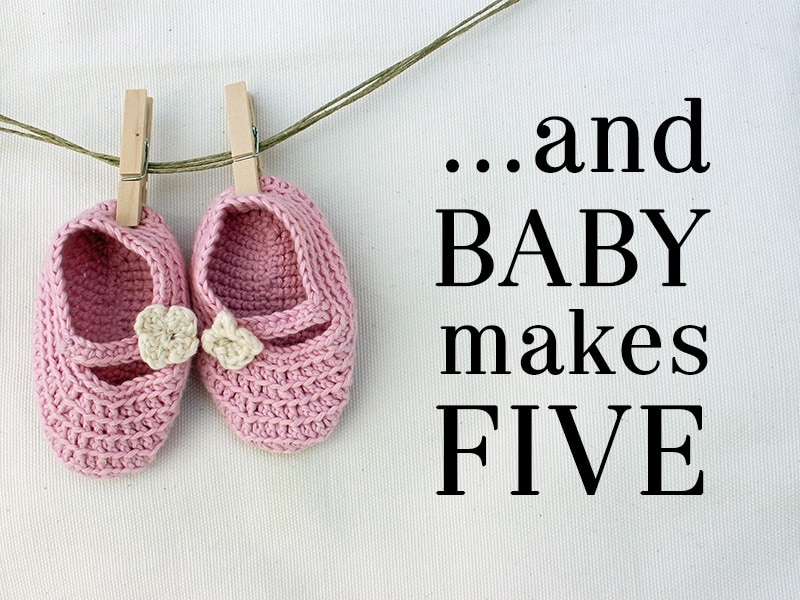 This community means so much to me, and I'm excited to share a little bit of our joy with everyone. The blog won't change. I'll NEVER be a mommy blogger. Can you imagine? Now, instead of being a working mom to two girls, I'll be a mom to three, with the unique position of eventually having one kid in high school, one in grade school, and one in preschool.
As a family, we're genuinely excited about this next chapter. Our lives have changed so much in the last few years, as our girls have grown and we moved into our forever home. I feel like we're finally settled and happily live a very kid-focused life with our nights and weekends dedicated to school, sports and community activities. I wouldn't change it for all the free time in the world.
Since I was a kid myself, I always wanted a big family. I grew up close to my brothers and cousins, so to see my girls get the same experience, one where they have built-in friends for life overwhelms me in the best way. Life isn't perfect, and sometimes things are messy and hard, but I've learned over the years that no challenge or hard times can take away your happiness. I couldn't ask for more and can't believe our good fortune.
Below are a few common questions I've been asked, to give you a little bit of a glimpse into our last four months.
Was this a surprise?
Such a personal question, but it's the first thing people ask so I might as well answer it.
The answer is yes and no. We always assumed we would have at least one more baby after Ava was born. But life started to move at turbo speed, and both of our careers began to take off. About two years ago we talked seriously about trying to have one more. I even went to my doctor to find out what my realistic timeframe was to have a healthy pregnancy for the baby and me still. Then my endometriosis flared up and turned into chronic pain. I didn't think my body could endure another C-section and the subsequent recovery.
I closed the door on the idea and acted like I was making the prudent, responsible decision. But I couldn't help but feel a pang of sadness. I only told my husband that I shared in his desire to have a bigger family but never wanted to complain, considering we have two of the most fantastic kids, how could I possibly ask for more?
The good news is, while I need another C-section, the doctors can take care of the other issues I was having and I should recover nicely.
So this baby feels like she both fell from the sky and was written on my heart all along.
How are you feeling?
Better now, however, my first trimester was the most brutal of all of my pregnancies. I had a little morning sickness, but more than that I had 24-hour nausea. I felt like I was perpetually carsick. I also suffered from unbelievable lightheadedness and fatigue I can barely put into words. It was frustrating since I'm an active person and my life felt like it stalled out.
Thankfully, now that I'm in my second trimester, the nausea has passed, and the fatigue has eased.
My brain has stopped working too. The other day, I poured myself a cup of coffee in the morning and put the pot back in the fridge. Then I spent an hour looking for it. I did stupid stuff like this all the time before I was pregnant but it's getting a little worse 🙂
Any cravings?
No real cravings. I don't typically have much of a sweet tooth, but I have enjoyed the occasional scoop of plain chocolate ice cream. When we were in Vegas, all I wanted was sushi and oysters, but we all know that's a no go. Mostly, I just want to eat small light meals. The challenge is that I have varying aversions to most of the food I usually like.
I tried to eat shrimp the other day and almost died, same when I ordered crab cakes at the shore – I couldn't touch them when they showed up at the table. If someone makes me a piece of chicken, I can eat it, but I can't go anywhere near raw chicken.
I go from not hungry at all to Chris Farley "leave me alone I'm starving" in 30 seconds flat. So I'm drinking a lot of smoothies with protein powder and green veggies, whole wheat toast with avocado or almond butter and granola bars. Then I try to pick the most appealing protein of the day to fix dinner around.
Are you still working out?
Very much so. I do strength training twice a week and go to spin class 2 – 3 times a week. I also just started prenatal yoga. There were days in my first few months when it was a struggle to get through, mainly when the fatigue was at it's worst but I work out at a great place, and the instructors take good care of me, helped me with modifications and encouraged me to go at my own pace.
Some days, all I did was make it to class, came home, showered and worked in bed in between naps. Now that I'm out of the worst part, I feel healthy, strong and extra accomplished when I leave class. I don't need a nap every day, and sleep well at night. And while the baby is healthy and growing exactly as she should be, I've lost a little weight and am toning up quickly.
I had my first baby at 27, and now I'm 38, so my body and metabolism are entirely different. I think it's important to use this time to take extra good care of myself, take advantage of not drinking for the next few months, eat clean, and maintain my fitness. It's done wonders for my mental clarity. I had postpartum depression with Maddie, and I know fitness and getting your body moving is essential to feeling good after the baby is born.
Are the girls excited?
Perhaps the best part of this experience so far has been watching the girls excitement. When I was pregnant with Ava, I was chasing after a two year old Maddie. I was exhausted, and generally run down. But now that the girls are relatively independent, I have the luxury of taking it easy when I need to, and they are taking such good care of me. It feels like the three of us are even closer than before, and creating a new bond durning such a special time that they will actually remember as they grow up.
Has this changed your renovation plans?
Only in that it's made me run an even tighter schedule. We are currently converting our detached garage into our office space. Then are adding main house addition, new kitchen, a few bathrooms and the girl's bedrooms. I did tweak the plans to include a big mudroom space and made our kitchen island big enough to accommodate five people!
Our contractor told us he was confident with everything being done by early October. Emotionally, I prepared for mid-November. Then I'll need everyone out of my house. That gives me a month before the baby arrives and a chance to settle in. I won't share much on the site, but I am giving some updates over on Instagram if you're as obsessed with home design as I am.
I know the next six months are going to fly by, so thanks for indulging me for a minute. We'll have a short week this week to celebrate to 4th of July.
Enjoy the holiday!