Get ready, because this post is JAM-PACKED with super wearable, size-inclusive pieces that stand alone or can be paired together. I had a hard time coming up with a post title because there are so many good pieces here.
We're continuing to focus on filling in the voids of our wardrobes, starting with this sweet and simple $22 top from J. Crew Factory.
Better Than A Tee Shirt – Tee Shirt
When I worked with personal clients, I use to look for what I called "better than a tee shirt – tee shirts."
I define it as something:
– finished enough so you can take your jacket or blazer off comfortably.
– versatile so you can pair it with everything from jeans, your favorite trousers, or a pencil skirt and not feel like you have to add more to your outfit.
– a straightforward piece that is elevated more than a basic cotton tee.
When I spotted this at J.Crew Factory last week, I quickly grabbed a few for myself and made sure to add it to our content calendar.
It's only $22, so scoop it up before it sells out.
Textured Puff-Sleeve Top by J. Crew Factory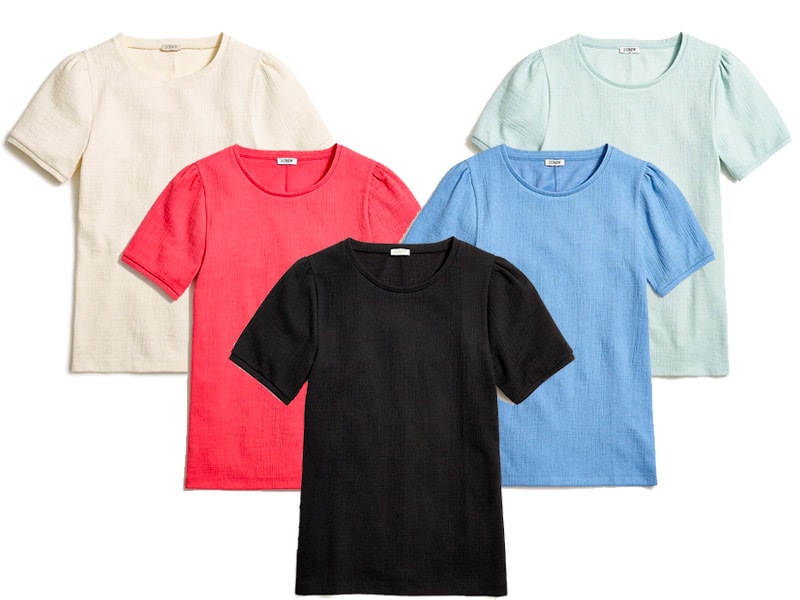 Top, $22.50
Available in the five colors above, I purchased the coral and the ivory – which is a true ivory. It looks yellow-based in pictures but in person it is ivory, or off white. I doesn't look dingy at all.
The sleeves have a subtle puff style. Don't worry they don't make your shoulders look bigger than they are, it's just a nice detail. And you can comfortably layer something over it.
I love that the fabric has a bit of texture too. It looks like a cross-hatch, so you get some added depth and interest.
If you are looking for an ideal layering piece that can also stand on it's on, this is it.
I'll be featuring it a lot in upcoming posts.
Regarding size, if you are in between or want a little more room consider sizing up. I am a true medium, but bought the large because I like how it drapes and worry about it eventually shrinking.
Because J.Crew Factory has a fantastic size range, you can get this top in up to a 3X.
An Outfit Full of Must Haves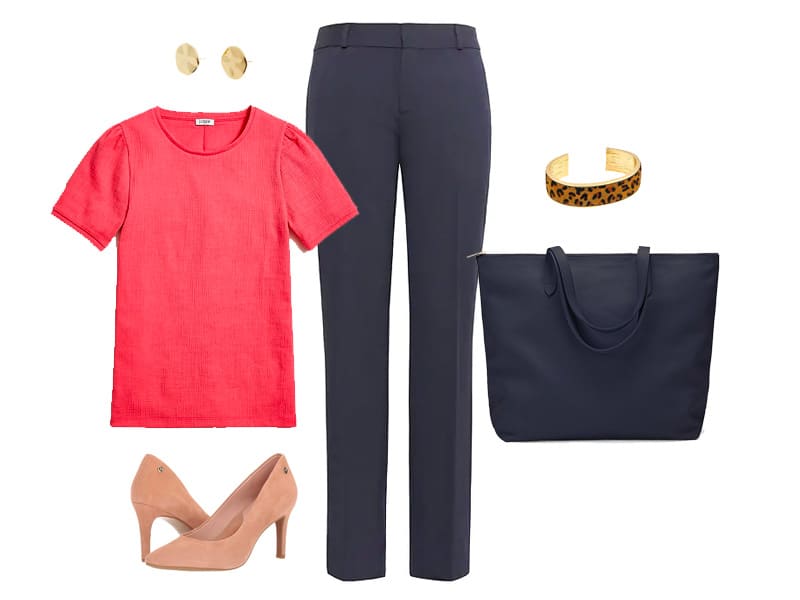 Top, $26.50 | Pants, $110 | Heels, $75 | Bracelet, $58 | Earrings, $35 | Tote, $195
My goal is to provide accessible outfit inspiration without it being boring. When writing these posts I envision how most of us get dressed in the morning: our eyes half opened, stumbling into our closets, hoping a cute outfit jumps out at us.
If you have the right pieces, it's easy to quickly get dressed. Today is an example of how basics coming together create a simple yet elegant look.
For this inspiration outfit I used pieces I know many of you already have, and a few worth picking up.
First, the top, in coral, because I love the combination of coral and navy in the spring.
Next, I paired the top with ankle pants from Banana Republic. These get rave reviews from readers for their fit, quality, and the fact that you can wash them. They are available in regular AND petite from a 0 – 20, a stunningly awesome size range.
Next, I added these tan suede heels from Taryn Rose. If you are not familiar with Taryn Rose, listen up!
She is a former orthopedic surgeon who started a line of shoes that are both comfortable and stylish. Usually, her prices are around $200 (+), BUT these suede heels are on sale at Zappos for $75, so they might be worth checking out if you are looking for both function and fashion from your footwear. .
Then I added accessories I know many of you already have, like this navy tote from fan-favorite Cuyana and updated studs from affordable jewelry brand Gorjana.
Finally, because I can't resist a little animal print and extra love it with this color combination, I included this super chic patterned bracelet you can pick up on HSN for under $60.
Shop this Post
---
Our Content is Inspired by Our Readers
Our readership inspires all of our posts and is not sponsored or paid for by brands or retailers.
Recommendations are based on my experience as a personal stylist View Postand wardrobe consultant for over a decade. I worked with busy, down-to-earth women who wanted to look chic and feel confident but were often confused by so much of retail.
Some links are affiliate links, which means if you purchase via our site, we receive a small commission.
If you enjoy our content and would like to help us grow, please consider following on Instagram and join our Private Facebook Group to access more advice and exclusive in-depth conversations with other like-minded women.
---