I know what you're thinking,

"Meg, maybe get a spray tan before you take warm weather outfit pictures."
Well, I DID.
I got an actual spray tan the day before I took this picture, so even I'm startled by how pale I look.
I guess we're going up a few shades next time 🙂
BUT!
How cute is this linen shorts and blazer set?
I've wanted to share this style for a while, but had a hard time finding the right thing.
Some options looked like a business suit but make it shorts, and others seemed a little sloppy or were crazy overpriced with no sizing.
So I am thrilled I found this affordable look and stunned at the level of quality, from Old Navy, in sizes up to a 4X.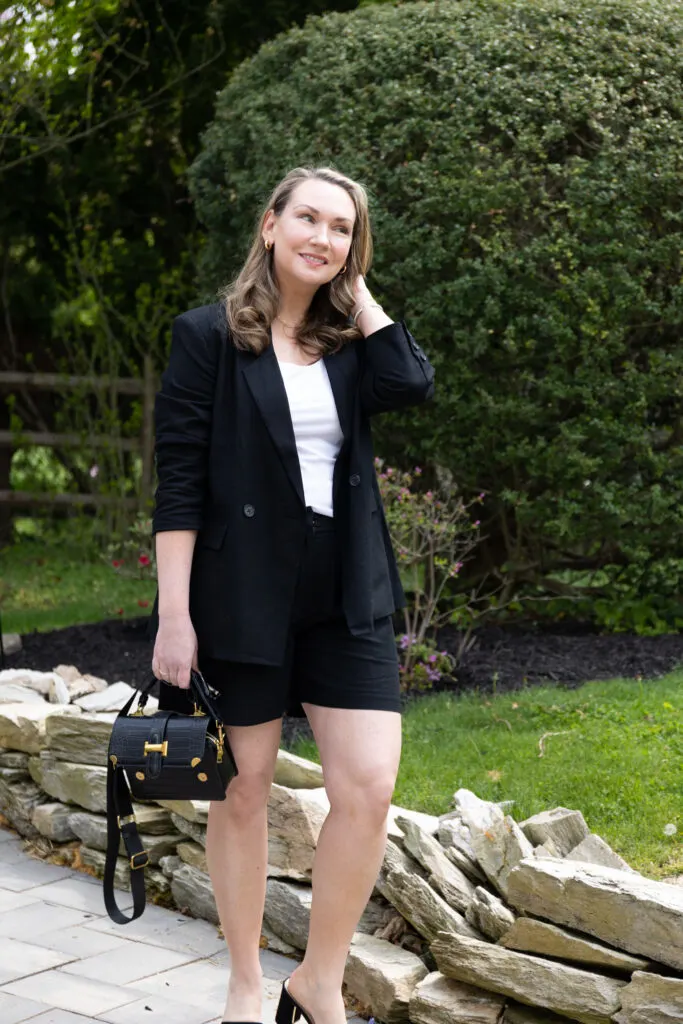 Double-Breasted Linen-Blend Suit Blazer, $64.99 | Extra High-Waisted Taylor Linen-Blend Trouser Shorts 6-inch Inseam, $36.99 | Bag, $55 | Mules, $50
Sold separately, I love a "set" that you can break apart and mix and match.
Worn together, this is surprisingly comfortable, and even though it's a linen blend, I didn't find it to be a wrinkled mess, even when I took it out of the shipping bag.
For reference I am 5'10 and wear anywhere from an 8 – 12, or a medium and large. I am actively working to reclaim my fitness, so my sizing is all over the place.
The shorts run true to size. And I am wearing a regular size large in the shorts which have a 6″ inseam. (I'm not wearing the tall option).
However, the blazer runs big. I'm wearing a large, but, it's too big; I going back for the medium.
It's a bit too full in my shoulders.
After months of working out, I finally dropped a dress size; the over-40 fitness struggle is real.
But also, the blazer is oversized, so keep that in mind.
I styled them with these $50 mules from Amazon's the Drop, but I would also wear them with sneakers.
These black and white Veja's would be sporty and adorable.
Take the pieces and pair the blazer with summer jeans and bottoms, and the shorts fit well and would like great with a crisp white camp shirt or black and white striped tee.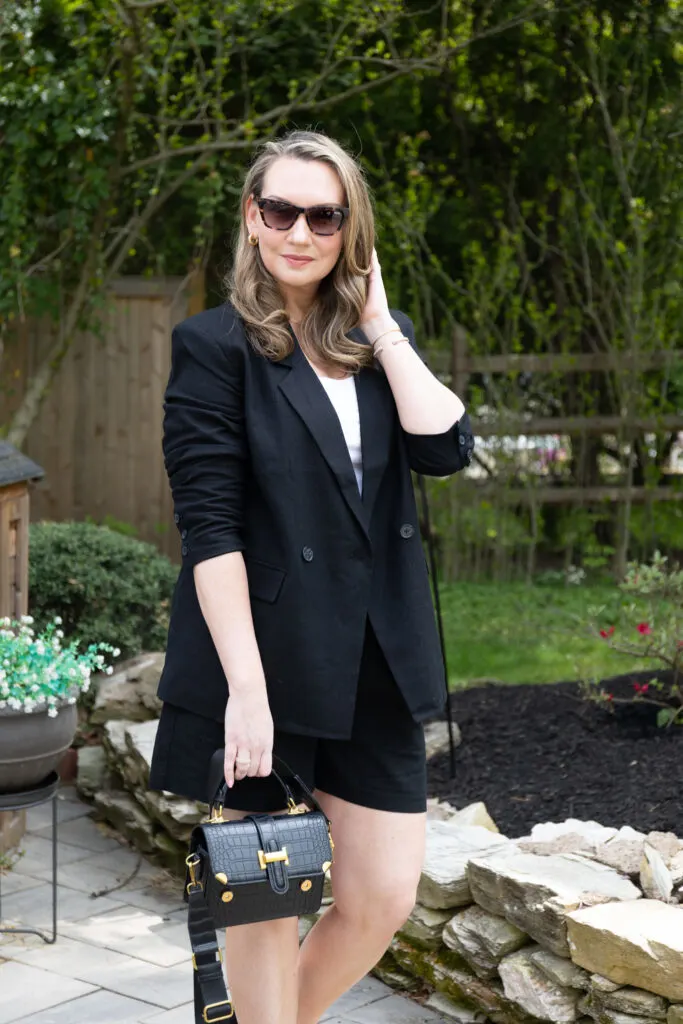 I just wore this to lunch on a warm day instead of my usual jeans, and it felt SO NICE to get dressed and full pulled together. It's amazing how it can change your entire mood.