I rarely find anything to buy in a LOFT store, but online I could fill my cart with dozens of items. Which is just what I did a few weeks ago. In that haul I picked up these updated "sweatshirts" and this pretty dress.
I plan to wear the dress around the house working from home as a nicer looking (but just as easy to wear) alternative to jeans and leggings. It's a sweet, buy now, wear now and later piece.
The dress is on sale for 50% off, available in missy and petite from a XXS – XXL (18). LOFT has a solid plus size department too. This specific dress isn't available, but they have dozens of other options here.
So today I'm breaking down how to style it, for our current situation, and for a night out in the warm weather.
Work from Home Outfit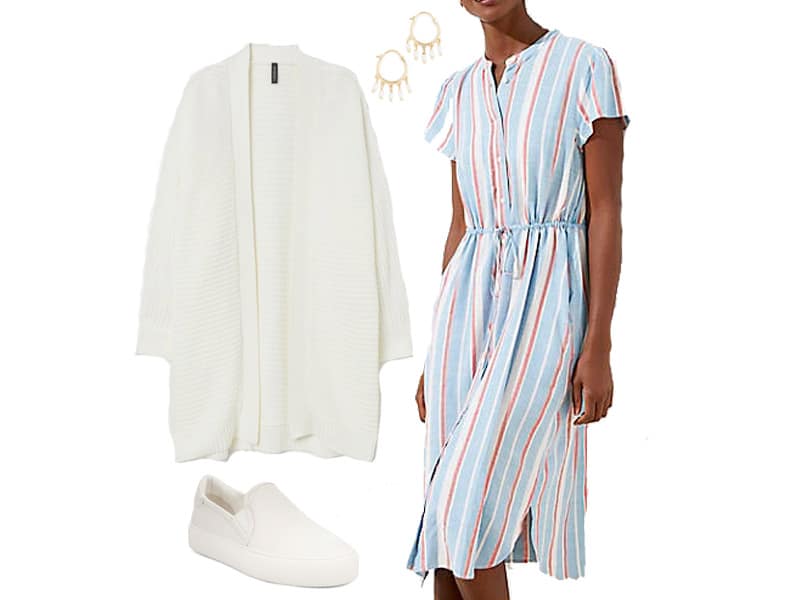 Wear Now: Dress, $90 (on sale $45) | Cardigan, $34 | Sneakers, $100 | Earrings, $45
I've been a study of extremes my whole life. An all in or all out kind of girl. So it's safe to say that I've had more than a few days looking like a swamp person over the last few weeks.
Yesterday I woke up early to get some work done, threw an old fleece over my pajamas, and stayed that way until 4. I finally got dressed to go on our family walk and felt a million times better.
It has been a solid routine and the act of getting up and getting dressed that has saved my sanity during this and kept me productive.
Now that the weather is getting a little nicer, I've ordered a few dresses to have on hand as a nicer alternative to jeans and leggings. Because just like in the real world, dresses are the easiest thing to put on and still look like you tried.
For this stay-at-home outfit, I added a pair of simple white slip-on sneakers. These are by Ugg; they are a grown-up version of Van's, with some cushion on the inside and just a little bit of texture on the leather.
As a layer, I added this ribbed, oversized cardigan from H&M. You know how much I like H&M's knitwear. The quality for the price point is excellent. The look should be full, not fitted. The idea is that it's cozy and casual. You should be able to take it on or off depending on the temperature quickly.
Then, these sweet earrings from Gorjana, one of our go-to brands for affordable, better quality costume jewelry.
Summer Date Night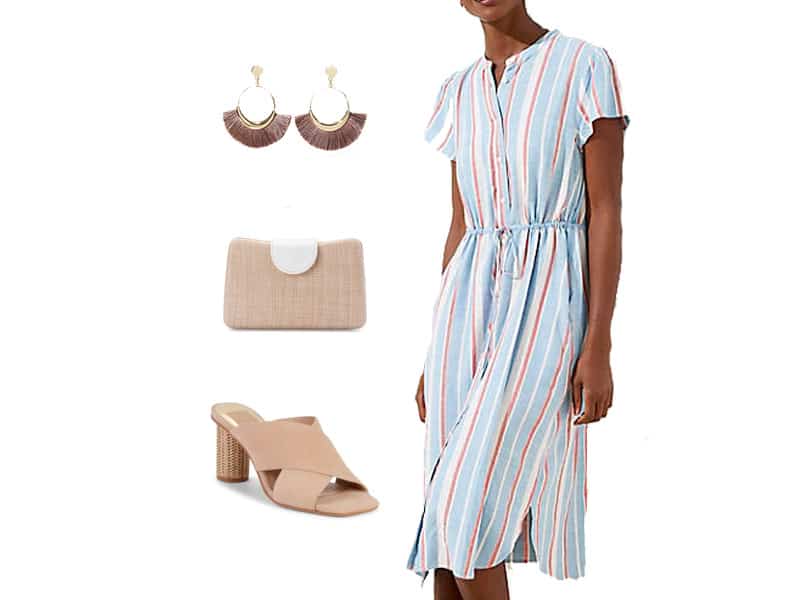 Wear Later: Dress, $90 (on sale $45) | Sandals, $70 | Clutch, $66 | Earrings, $35
Whether you're going away or staying local, I love this warm weather look for a date night or summer party. The dress is lightweight and breezy so you can wear it in high temps.
I paired it with these festive fringe earrings – also on sale at LOFT for $18.
But what I love – LOVE is this clutch and these shoes.
The bag is ideal for summer. When you need a bag like this, you can never find it, so if you have it in your budget, scoop it up now. You'll carry it to any spring/summer event from showers and weddings, graduations, or like we're using it here, for a night out. It's on sale for $66.
These sandals, by Dolce Vita thrill me. They are a lovely combination of a basic in a neutral with enough going on to feel special and elevate your look. The suede straps and straw block heel add texture to your look and feel special. They are on sale for under $70 with an additional 20% off at checkout. All sizes are still available.
---
Our Content is Inspired by Our Readers
Our readership inspires all of our posts and is not sponsored or paid for by brands or retailers.
Recommendations are based on my experience as a personal stylist View Postand wardrobe consultant for over a decade. I worked with busy, down-to-earth women who wanted to look chic and feel confident but were often confused by so much of retail.
Some links are affiliate links, which means if you purchase via our site, we receive a small commission.
If you enjoy our content and would like to help us grow, please consider following on Instagram and join our Private Facebook Group to access more advice and exclusive in-depth conversations with other like-minded women.
---