I am headed to Boston this morning for a long weekend. I'm actually on my flight as I write this.
Our oldest, Maddie is racing at the Head of the Charles Regatta this weekend, so we tacked on an extra few days to visit some colleges.
If I think about her leaving for too long I become a puddle. Her and her sisters are just my favorite people in the world. I love having a house full of girls, I love our dynamic with each other and I can't imaging them not being all under on roof.
Big sigh.
Anyway, we are flying out this morning, dropping our bags off at the hotel and headed our first campus visit. So I have to look decent.
Luckily, Boston is only a little over an hour long flight, but it's still an early and long morning of getting on the plane.
So I want to be comfortable, and look pulled together since there is not time to get changed.
Here is what I am wearing. I'm look rough since I thought our car was coming at 6:45 when in reality it was coming at 6:20. Oopsie.
So I did my makeup in the car, my face basically disappears if I don't wear lipstick, and, I forgot to add the scarf that pulls this all together.
It's a oversized Burberry wool scarf I bought ages ago, a major splurge at the time but I more than got my money's worth from it. You can see it here.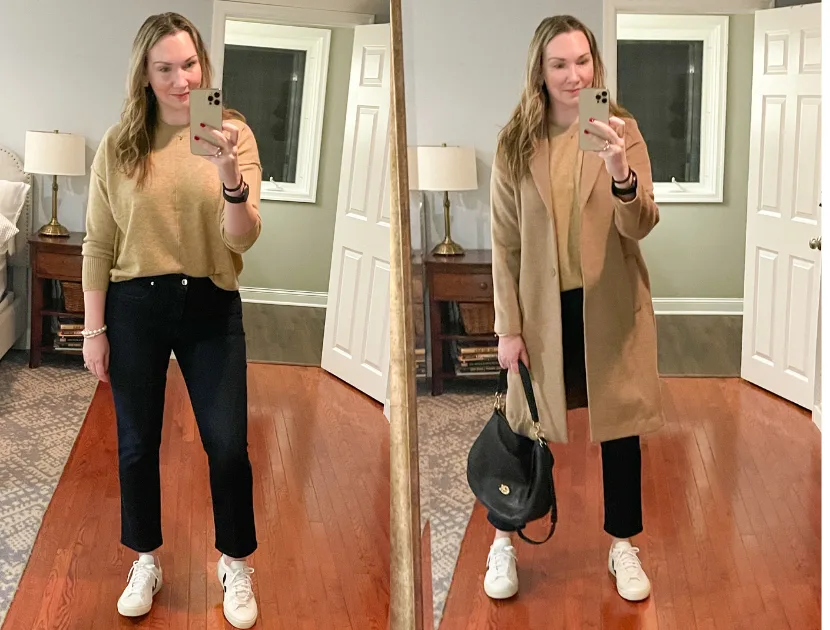 I built my outfit around my sneakers since I wanted to wear the Veja Women's Campos. These sell out fast, so if they are on your wishlist scoop them up. Nemain's has most sizes available – they run true.
Next up jeans. I featured these last week, they are the Good American Straight Leg Jean in your choice of a dark or light wash, I went with the dark wash available in regular and plus sizes.
They look black in the picture because my phone is on her last leg (new phone is on the way) but they are a true ink blue.
These have great stretch so you can moving around and being crammed on a plan and still feel comfortable.
Funny enough, I was with some girlfriends the other night, and told one of them how great she looked in her jeans. She laughed and said, "these are the Good American jeans you recommended!"
So at least I'm consistent.
The sweater is the Center Seam Crewneck from Vince Camuto in the color Heather Latte. It's $69 and I'm wearing the medium.
I just ordered a lot of sweaters from Nordstrom and, without trying they are all from Vince Camuto. I have this Extended Shoulder Color Block option (featured last week) in antique white, this Lattice Pattern Crewneck, also in antique white, and this Drop Shoulder V-Neck sweater in black.
I took a medium in all of them.
I specifically chose the Center Seam Crewneck because it works well underneath this old H&M coat.
Now, you could recreate this with the Gap Factory Top Coat featured a few weeks ago. It's a great, fully-llined coat on sale right now for $60.
Since I had to pack a heavy rain coat for my day at the race by the water, I went with the H&M coat above because it's lighter. It's almost like a duster coat but with more structure. Two bulky coats for five days felt excessive.
I grabbed my favorite Coach bag, their Polished Pebble Leather Bag. This was an exclusive for Nordstrom last year and the quality is lovely. If you're interested it's still available in the color "chalk" for 60% off.
If you want black, you can see this years version here.
Jewelry we kept simple. I love these earrings by Jenny Bird and some of my Julie Vos pieces, including these stackable rings and this gorgeous pearl bracelet.