Thank you to Gap Factory and Collective Voice for sponsoring the post.
Transition season is upon us, so it's time to bring in jeans, knits, and layers.
And one of our top Reader Favorite brands, Gap Factory, is having a sale you want to take advantage of.
Take 60% Off Site Sitewide + Loyalty members receive Free Shipping On All Orders with Code GGRSHIP! and receive an Extra 40% Off Clearance! Restrictions Apply.
So, I reviewed all the requests you sent in recently and found five pieces to help you cross some items of your fall shopping list, including two pairs of fantastic fitting jeans.
For reference, I am 5'10. I note the sizes I'm wearing in each item below.
5 Affordable Transition Staples from Gap Factory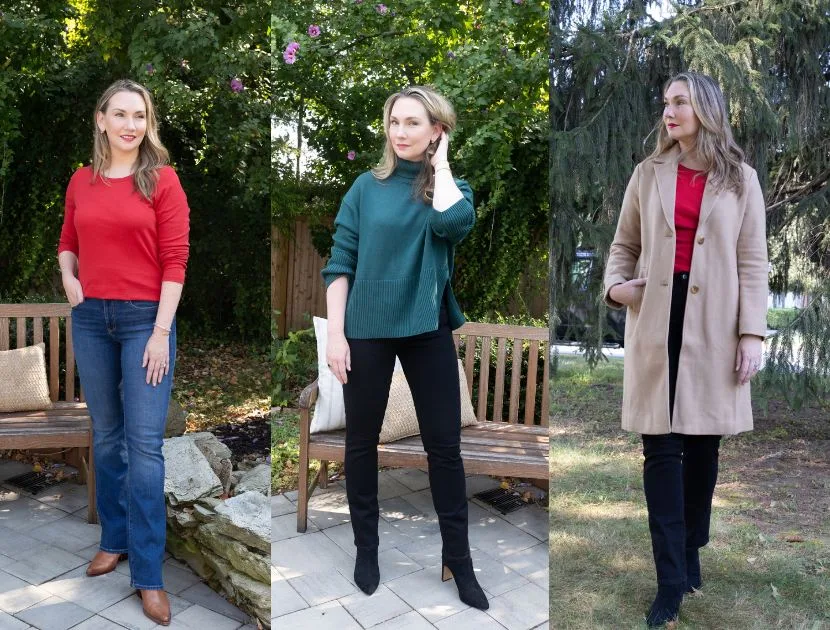 Tee and Bootcut Jeans
I am a jeans and tee shirt girl, so this is exactly what I want to wear every day. It's the perfect base for early fall layers like vests, sweaters, and topcoats.
It's a quality tee that fits and washes well. Available in regular, tall, and petite in XS – XXL for under $15.
It's technically a crew neck, but it's wide enough to wear like a scoop neck, so it's flattering on all body types.
I'm wearing a regular size large and have it tucked in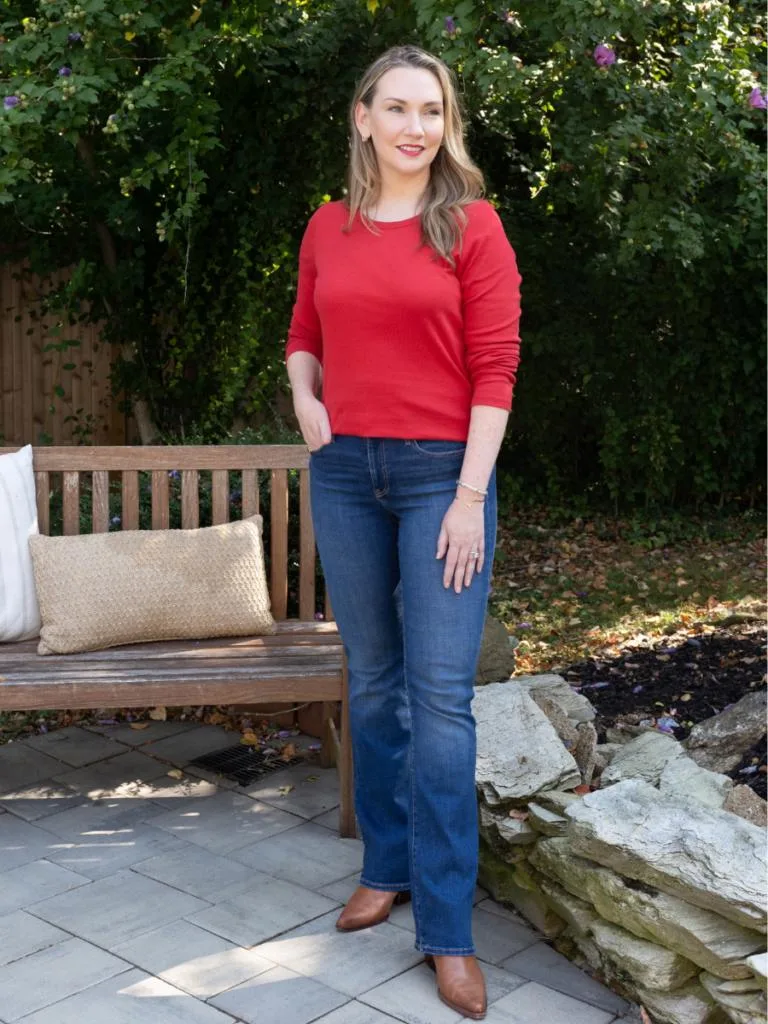 Above, I paired the tee with a favorite from August, their Mid Rise Baby Bootcut Jeans.
Everyone loved these after we featured them last month. "Baby bootcut" means a subtle flare at the bottom, so they perfectly sit over your boots and help add some balance.
So, if you have broad shoulders, are busty, or carry some weight in your midsection, this style will help balance and minimize.
And, if you want to transition out of skinny jeans, these are a fantastic alternative to add to your closet.
I'm wearing the size 10 in the tall length.
Cozy Sweater and Straight Leg Jeans
With sweater weather upon us, I can't tell you how excited I am to share one that is 100% cotton.
Scoop up their Relaxed Turtleneck Tunic if you can't (or don't like) wear wool or if you live in a part of the country that doesn't get very cold.
I'm wearing a size medium in the green called "June Bug." There is also a stunning blue and classic black.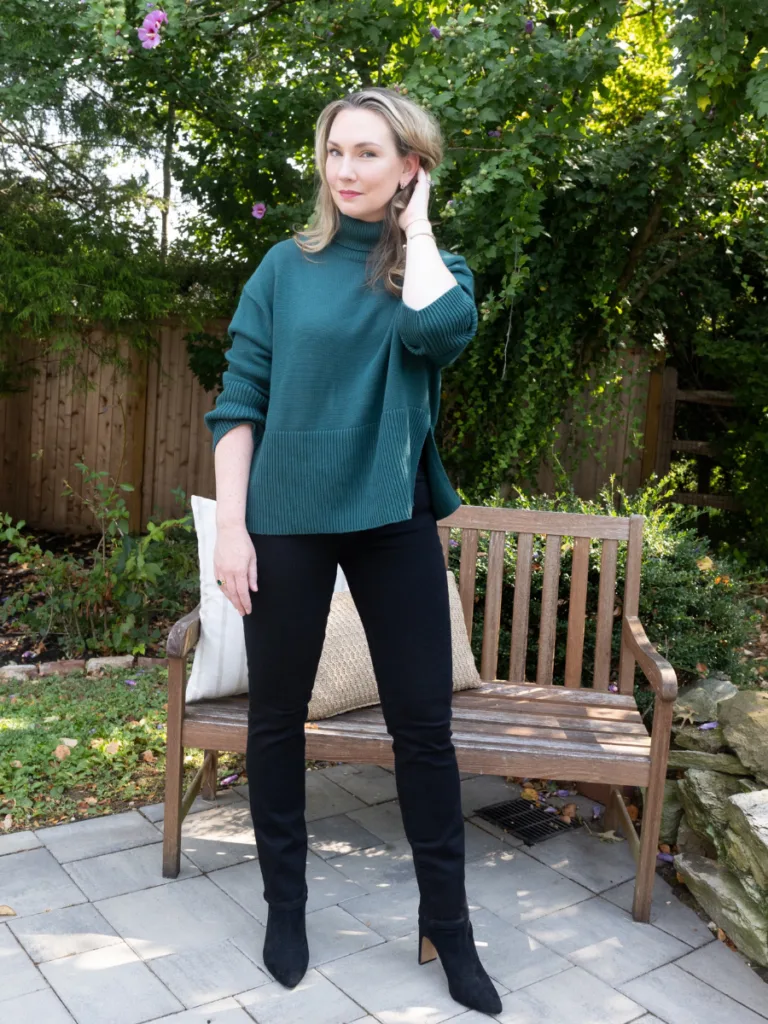 Because the tunic has volume, I paired it with their Mid Rise Classic Straight Jeans. These jeans are also incredible and under $30.
When I talk about a slim, straight leg, this is what I mean.
Notice how the hem of the jean isn't gripping my ankles.
Instead, they fall right over them.
This gives you the look we like of the skinny in a more updated cut.
I am wearing a size 10 in the long length and paired these with booties with a 3″ heel. They fit perfectly. I also bought the regular length to wear with ballet flats.
Classic Top Coat
Finally, my love of a classic camel coat is well documented, and this topcoat is fully lined, has
functioning pockets, and is about $100.
The color is lighter in person than it is in the product image. The photo below is more accurate.
Available in sizes XS – XXL, also in black.
The length works well with my height, but you can hem it to hit the best spot on your leg. It's an
easy alteration that will elevate your look.
I took the medium, and there is room for a chunky layer underneath.