One of my goals as we move through our seasonal content is to offer recommendations you can build on. A pair of jeans you purchased in January, work with boots you grabbed in February. So it only makes sense that a blouse in March creates a whole new outfit.
That's what we have today. A simple outfit created with wardrobe staples featured here on the blog, freshened up with this pretty floral top.
But first, a quick note about sponsored content.
One of the reasons I don't take sponsored content is so I can share my honest opinions. For example, I find physically shopping in Nordstrom more and more difficult, and I say this as someone who basically lived in the store when I was a stylist.
Their sales floor is scattered, their departments make no sense, their inventory mix lacks direction and their prices continue to rise.
Who, exactly, are they trying to target these days?
If I took sponsorship dollars, I wouldn't be able to say that. But I think it's important for you to hear it from me in case you find yourself roaming the store wondering if you're the crazy one.
You're not.
But, if I were holden to sponsored dollars all I can do is praise my retail partners.
That's not to say Nordstrom doesn't have great pieces. They do, but these days they are hidden in their oddly expensive, youth focused merchandise.
Take this blouse by their private label brand Caslon.
It's the kind of reasonably priced ($59), nice quality, simple to wear piece I expect to easily find there.
It's available in missy (up to a size XXL which equals an 18) and petite – so my petite ladies (!), be sure to grab this if you need some cute tops to pair with jeans. And plus sizes here.
Pretty Floral Top for Jeans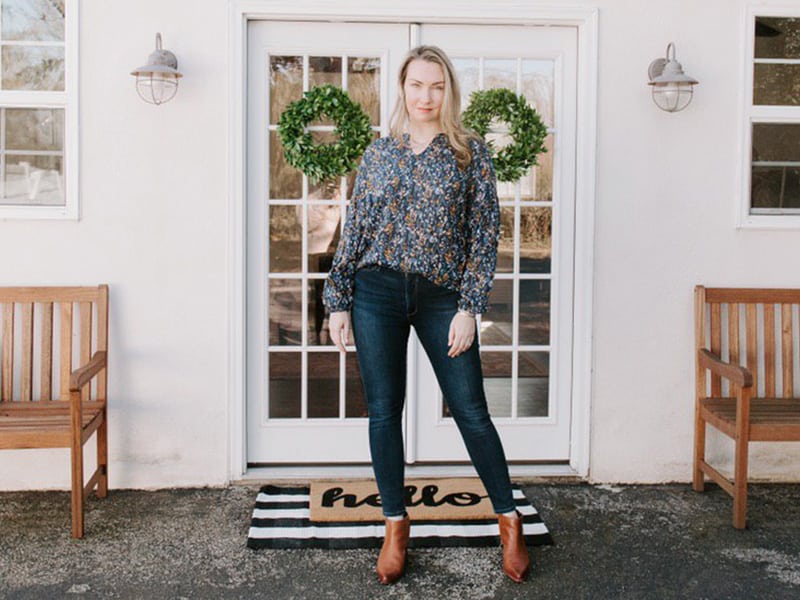 Top, $59 (Plus, here) | Booties, $60 | Jeans, $129 (marked down to $77 with code BLUES)
I picked it up in what they are calling Navy Pink/Yellow Cayce Floral print. It feels like spring with warm tones that look great with jeans.
It's also available in a few other colors and patterns including a navy gamine floral (featured below), a pretty pale pink floral print, and solid ivory, navy and a gorgeous yellow.
There is a little ruching at the top of the sleeve for an added bit of detail. It's not as obvious on the patterned pieces, but you can see it clearly in the solid options. It also has a flattering split-top neckline.
Sizing runs true. I'm wearing a medium (for context I'm 5'10 and usually wear an 8 or medium).
Keeping with the idea that many of our recommendations are meant to build on past purchases (because that's how you shop in the real world) this pieces is perfect for these Joe's Jeans (on sale at Off 5th for about $77 with code BLUES) and the most popular boots I've ever featured, the Sam Edelman bootie in Whiskey leather also on sale for $60.
How to Wear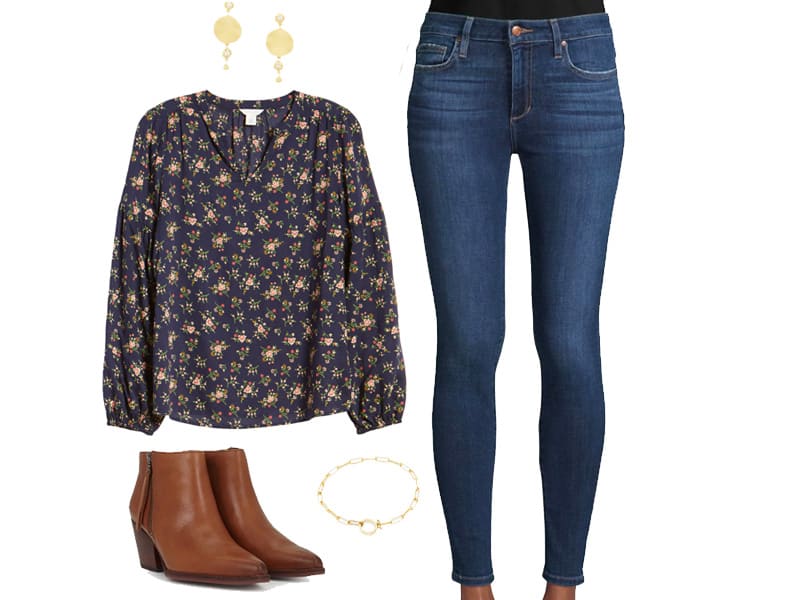 Top, $59 | Booties, $60 | Jeans, $129 | Earrings, $50 | Bracelet, $60
Here's a break down of the outfit, with the top featured in Navy Gamine Floral. I included some new pieces for Gorjana, my favorite line of reasonably priced jewelry.
I love these $50 earrings with tiny stud details. Their shape is fun for a casual jeans look. And this bracelet for $60 can be layered in with pieces you already own or stand by itself.
---
Our Content is Inspired by Our Readers
Our readership inspires all of our posts and is not sponsored or paid for by brands or retailers.
Recommendations are based on my experience as a personal stylist and wardrobe consultant for over a decade. I worked with busy, down-to-earth women who wanted to look chic and feel confident but were often confused by so much of retail.
Some links are affiliate links, which means if you purchase via our site, we receive a small commission.
If you enjoy our content and would like to help us grow, please consider following on Instagram and join our Private Facebook Group to access more advice and exclusive in-depth conversations with other like-minded women.
---