Remember date nights?
It's been over three months since Bri and I went out or did anything even remotely fun. The most exciting place I've gone is Target, and I'll be honest, wearing a mask while you're walking around it hasn't lowered my bill, but it has removed all joy.
My home state of Pennsylvania has had some of the strictest stay-at-home orders in place since March. But today, my county's restrictions are lifting, and restaurants can open for outside dining.
I made a reservation the second they were available (they all filled up in minutes) at one of our favorite places. Pretty sure we're eating under a tent in a parking lot – but I do not care one bit.
We've been part of our community for over 15 years. We've watched it grow from an up-and-coming neighborhood to a robust and thriving urban suburb. Supporting our small business, especially our restaurants after all they have been through, and getting away from my kids for an hour or so is a no brainer.
AND I'm putting on a real outfit.
A Pretty $50 "Date Night" Dress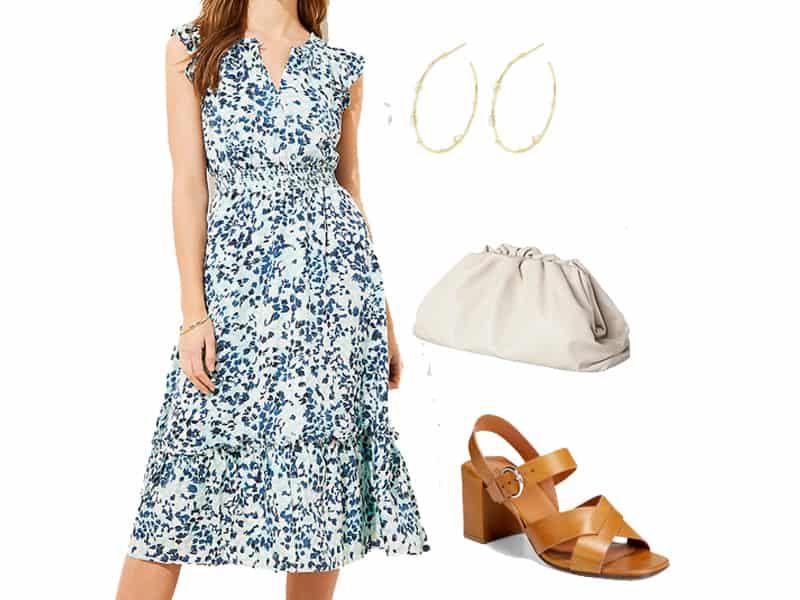 Dress, $100 (ON SALE $50) | Sandals, $90 | Clutch, $35 | Earrings, $38
LOFT is having another great sale. I picked up a few dresses early last week. Their shipping is some of the quickest without having to pay more, which is nice since generally shipping can take up to two weeks.
I picked up this dress anticipating outdoor dinner dates and I love it. I ordered the large and medium and end up keeping the medium which is my normal size. There isn't a ton of difference in sizes so if you're in between you might want to size up.
It's available in regular from an XXS – XXL and plus size from a 14 – 26. The sale price is fantastic. It's gathered at the waist, has a pretty split neckline, a subtle shimmer thread running down the fabric, AND it's lined.
A block heel is practical and stylish. These by Via Spiga are fantastic at an incredible price. They are so comfortable. You can certainly wear a strappy, lightweight option, but I like how these ground and dress down the look.
I added these oversized hoops from Gorjana to add some movement and layered detail. They are on sale for under $40.
Finally a clutch.
A CLUTCH!!!!
Oh how I have missed tiny handbags. I featured this one in May's Ten List, so many of you already have it. The "white" option is more like a bone. It's only $35 and is inspired by Bottega Veneta's "Cloud" bag which will run you about $1400.
In Real Life
---
Our Content is Inspired by Our Readers
Our readership inspires all of our posts and is not sponsored or paid for by brands or retailers.
Recommendations are based on my experience as a personal stylist View Post and wardrobe consultant for over a decade. I worked with busy, down-to-earth women who wanted to look chic and feel confident but were often confused by so much of retail.
Some links are affiliate links, which means if you purchase via our site, we receive a small commission.
If you enjoy our content and would like to help us grow, please consider following on Instagram and join our Private Facebook Group to access more advice and exclusive in-depth conversations with other like-minded women.
---