I've been home-based for most of my career. As a working mom, I can tell you that, even though it comes with its own unique set of challenges, I would pick working from home over going into an office any day.
Hopefully, as we return to normal, more companies will be generous with their work from home opportunities. Countless studies show that a flexible work environment helps attract and retain female workers, and more women in the workforce, particularly in leadership positions, are better for everyone and everything.
So today, I want to share one piece of advice, especially if you've recently been thrown into a virtual work environment, that has helped me succeed in my roles at work and home over the years and that is: ignore the idea that you have to have set work hours.
I know that goes against everything you hear and read online. But the truth is if you work from home, have kids underfoot, are managing a home, busy family life, and the new challenge of homeschooling, there is no way possible you can also work a strict 9 – 5.
So don't even try.
Routine Instead of a Schedule
Instead, find a routine that works for your internal clock and your family's schedule while still allowing you to be mindful of your work responsibilities, knowing that every day will look a little different.
Over the last few months, my best, most productive days are the ones where we follow a loose and unconventional schedule.
We have two-morning routines, one for me and Bri before the kids get up, and one to get the kids moving and set up for school.
Bri and I tag team during the day, focusing on who has the most pressing deadline. That might mean I cover the kids when he has a call, or he jumps in when I need to meet a deadline.
One of us stops work around 5 to start dinner (or these days order something) while the other wraps up a call or project, we try to take a walk as a family, and spend time with the kids.
Then, we have two nighttime routines. One that gets the kids either to bed or settled for the night, so we can get in a few more hours of work, and then we have a simple routine to end our night later on.
Instead of trying to replicate your usual office hours, consider an alternative schedule that will allow you the flexibility you need right now to wear all the hats.
And of course, try to get dressed for the day.
It makes all the difference in your mood and outlook.
I featured this pale pink fleece over on Instagram a few weeks ago, and I've received so many messages from followers that they ordered it and LOVE it – I wanted to share it here too.
It comes in four colors: black, light grey, oatmeal and pink, up to a 3X!
Perfectly Polished Work From Home Fleece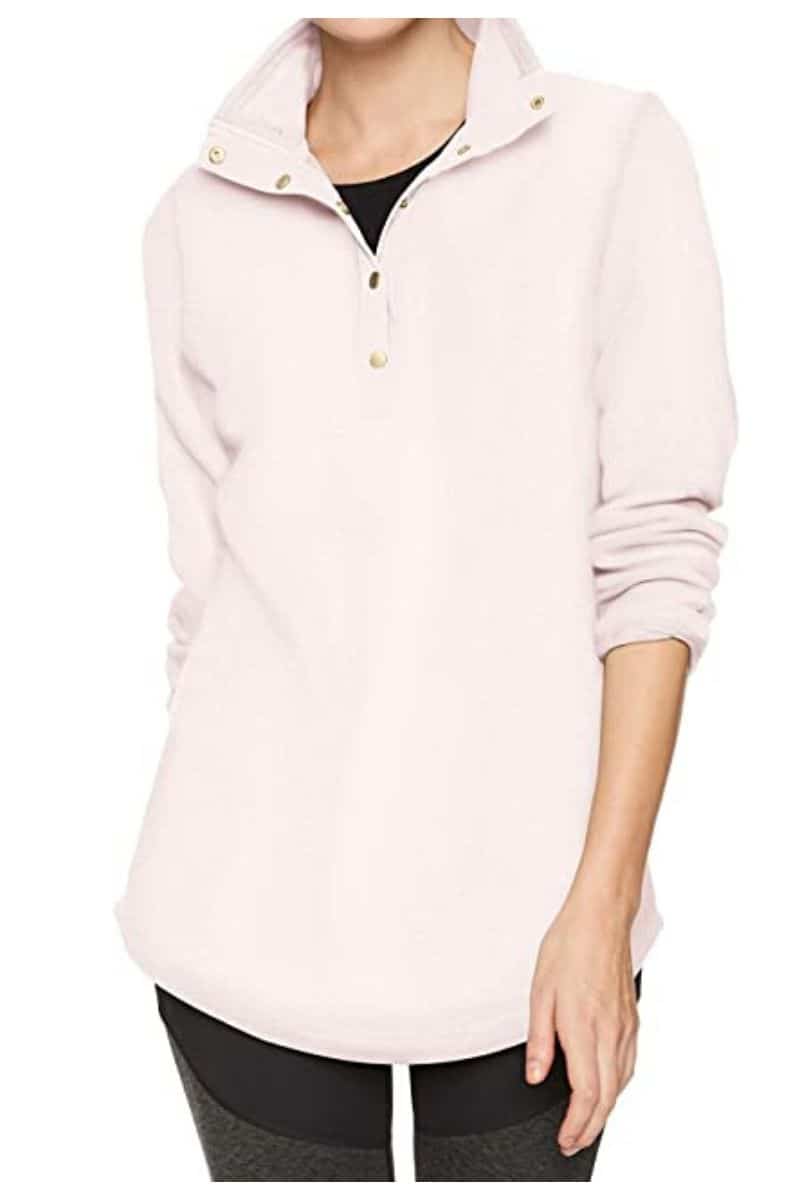 I make no exaggeration when I say I wear this several times a week. It's the ideal weight for this time of year, when the mornings have a little chill in the air. I wear it with leggings for walks, or comfy jeans and sneakers. The quality is surprisingly fantastic.
What makes this a real winner, though, is the length. So often, these kind of pieces feel just a little short in the body and then shrink over time. Because this is cut like a tunic, it covers your bottom!
You can see it in my below.
I ordered the large (because it's from Amazon and I always size up), but I could easily have worn the medium. I've washed it several times already and it hasn't shrunk at all.
In Real Life
---
Our Content is Inspired by Our Readers
Our readership inspires all of our posts and is not sponsored or paid for by brands or retailers.
Recommendations are based on my experience as a personal stylist View Post and wardrobe consultant for over a decade. I worked with busy, down-to-earth women who wanted to look chic and feel confident but were often confused by so much of retail.
Some links are affiliate links, which means if you purchase via our site, we receive a small commission.
If you enjoy our content and would like to help us grow, please consider following on Instagram and join our Private Facebook Group to access more advice and exclusive in-depth conversations with other like-minded women.
---