I am a planner. My husband might call me a control freak – that's fine too, I answer to both. Planning and figuring things out is how I cope with stress.
If I have a plan, or two (or three) then I am prepared, and everything will be okay.
As you can imagine, our current wait -and-see situation, is less than ideal for my personality.
The summer is, by far, my favorite time of year, but this one is going to be a little weird.
Our big trip to Greece to celebrate my birthday was postponed, and our shore house rental is currently closed. It's hard to be bummed about it, given the real challenges facing the world.
But, as a family, we could all use something to look forward to, especially with all the doom and gloom in the news.
To lift our spirits, we came up with some alternative plans to enjoy the warmer weather, and get us out of this house the second virtual learning wraps up at the end of the month.
Yesterday, over in our Facebook Group, I asked our members their plans for the summer. I was so happy to hear that you are itching to get out again too (safely, of course), and there are many, many road trips planned for the summer.
Which means, we are going to need a few things to wear, AND we have to order them now because everything is taking longer these days. (Depending on the retailer, shipping is taking twice as long.)
So today I'm starting with a pair of lightweight linen pants to wear as an alternative to shorts.
* as a reminder, I will not publish a comment with any political tone to it from either side, this is a drama free zone .
Lightweight Shorts Alternative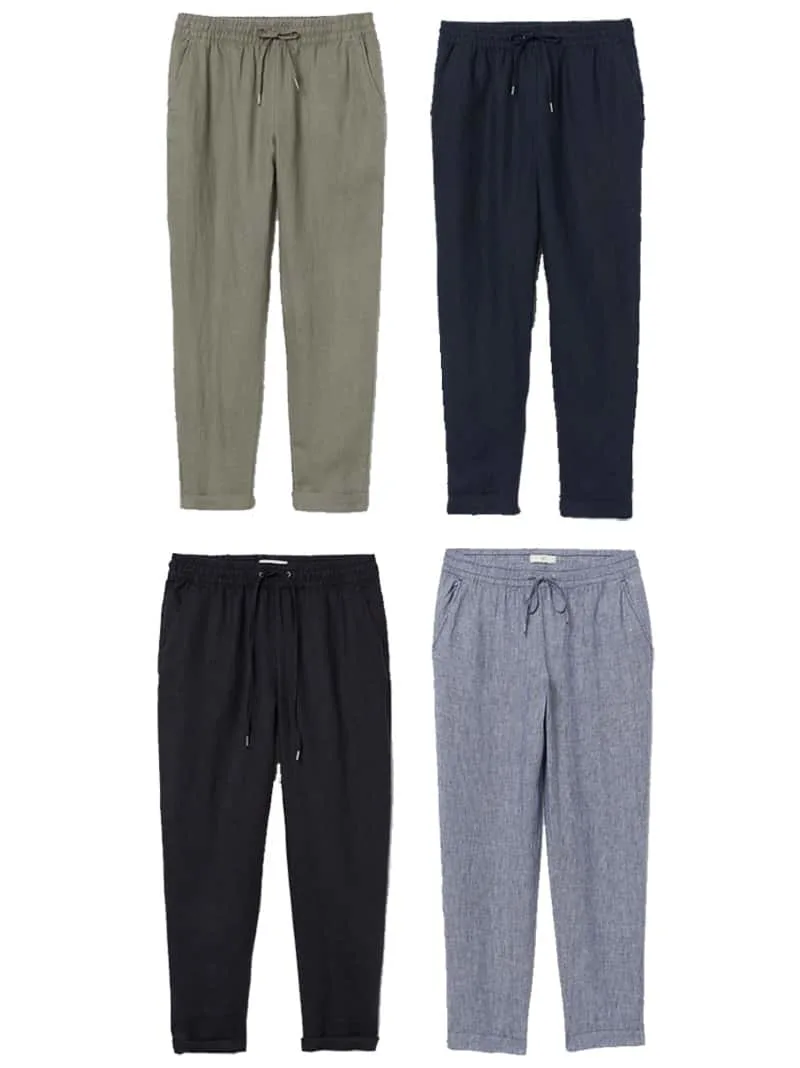 Linen Pants, $35
Here's the deal. I love shorts. But after being stuck at home, with no gym access for three months, I'm probably NOT wearing them right away this summer.
As an alternative, I picked up these linen ankle pants from H&M. There are running low on inventory, but as I write this they still have enough to make it worth a post.
They are under $40 and come in sizes 0 – 18. Generally they run true to size, but be sure to look at and compare your measurements. I bought the navy and the blue and white stripe. I'm also on the waitlist for the khaki green (olive).
I don't always love linen, but in a dark color you can pull it off without looking like an unmade bed. Avoid the white and beige option -they will be see through, and messy.
We'll all likely be working from home this summer, so these are ideal for those days. But I'm wearing them instead of shorts for our first trip to the beach in June.
How to Wear It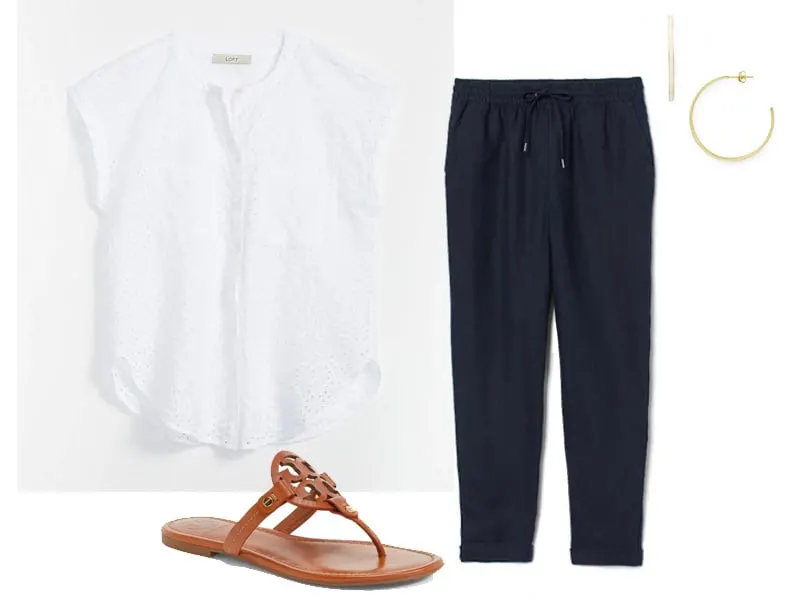 Linen Pants, $35 | Flip Flop, $198 | Eyelet Top, $54.50 (on sale $33) | Hoops, $58.50
For a casual dinner, outside, with a breeze – I am so ready for a normal summer night.
Above, I used the dark navy option to create a classic combination. This lovely eyelet top is an immediate add-to-cart. It's on sale for $33 in missy and plus up to a size 20. You can wear it with a these pants, with a little half tuck, or with a pretty skirt to add some texture.
The sandals, by Tory Burch, are a splurge. I love them, they go with everything and help elevate a basic look. If you picked up her "Patos Disk" sandal last year (a 2019 Reader Favorite) they work perfectly here too.
Finally, a sweet pair of hoops (under $60) with a white enamel accent, bring a fresh, modern vibe to the outfit.
Fingers crossed that everyone gets a much needed break this summer – and for continued health and healing over the coming weeks! xxoo
---
Our Content is Inspired by Our Readers
Our readership inspires all of our posts and is not sponsored or paid for by brands or retailers.
Recommendations are based on my experience as a personal stylist View Post and wardrobe consultant for over a decade. I worked with busy, down-to-earth women who wanted to look chic and feel confident but were often confused by so much of retail.
Some links are affiliate links, which means if you purchase via our site, we receive a small commission.
If you enjoy our content and would like to help us grow, please consider following on Instagram and join our Private Facebook Group to access more advice and exclusive in-depth conversations with other like-minded women.
---