Halloween has moved up my list to one of my favorite holidays over the years.
When we first moved into our current/forever home, the night was pretty quiet. Now, it reminds me of the scene in ET when the kids come pouring over the hill in their costumes.
Of course, Vivi makes this so much fun. It's such a gift getting to relive the magic of the holidays all over again.
So I've covered the house in spiderwebs, hung witch hats and ghosts in our trees, and bought Trader Joe's out of pumpkins … just to hear her say, "Oh, WOW."
This year, we'll have a house full of kids, from teenagers too cool to dress up to a tiny Tinker Bell running around and family stopping in for pizza and wine.
It's the perfect kind of night to kick off the upcoming busy holidays unofficially.
If you plan on making a night of it, too, let's talk about an easy and affordable outfit to wear that feels festive without being cheesy.
A Halloween Night Outfit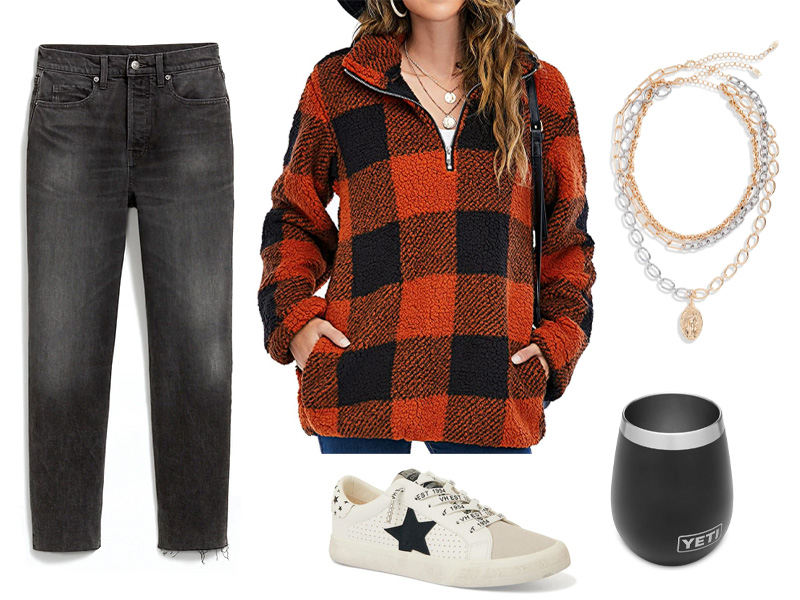 Extra High-Waisted Sky Hi Straight Button-Fly Cut-Off Jeans, $40 | Plaid Sherpa Sweatshirt, $25 | Sneakers, $80| Yeti Wine Tumbler, $25 Chain Necklaces, $25
The Outfit
I just received this Plaid Sherpa Sweatshirt from Amazon, which inspired our look. They are calling it "red," but it has strong orange undertones. I bought a large one to layer over a long-sleeved tee-shirt, and it fits well.
Then, I want to pair it with black or dark grey jeans, and I am not interested in spending here, so off to Old Navy. These high-waisted, straight-leg jeans have a subtle cut-off detail at the hem helping them feel relaxed. They also have a button fly, which I'm not used to but don't mind.
The color is called slate, and you can pick them up in all sizes, including petite, tall, and plus for $40.
Ok, next up: shoes. You have many options here, like a classic white sneaker, a pair of lug boots, or black slip-on sneakers.
I went with a pattern to add some interest and follow the trend of fun, lived-in-looking sneakers.
For accessories, this is where I would love for you to raid your jewelry box and see what you already own that you can layer together. I promise you can't get this wrong.
As an example, I like this $25 layered necklace from Nordstrom Rack. You can pick it up or use it as inspiration to guide you in combining different lengths and metals.
Finally, you know you're not really living your best suburban mom life if you're not dragging behind your kids, yelling, "Say THANK YOU!," and sipping some wine, or a hot toddy, with your mom friends.
My Yeti wine tumbler gets the most use out of any travel mug in our pantry.
Shop this Post
Our Style Content is Inspired by Our Readers
Our readership inspires all of our posts and this post is not sponsored or paid for by the brands or retailers featured.
Recommendations are based on my experience as a personal stylist and wardrobe consultant for over a decade. I worked with busy, down-to-earth women who wanted to look chic and feel confident but were often confused by so much of retail.
Some links are affiliate links, which means if you purchase via our site, we receive a small commission.
If you enjoy our content and would like to help us grow, please follow on Instagram and join our Private Facebook Group to access more advice and exclusive in-depth conversations with other like-minded women.
Learn about our mission to help women look and feel their very best, every day, here.
Sign Up for Daily Content and Receive Our Free Classic Wardrobe Checklist