Now that we have an idea of how long we'll be home based, if you're like me, you may be looking to add a few new pieces to your current loungewear situation.
So for the next few weeks I'll continue to feature some pretty and practical pieces that are well priced, like this puff sleeve sweatshirt I picked up a LOFT for under $20.
LOFT Puff Sleeve Sweatshirt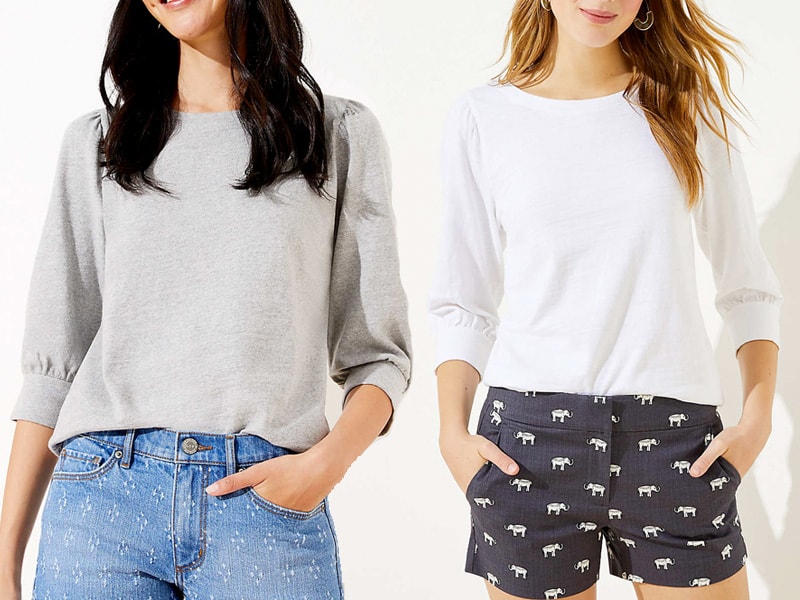 Sweatshirt, On Sale, $19.80
Like everyone, I'm trying my best to establish a sense of normalcy at home so my family can get out of this relatively unscathed and to keep my mental health in check.
Getting up and getting dressed for the day has worked wonders for me. And having a few, inexpensive pieces to look forward to receiving and wearing, as silly as it sounds, feels like a treat.
Work from Home Staple
I ordered this from LOFT (they are currently having a site wide 60% off sale) in both the grey and white. It was just what I wanted, a sweatshirt, but elevated. While they are calling it a sweatshirt, it's not in the traditional sense. It's heavier than a tee, but lighter than a traditional sweatshirt.
Trust me, I've had my days of looking like an absolute slob. But after a few days of it, I NEEDED to pull it together. This fits the bill for these hectic days of managing the kids schooling and our own work.
It's easy-peasy to wear with jeans or joggers, and I love how they have it styled with a pair of shorts for a summer night at the beach (how amazing does that sound right now?)
So pick it up now while it's on sale. They size range is solid, in both missy and petite, in a XS – XXL.
There are many sales going on right now. I'm sorting through all of them to only feature the best ones to take advantage of. As I've mentioned before, I'm maintaining my publishing schedule to (1) keep my sanity, (2) provide us all with a happy and optimistic space and (3) to help keep the economy moving as best as possible, given our current situation.
In Real Life
---
Our Content is Inspired by Our Readers
Our readership inspires all of our posts and is not sponsored or paid for by brands or retailers.
Recommendations are based on my experience as a personal stylist View Postand wardrobe consultant for over a decade. I worked with busy, down-to-earth women who wanted to look chic and feel confident but were often confused by so much of retail.
Some links are affiliate links, which means if you purchase via our site, we receive a small commission.
If you enjoy our content and would like to help us grow, please consider following on Instagram and join our Private Facebook Group to access more advice and exclusive in-depth conversations with other like-minded women.
---