For the next few weeks, every Wednesday I'll use our Wednesday Workwear post to feature a comfortable, cozy pieces you can wear while you work from home at an affordable price.
I've worked from home for the last 12 years, often with little kids under foot. It certainly has its benefits, and its own unique challenges.
Getting out of your pajamas is the number one thing you can do to improve your mood and productivity. I promise. But now that many of us are working from home while managing kids and their school work, the idea of getting dressed up as if we were going to this office is a little unrealistic.
That's why I love this soft, cozy tunic I picked up from Nordstrom a few weeks ago. It's on sale for only $36! It's perfect if you want something to wear over leggings that actually covers your bum.
A Cozy Work-from-Home Tunic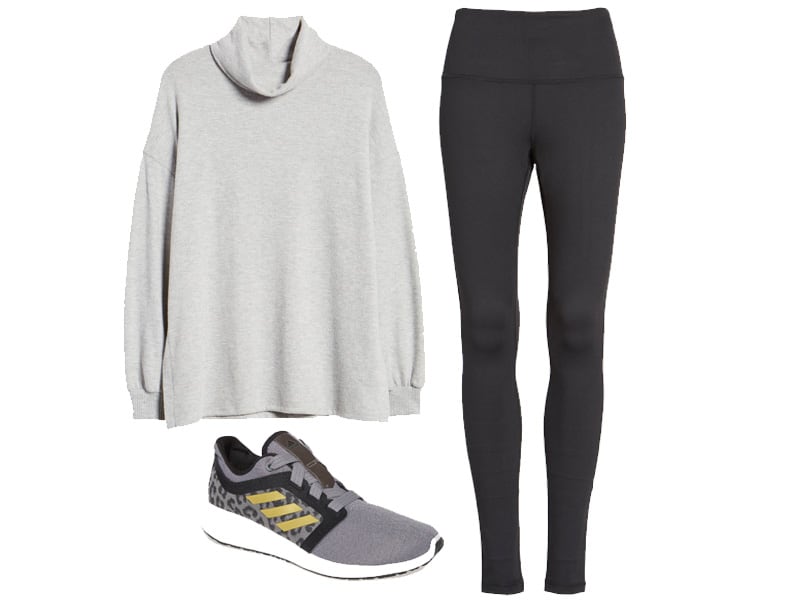 Tunic, $49 | Leggings, $59 | Sneakers, $85
Think of it as a better, slightly more polished, sweatshirt. It's available in XXS – XXL (equal to an 18 or a 16W). I bought the medium, so it fits true to size with a little room (which I'm going to need when all this is over 😉 )
This is less an outfit post and more and item post, meaning, all three of these pieces will serve you well, especially in the coming weeks.
I absolutely love the Zella Live in Legging. They are the only ones I wear. They are not the cheapest, but certainly not the most expensive. What I like about them is that they are high waisted – they sit right at my belly button. Plus size here.
I don't work out in them, instead, they are my
And then these sneakers are great. They are lightweight, slim profile, and so stinking cute. I have them in all black (see below) but these in grey are adorable.
Work From Home Tip
It's all too easy when you're working from home under normal circumstances to stay in your pajamas, forget to brush your hair, and zone out at your computer all day. Trust me, I've been there.
It takes a certain amount of discipline to give yourself ten minutes to get ready.
But in terms of your mental health, especially right now, it makes a tremendous difference. And most of all, with outfits like this, do your hair, even if it's just a ponytail, add a lipstick (your kids will ask where your going). You'll feel better all round.
xxoo
---
Our Content is Inspired by Our Readers
Our readership inspires all of our posts and is not sponsored or paid for by brands or retailers.
Recommendations are based on my experience as a personal stylist View Postand wardrobe consultant for over a decade. I worked with busy, down-to-earth women who wanted to look chic and feel confident but were often confused by so much of retail.
Some links are affiliate links, which means if you purchase via our site, we receive a small commission.
If you enjoy our content and would like to help us grow, please consider following on Instagram and join our Private Facebook Group to access more advice and exclusive in-depth conversations with other like-minded women.
---