These days, workwear leans a little more casual than usual, which can make getting dressed feel redundant and boring. Instead of feeling like you're limited to the same old outfits, use it as an opportunity to try something new.
This classic patterned, oversized blazer is just the thing. It's only $30, available in regular, tall, and petite up to a size XXL. Whether you're working from home (and running to Target in between conference calls) or heading into the office a few days a week, scoop this up and get inspired.
Old Navy Oversized Blazer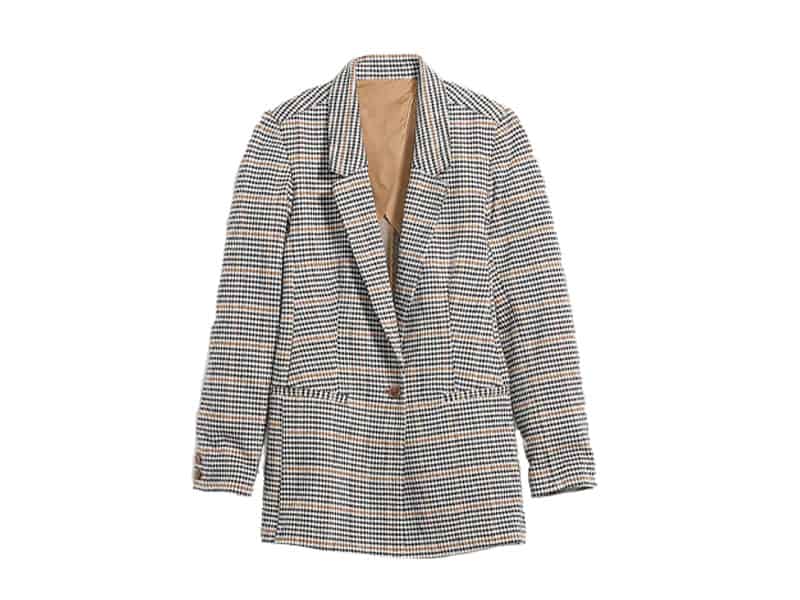 Blazer, $30 available in regular, tall, and petite up to a size XXL, plus size option here
When incorporating a trend or a style outside your comfort zone, it's important to maintain some timeless elements. This is what helps your look stay modern. Here, I'm using an oversized blazer (trend) with a houndstooth pattern (timeless). The combination strikes the right balance, and the price point allows you to give it a try without making a significant investment.
Below are two outfits, created with items you already have, and a few you can easily pick up to continue to expand your wardrobe.
Target and Conference Calls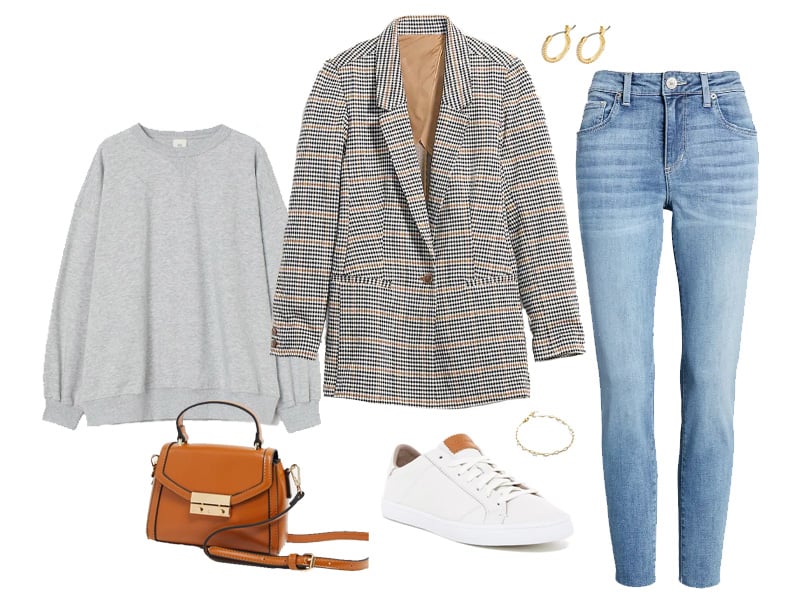 Blazer, $30 | Sweatshirt, $25 | Sneakers, $90 | Jeans, $59 | Bag, $23 | Hoops, $45 | Bracelet, $58
Making a casual look fresh and pulled together comes down to combining casual pieces with a few polished ones. It's that tension between a sneaker and a proper handbag that is unexpected and modern.
Here, I'm layering the blazer over a grey sweatshirt. Fit-wise, this works because the blazer is oversized. Use a sweatshirt that is lightweight and not too boxy. It's extra cute if you have one with a zipper and hood. Use whatever you already have; just be sure it's thin enough to fit under the blazer.
Then, a pair of sneakers. These Cole Haan sneakers continue to be a best seller. I love using them in outfit posts to show just how versatile they are. The British tan accent on the shoe tongue gives them a sophisticated feel and pulls out the blazer's rich tones.
To keep the look cohesive and add the right amount of structure, I used a similar color bag. This one is from ASOS for under $25.
For bottoms, grab a pair of casual jeans. I'm using light-washed ankle length boyfriend jeans because I like the contrast. You can wear whatever you prefer, from dark wash straight jeans to distressed skinnies.
In the Office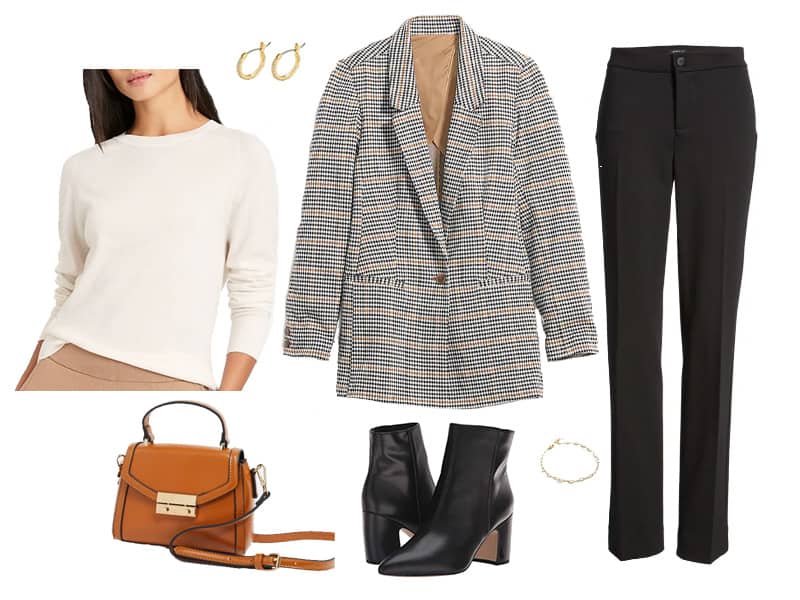 Blazer, $30 | Pants, $119 | Booties, $85 | Sweater, $79 | Bag, $23 | Hoops, $45 | Bracelet, $58
When I create these outfit posts, I always want to provide some helpful tips. Maybe it's an unexpected way to wear something or a product recommendation you end up buying and loving. Then, I want you to feel inspired. Perhaps you have similar items hanging in your closet and never thought to wear them together until now.
Finally, and perhaps what makes this site different from other style sites, I want you to build a functional wardrobe. You'll see items repeated throughout a season and even the year because that's how we dress in real life.
The blazer works with so many items many of you already have, like your favorite black jeans. Or go ahead and wear it with the Spanx Perfect Skinny Black Pants. It will look fantastic.
Want to kick the style factor up even more? Try wearing it with these leather leggings.
To give you some variety, above, I'm featuring them with these new to me, Curves 360 by NYDJ Ponte pants. If you want a slim cut pant but don't like skinnies, give these a try. You'll create a similar look in a more flattering cut. These are available in all sizes, including petite and plus.
Because these pants are straight leg, you can easily wear your favorite ankle boot. Just remember that the pants' hem should sit on the top of your boot, creating a break.
If you have the Sam Edelman Walden booties, wear them, in either black or tan. Above is a different Sam Edelman in classic black leather, with a higher shaft. These work well with straight or bootleg pants.
I'm using this washable wool crewneck from the Banana Republic, another Reader Fave, in vanilla cream to layer under the blazer.
---
Our Style Content is Inspired by Our Readers
Our readership inspires all of our posts and is not sponsored or paid for by brands or retailers.
Recommendations are based on my experience as a personal stylist and wardrobe consultant for over a decade. I worked with busy, down-to-earth women who wanted to look chic and feel confident but were often confused by so much of retail.
Some links are affiliate links, which means if you purchase via our site, we receive a small commission.
If you enjoy our content and would like to help us grow, please consider following on Instagram and join our Private Facebook Group to access more advice and exclusive in-depth conversations with other like-minded women.
---
Are You An INSIDER?
Registration closes on Monday, November 9th.