In the early 2000s, when I was in my 20's and broke, Anthropologie was the store.
When their flagship opened in Philadelphia ( a 19th century Beaux-Arts designed mansion on Walnut Street) it was three floors of ethereal, flowery, gorgeousness, housing everything from clothes and accessories to home goods and gifts.
I remember the first time I walked in shortly after they opened.
I had never seen such an inspiring space. It smelled divine, and the clothing floated on the racks like a dream.
I wanted all of it.
When I did splurge on a few things (is it a splurge if you don't have any money?), those purchases immediately became precious pieces.
Lots has changed in the last 20 years, but my style is pretty much the same. You might call it classic with a twist—timeless pieces with the occasional unique item mixed in for good measure.
Anthro's style, however, has been all over the place.
It had a weird hippie, flower-child vibe with not so hippie price tags for a while, leading me to believe I had aged out of their target market.
But now, I think they're back!
Their current inventory is stunning, and while most of it doesn't fit into my current boring lifestyle, there are some lovely options that could be the "twist" in your classic style.
AND, they are starting to offer more inclusive sizes, with certain styles available in plus and petite. 😉
So I rounded up my favorite nine pieces, in a range of sizes, all at or under $100.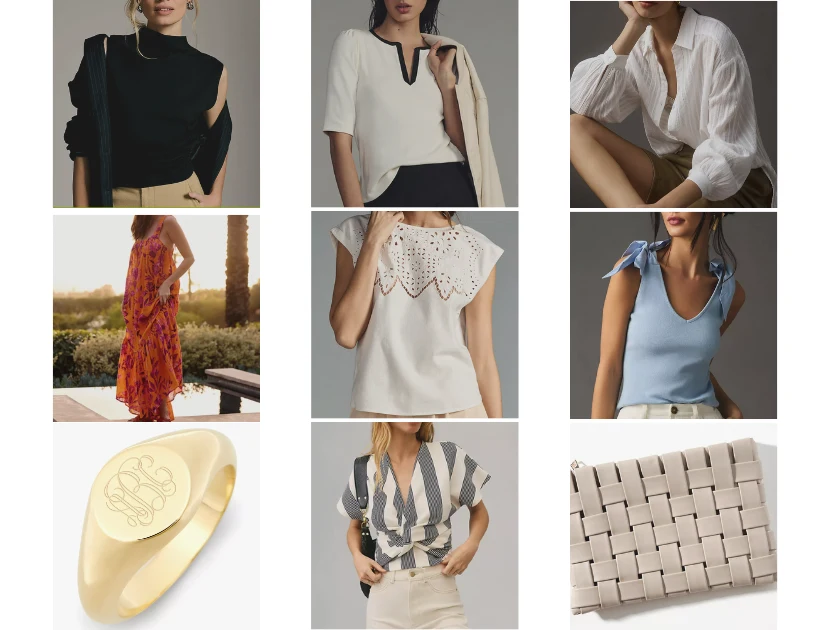 Pilcro Cap-Sleeve Eyelet Blouse
We've talked about eyelet trending this spring, and it's such an appropriate and easy-to-wear element.
This pretty cotton blouse, with detail at the neckline, and an extended shoulder creates a lovely silhouette.
Pair with your favorite denim or twill bottom, shorts, a wide leg trouser, etc.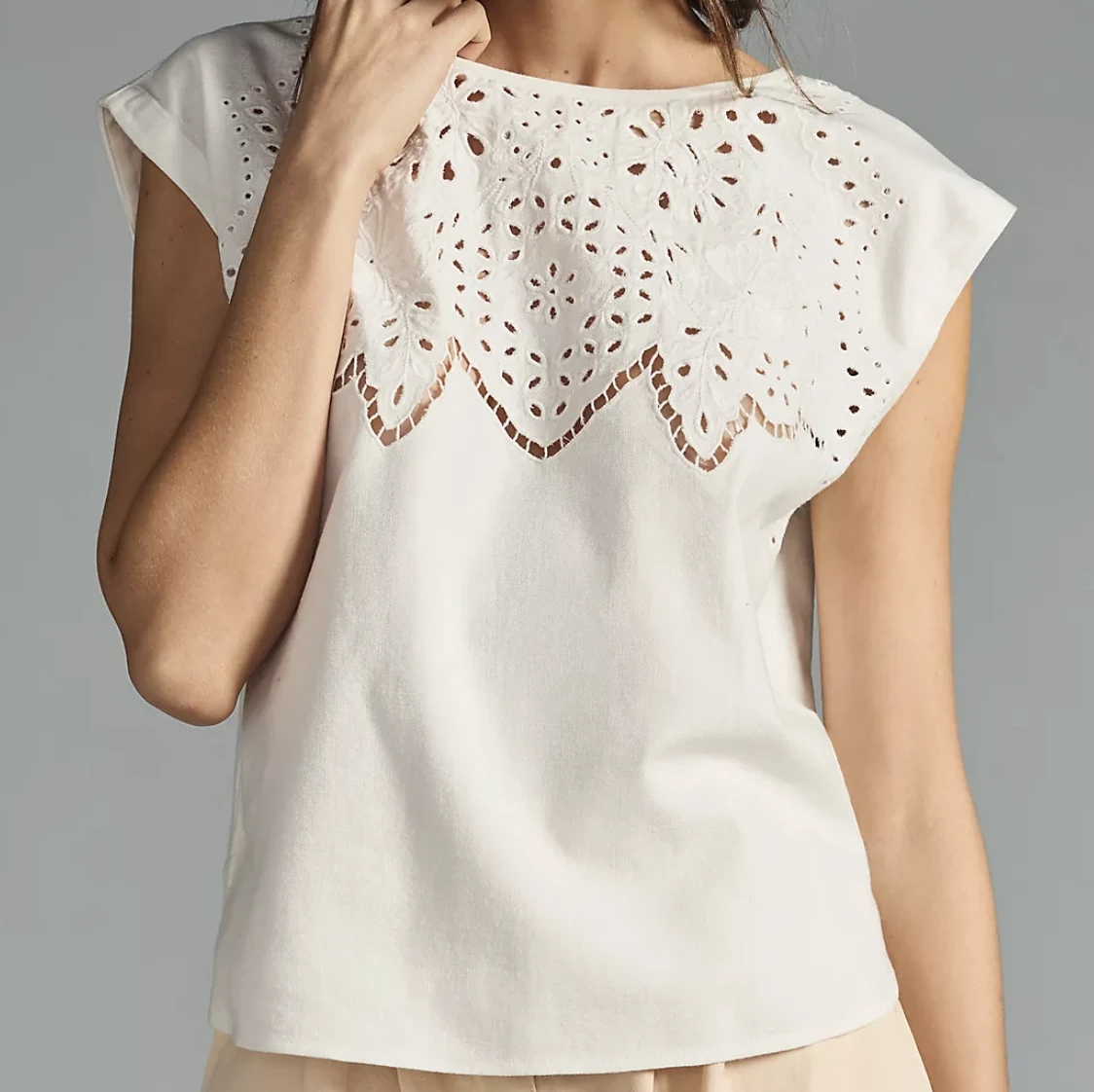 1
Pilcro Cap-Sleeve Eyelet Blouse
Anthropologie
$98.00
Backless Gauze Dress
This dress will not be for everyone, obviously, but if you (1) can pull this off, and (2) have a place to go, it is stunning.
Like the ideal vacation dress.
Available in regular, petite and plus for $98.
If I had a vacation coming up, which I do not, I'd buy this to wear over my swimsuit or for dinner at the resort, with wet hair pulled back and flat sandals.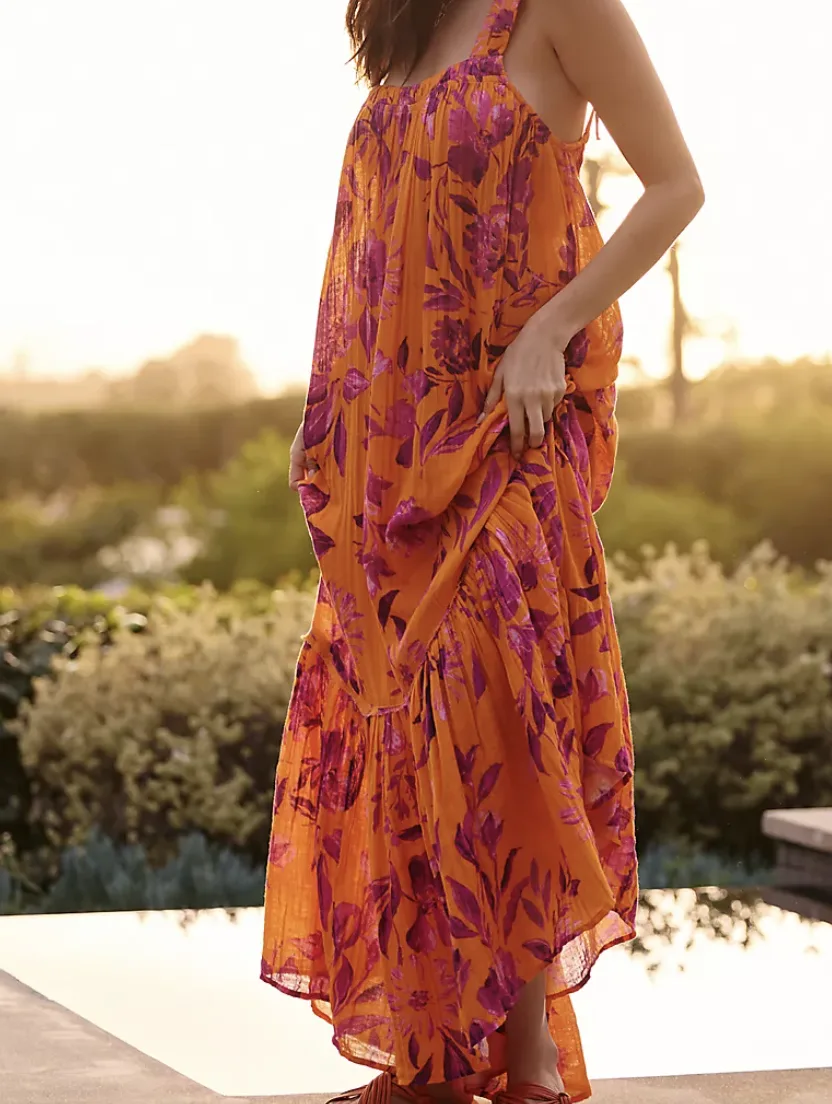 2
Backless Gauze Dress
Anthropologie
$98.00
Maeve Mock-Neck Shell Top
This is the kind of top I look for, it's a step above a tee shirt.
So you get the ease of a tee shirt but more style.
I love the mock neckline, and the ruching pulls you in at the waist in the best possible way.
The arm holes are a bit long, but I'll wear a light lace cami underneath to add some coverage.
Available in black, white, and red in XXS – XL for $58.
I'm 5'10 and took the large.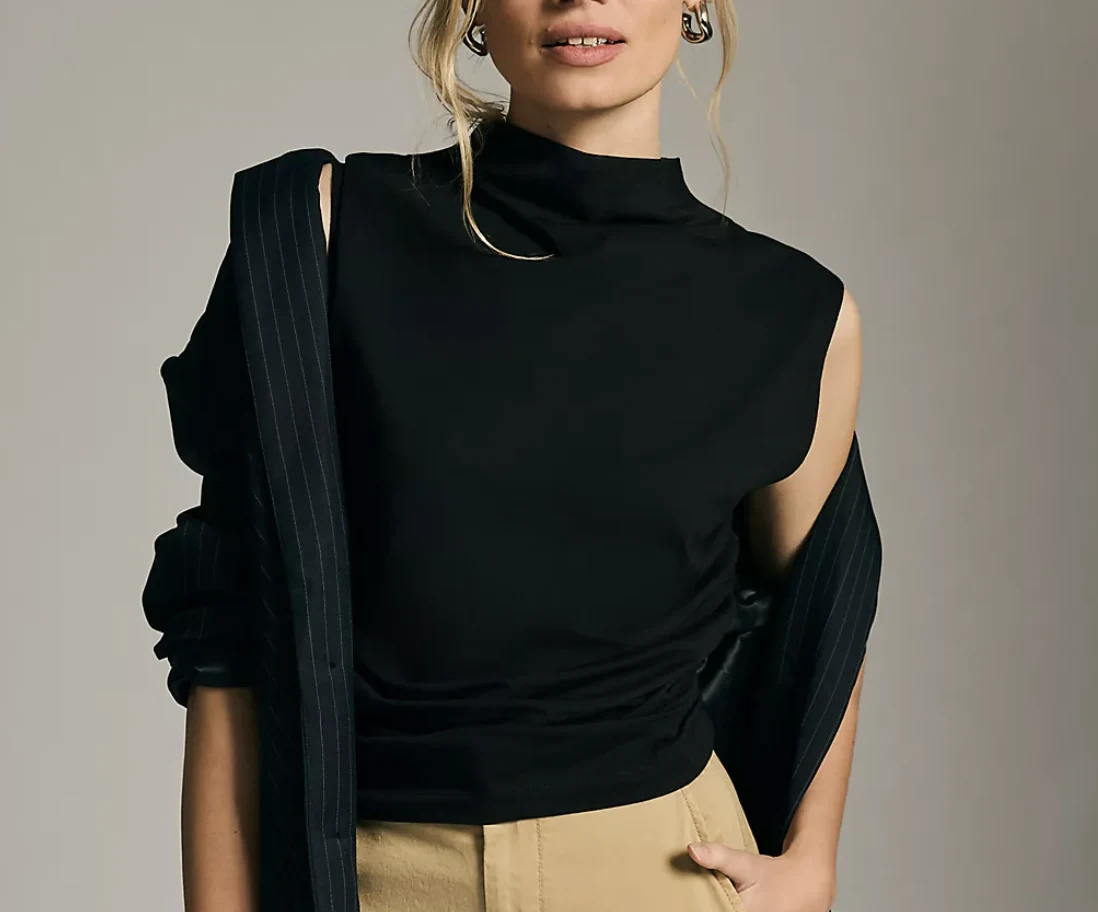 3
Maeve Mock-Neck Shell Top
Anthropologie
$48.00
Maeve Bow-Tie Tank
Just a pretty, elevated knit tank, with bow detail at the shoulder.
Again, not for everyone, but that's the point.
Available in a range of colors, certain colors have petite and plus options for $58.
I love the blue (below), they have a copper with black printed bow detail too that is striking, and a classic black that will go with everything.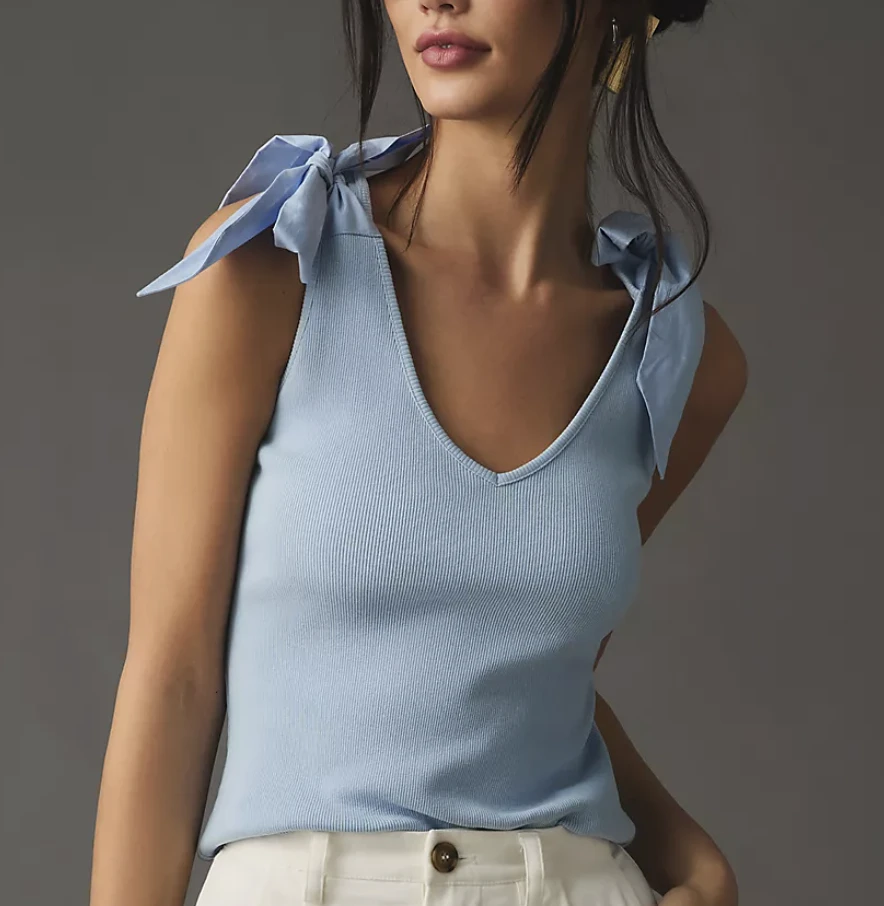 4
Maeve Bow-Tie Tank
Anthropologie
$58.00
Maeve Split-Neck Top
Tops like this are they KEY to creating pulled together looks in the warmer weather without having to add layers.
And if you live in a year round warm climate, scoop this up.
The black trip, slip-neck detail and lightest bit of gathering at the shoulder build this top out and make it a subtle statement top.
So you can throw it on with any black bottom and create a complete look, just add a your favorite shoes and your every day jewelry.
Available in XXS – XL, in ivory (below), sky and pink. The ivory is my pick.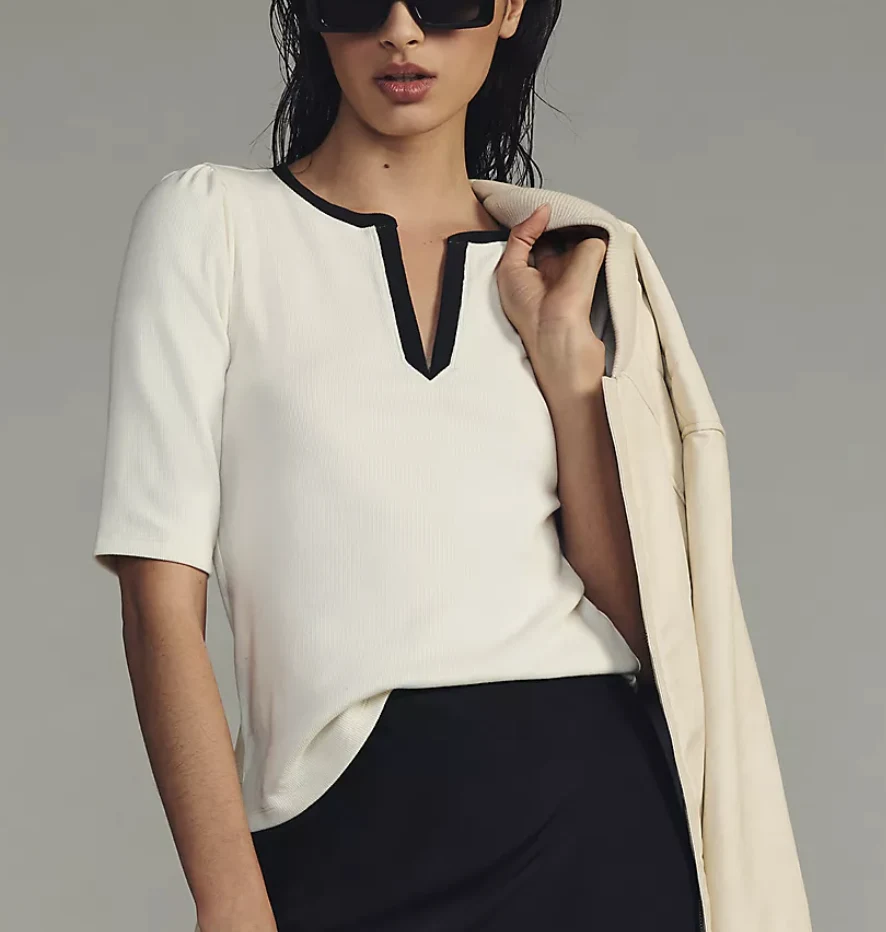 5
Maeve Split-Neck Top
Anthropologie
$58.00
Bishop + Young Twist-Front Top
When I saw this twist front top, I bought it immediately, even though it is back-ordered until June.
I hope that's the worst-case scenario because this is my jam.It's different, feels boutiquey, and will look great with navy or off-white bottoms.
Available in navy and orange in regular, petite and plus in XXS – XL for $78.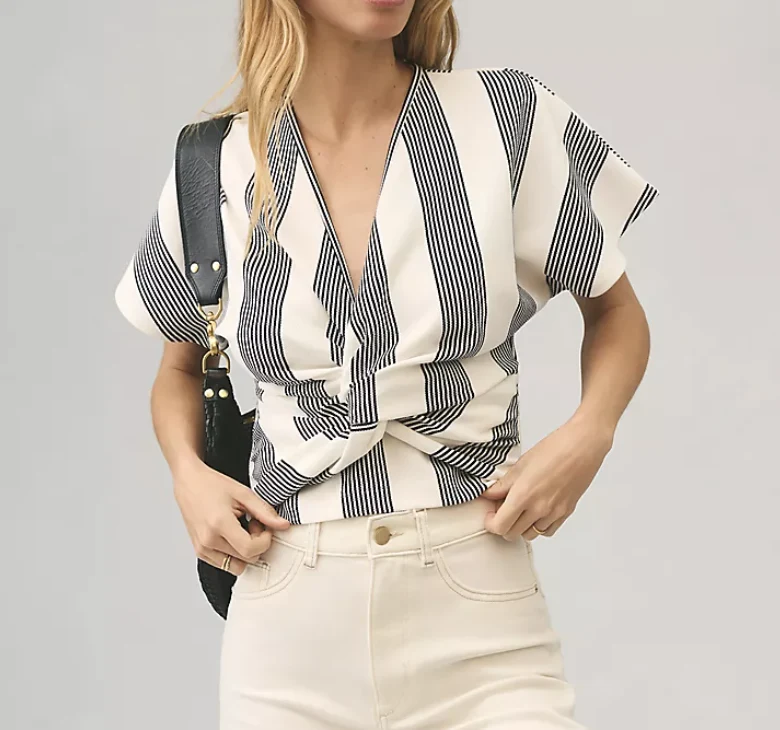 6
Bishop + Young Twist-Front Top
Anthropologie
$78.00
Buttondown Blouse
Lots of requests lately, specifically for gauzy blouses for summer.
So if you're looking for one, this cotton buttondown is perfection.
It's long enough to do whatever you want with it, tuck it in, wear it out, tie it.
I love the gathered detail at the cuff; it's not too much but makes it feel special.
Available for $98 in regular, petite and plus in in white and periwinkle.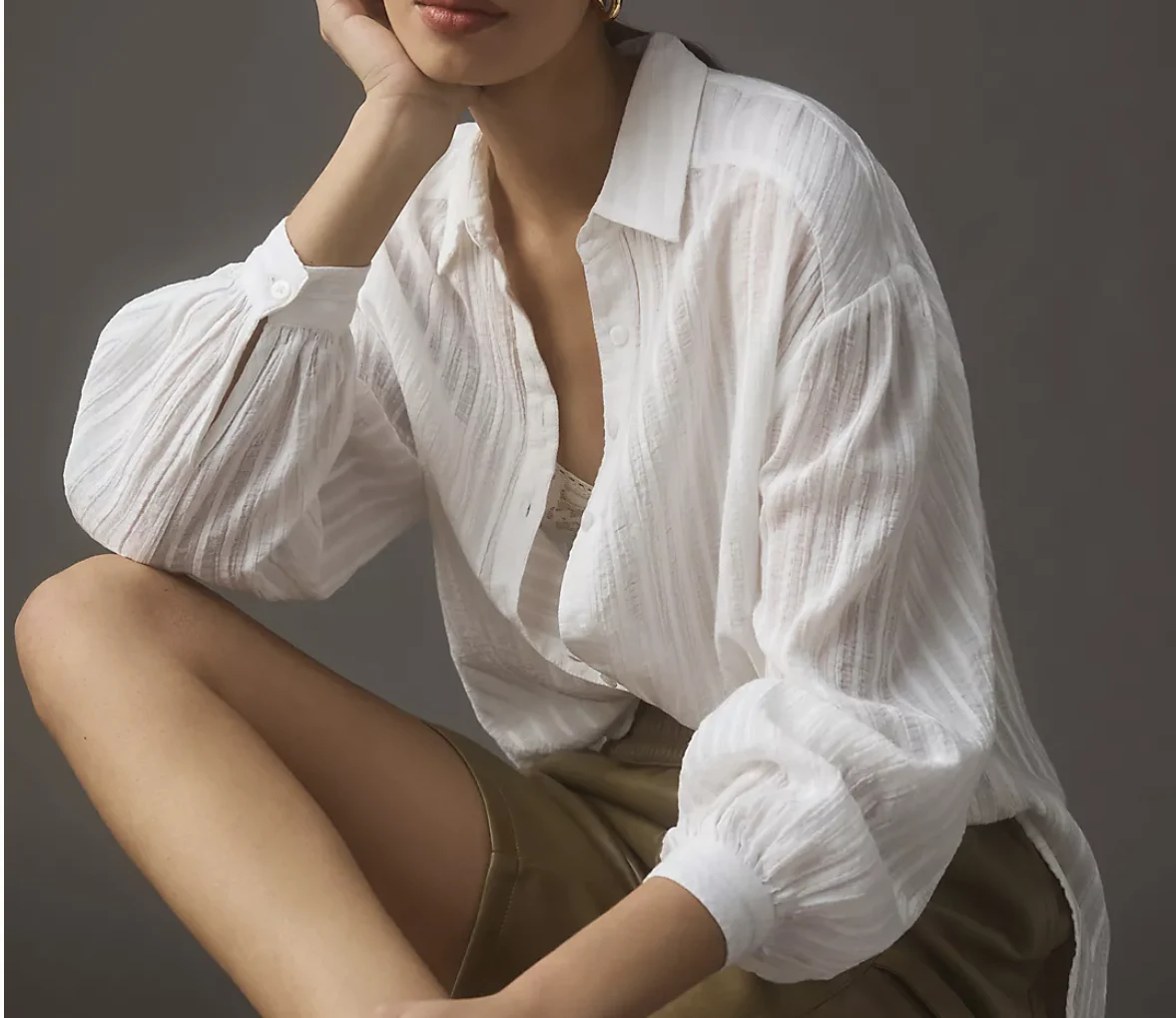 7
Buttondown Blouse
Anthropolgie
$98.00
Lindy Woven Clutch
We've featured this $80 clutch before, but it's worth sharing again.
The woven texture adds a little interest to your otherwise classic outfit.
I like all the color options, including the tan for year round use, and the white for the summer.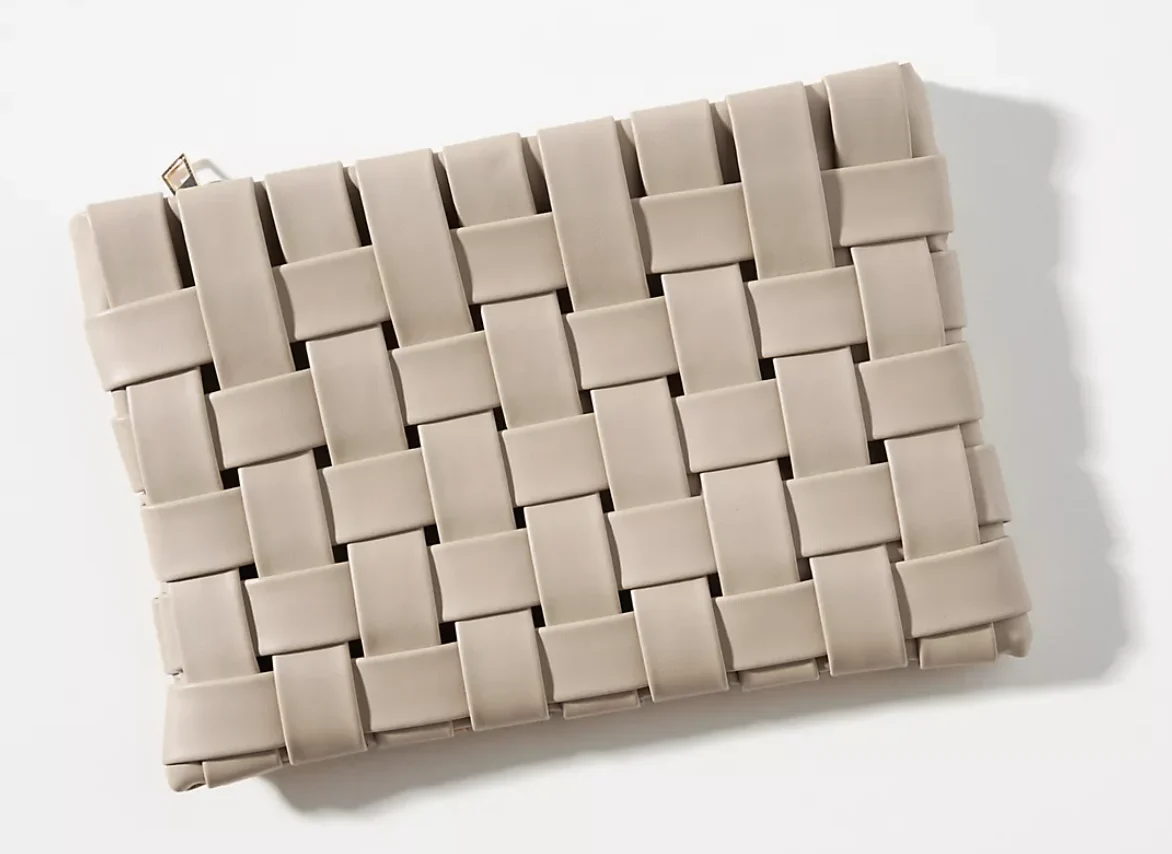 8
Lindy Woven Clutch
Anthropologie
$80.00
Brook & York Custom Monogram Petite Signet Ring
Finally, I love the look of a Signet Ring so I was thrilled to find this petite option, for $78.
Buy it for yourself or as a graduation gift this season.
Be sure to read the customization instructions before ordering.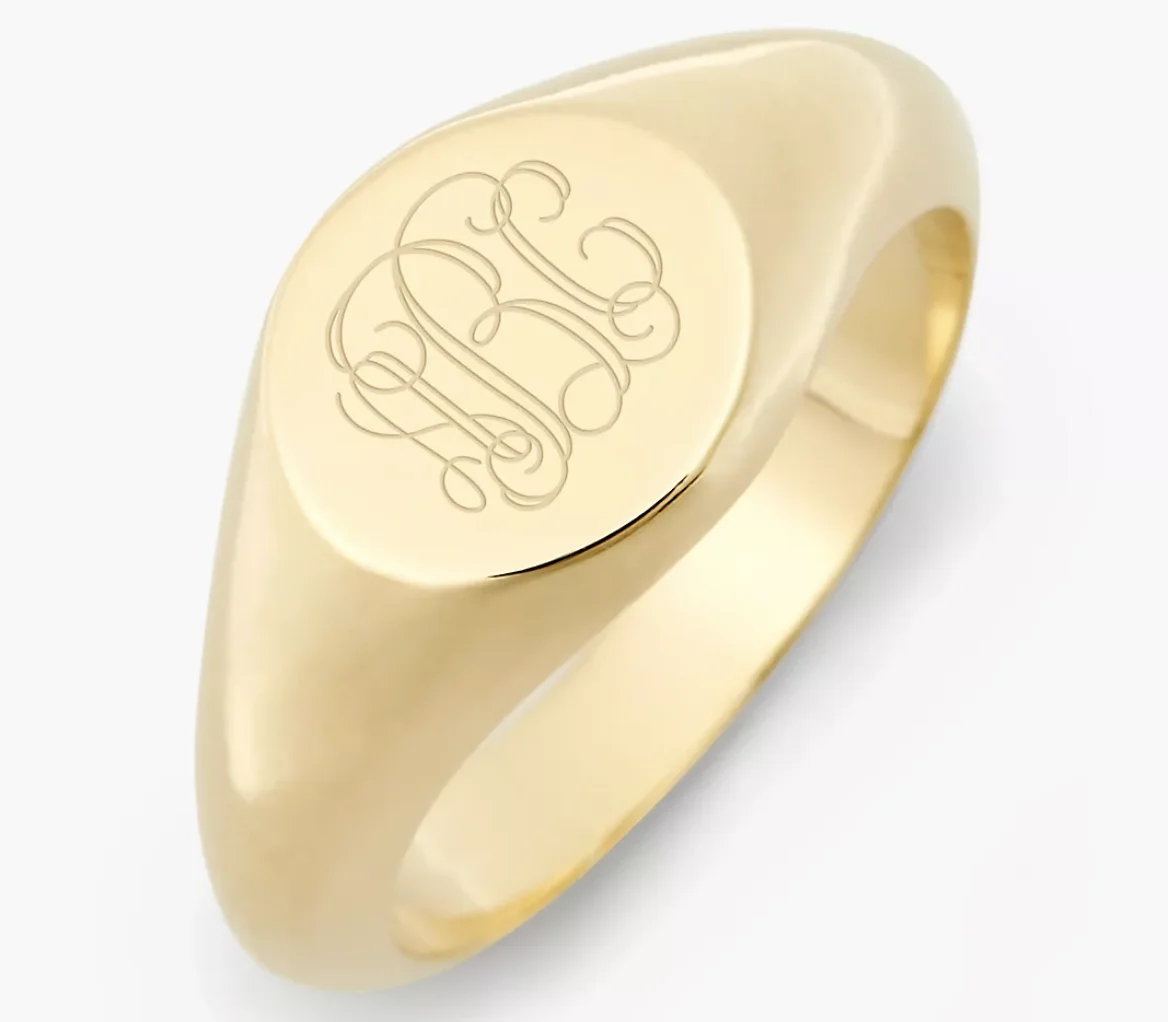 9
Brook & York Custom Monogram Petite Signet Ring
Anthropologie
$74.00