This content has been archived. It may no longer be relevant
My pregnancy with Vivian was by far my most challenging. I was sick my entire first trimester, my second was filled with anxiety due to a health scare, and in my third, I had a severe case of edema that put me in the hospital and left me on bedrest.
By the time Viv was born I was miserable, exhausted and physically beat up. There is a photo of me in the hospital a few hours after she was born and I look like I was hit by a truck.
Yet, despite how difficult it was, that pregnancy was the best thing to ever happen to my health. Because of my age, I had a greater sense of urgency to get and stay in shape. The nine months of no alcohol did wonders for my body (and taught me a big lesson), and even though I was ill for most of it, I worked out almost every day. Not because I wanted to, but because I knew it would be the best thing I could do for the baby and me.
My husband said it best the other day. As he was getting ready to go for a run that he didn't want to go on, he said, "I have to squeeze as much out of my 40s as possible."
This feels like the make or break decade. The one that, if we're going to have a fighting chance at good health in our later years, the hard work has to start now. That, and because we are restarting our journey as parents, we want to be as vibrant and youthful as possible when we're in our 50s with a ten-year-old and two almost out of college kids.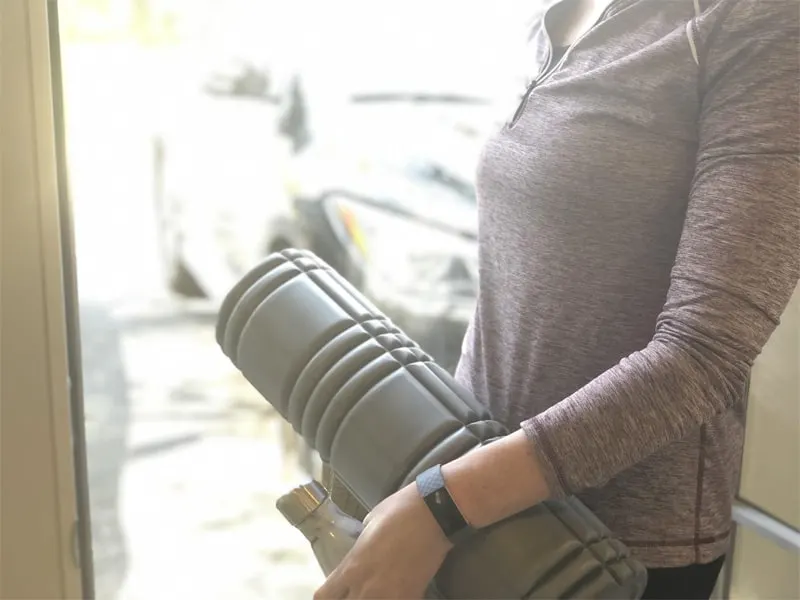 Half Zip Pull Over, $35 | Foam Roller, similar $20 | Fitbit Charge, $150 | Swell Bottle, $30
In January of 2018, before I found out I was expecting, I made a commitment to my health. I've done this a dozen times before, but this time, something felt different. I finally understood that taking care of my physical health was not negotiable.
It's not easy, and most days I don't want to workout, but I do it anyway. I thought over time my attitude would shift but, nope. I would still rather take a nap, catch up on emails, have a glass of wine, or anything else than hit the gym.
The difference is I know now how happy I will be that I spent that hour taking care of my health and I better understand my why. Those two things motivate me to push forward.
Now that the spring weather is here, I'm leaning in hard toward the season, with all its promise of newness. There's no better time to shake the winter dust off us and commit to a new routine.
So today, I'm sharing some ways I'm upping my game and some inspiration if you're in a similar phase of life. None of this is meant to come off as preachy. We all know that, as women, making ourselves a priority is never easy but is necessary for our health and the health and well being of our families.
Consider this another, friendly reminder, that you are a priority.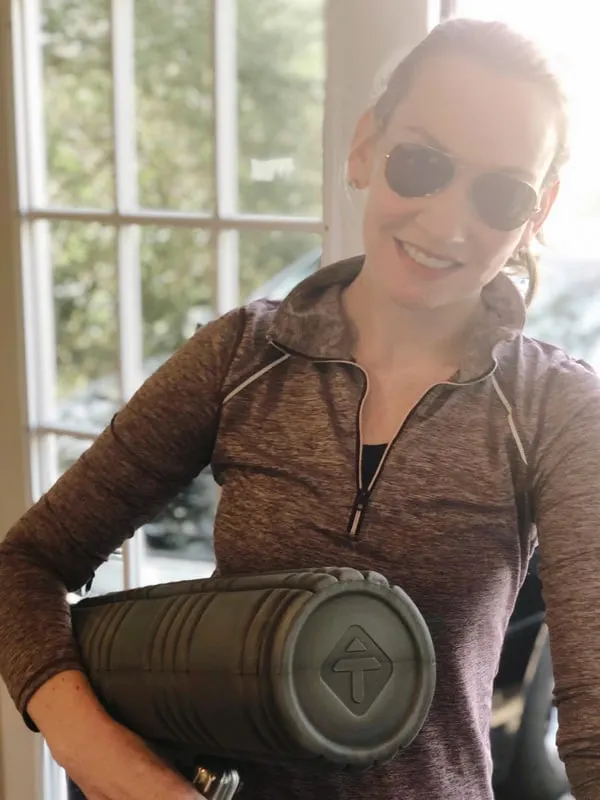 Half Zip Pull Over, $35 | Foam Roller, similar $20 |
Set Realistic Goals
I don't know about you but I have a tendency to bite off way more than I can chew all the time. Then I start to feel burned out and lose my motivation to do anything.
Instead of setting crazy fitness goals, keep it simple and attainable.
I recently bought a Fitbit Charge, and I love how it lets me not only track my fitness but set various goals. In addition to tracking your steps, it reports your resting heart rate, calories burned, and sleep. I set mine to remind me to drink a certain amount of water each day too.
Right now my goals are 10,000 steps a day, four workouts a week, 7 hours of sleep (that's not going so great), a resting heart rate of 60 which I'm working on getting even lower and drink 100 ounces of water, especially on days I work out extra hard.
Do I hit every goal, every day? Absolutely not.
The point is that each day you have a new chance to reach your goals, and it feels awesome when you do.
But on days you fall short …
Give Yourself Grace
No more negative self talk when you don't met your expectations. As busy women, somedays fitting in a walk around the block can feel next to impossible. The goal setting and the push reminders from a fitness tracker are there to keep your priorities top of mind, not to emotionally flog you when you miss the mark.
This is something I'm dealing with all the time. After three c sections, my core is in bad shape. There are things I was able to do when I was six months pregnant that I can't do right now. As much as I intellectually understand my recovery is going to take time, I get frustrated in class when I can't make simple moves that were easy for me to do a few months ago.
When I get into a negative head space, I quietly think about everything my body has done for me, the lives it's brought into the world and how grateful I am for it while taking deep breathes.
It's such a cheesy statement, but I do try to talk to myself at that moment the way I would talk to my best friend, and it helps me tremendously.
Another tip: when I can't make a workout and have to go into my scheduling app to cancel, I always book another one right after, even if it's a week out so I stay in a proactive mindset.
Get Outside
Now that the weather is warm and the sun is out longer, just add a walk. That's it. Even if you feel exhausted, get up a few minutes early in the morning or before bed and take a stroll around the block for 20 minutes. The fresh air will do wonders for your mood, and you might find you stay out a little bit longer than you intended.
I've started taking the baby for walks in the morning before the day begins or right after dinner. I get a thousand extra steps, and it helps separate my day from my night.
No baby? No problem. Put on a podcast and give yourself some much needed "me time."
Start to Stretch
Turns out the better you stretch, the better you feel after a hard work out.
Who knew?
I learned how to use a foam roller while I was pregnant because pretty much my entire body hurt.
A foam roller will help with circulation, relieves soreness after a workout, reduces stress and more.
I use it now a few times a week and notice a difference in my recovery and flexibility. You don't need anything fancy; a basic foam roller is about $20. I watched a few instructional videos and was good to go. You can do it right after a work out, a walk or after a long day on your feet before bed.
Document Your Progress
You don't have to post it on Instagram! This is just for you. Take a picture of yourself on the same day every week, and within six weeks of consistent effort you'll start to see a difference in your body. Keep the photos in a file on your phone and flip through them each time you snap a new one. (It's helpful to wear the same thing each time.)
Just the other day, I looked over in the mirror in one of my classes and saw definition in my shoulders and upper arms that I didn't have before. I could have cried I was so happy. No one else would probably notice, but I do.
And that's been the difference maker this go around, I'm not doing this for anyone other than myself.
Don't worry or focus on the number on the scale. Instead, focus on the difference you see your body, how you feel during the day and how you sleep at night.
For me, part of my progress is in my mood, stress levels and emotional health. I handle every day and work stress so much better than before. I'm a naturally chill person, but for a few years I was emotionally out of control. Regular exercise has been the key to getting back to my center.
Add Whatever You're Not Doing
Typically, someone either likes cardio or strength but not both. If your routine feels like it's leaning in one direction, add the opposite. Personally, I would pick strength training over cardio any day of the week, but we need cardio for a million reasons, not the least of which is our heart and lung heath.
Since I loathe running, I gave cycle classes a try a few years ago. In the right class, with the right instructor and playlist, it's like dancing and this girl loves to dance. Once you find something fun, it's that much easier to make it a habit.
Conversely, if you love cardio add some strength training and you'll see your progress that much faster.