The New Year brings the desire for a fresh start. There is something so empowering about the idea of a clean slate. We might recommit to our health, focus our energy on our career, or make small improvements across a few areas of life.
When I worked with private clients, January was one of our busiest months, with lots of new clients since many women decided they were going to put more effort into their style and image in a new year.
Last week, as I was standing in my closet getting rid of my maternity clothes, I felt the need to recommit to my own style. Between being pregnant for most of last year, homebound in my last trimester and busy with our remodel, I pretty much lived in leggings and sneakers for the last few months. When I did have to get dressed for a meeting or presentation, my options where limited.
I miss getting dressed, and feeling, well, pretty and pulled together.
Given what I do for a living, my wardrobe is in good shape. However, like all women, as
I age, and my life evolves, my needs and preferences change too.
Since my word for the year is simplicity, I want to focus on creating a straightforward wardrobe, that makes me feel stylish, confident and works for our new, even busier life. I don't want to go full on minimalist – that won't work for me, but I'm inspired by the idea of pairing down my wardrobe to my absolute favorites, and getting the most out of what I own.
If you're feeling the same way, and yearning for a simple, yet chic approach to personal style our content this year will help inspire and keep you on track. To get started, today I'm sharing some resolutions that will help us make this year our best dressed year ever.
6 Style Resolutions for 2019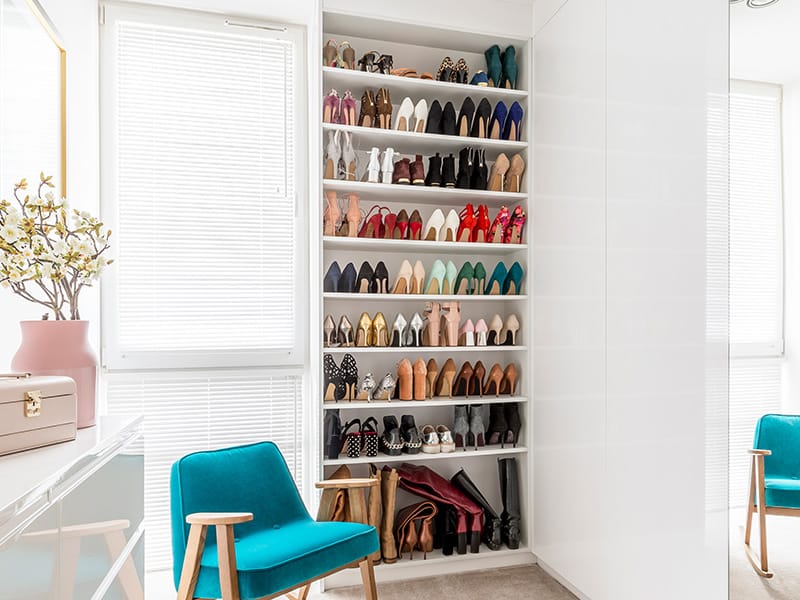 Stay Organized
A messy closet makes your day more complicated. Your mornings will be frantic; you'll spend too much time trying to get dressed, you'll be stressed out because you can't find anything and you'll waste money buying things you already own. Spend 60 minutes cleaning up your wardrobe. It's easier than you think, half the battle is getting your head in the game and giving yourself the time to work.
Once you have it clean up, spend a few minutes every week, when you're putting away your laundry, maintaining it.
I'm taking it a step further this weekend and using Maria Kondo's "does it spark joy" process. We'll see how that goes!
Use What You Have
I've cleaned out thousands of closets over the course of my career. One thing I know for sure is that you have pieces hanging in your closet, right now, that you haven't worn in months. Once your wardrobe is edited, take a look at what is left and commit to getting as many wears as possible out of your basics. You'll likely need to bring new pieces in too, but before you start shopping, try to make a few new outfits out of your existing wardrobe.
This exercise will help you think differently over the course of the year. As you start to bring in new purchases, you'll be in the habit of mixing and matching, and will get the right amount of use out of your clothes.
Be Thoughtful with Your Purchases
Ask yourself two questions when you are considering a new purchase
Does this item bring me closer to my ideal style? If yes, go to question 2.
Can I wear it three different ways? If you can create three new outfits with the item, proceed to checkout!
Focus on Your Style
It's impossible to streamline and organize your wardrobe when you're unclear about your personal style. Maybe you …
Know what you like but get overwhelmed when shopping.
Like many different styles and have a hard time blending them together.
Tend to buy what fits and is on sale instead of what you actually like.
Finding your style is the first step in true wardrobe building. Follow these steps to get started.
Last year, I finally understood that my style is always going to be classic. No matter how many fashion-forward pieces I buy, no matter how much I tell myself that I should go outside my comfort zone, inevitably, the trendy pieces stay in my closet, and I put on a cashmere sweater and jeans.
I guess it only took 39 years to (sort of) accept who I am, at least when it comes to style.
Fill in the Voids
Really look at what you have and consider what you need to build out your current wardrobe.
Do you need more basics?
Could your undergarments benefit from a refresh?
Would a few accessories update your look?
Whatever you need, use this year to focus on it.
Keep a running list so when you shop you stay focused. If you avoid impulse purchases for 12 months, you'll end the year with a fully functional wardrobe that reflects your style. Imagine that!
Save to Splurge
Sometimes, a splurge worthy item is just what you need to elevate your everyday basics. This year, I'd like a new everyday bag that doubles as a diaper bag (without looking like one) and these pumps in nude for work in the spring. I'm saving now so I can make some purchases guilt free.
When you go through your wardrobe, look for items you can resell to help pay for your new purchases. I've had luck selling on Poshmark (I made back about $700 last year) and have sent a few bags full of clothes to Thred Up (made about $400). This article by Lauren breaks down your options to donate and sell the clothes you no longer want.
Need some extra help?
I created Four Weeks to a Better Wardrobe, a free series that walks you through the process we used with clients for over a decade. (I "retired" from that work about three years ago to focus on other projects and businesses.)
You can also join our Facebook group and ask any questions you might have in a private and judgement free space.