This content has been archived. It may no longer be relevant
August is an excellent time of year to bring some thoughtful pieces into your wardrobe since we still have four more long weeks of summer. On the East Coast, when the kids don't go back to school until after Labor Day, summer starts to feel never-ending. Once September finally hits, our feet barely touch the ground before we look up and it's Halloween.
For today's post, I challenged myself to come up with six different pieces that will impact your wardrobe today and any day in the early fall. They are more trendy than basic but have longevity. Any of these items mixed with the better classic pieces you already have will give your closet a modern kick and keep your look fresh.
Let's start with the piece that inspired this entire post.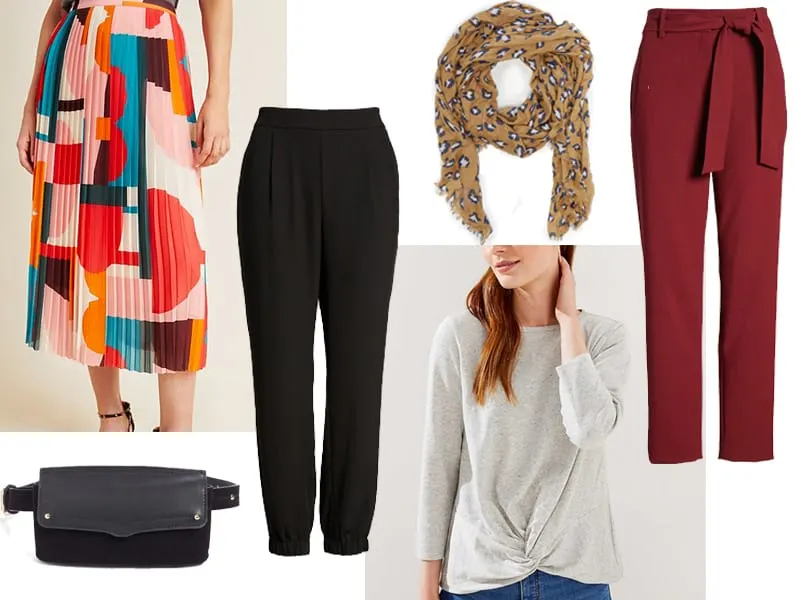 Scarf, $30 | Belt Bag, $118 | Sweatshirt, $54.50 | Joggers, $79 | Midi Skirt, $130 | Tie Waist Pants, $99
Bold Midi Skirt – $130
I found this midi skirt from Anthropologie last time I was in New York and loved it immediately. The color combination is gorgeous, and it's different from what most of us already have. Because it's so bold pair it with basics. I like it with a v-neck tee and a pair of tan block heel sandals. These are similar to what I wear all the time and they are on sale.
For the fall throw on a denim jacket and swap out your sandals for a pair of knee high suede boots.
Belt Bag – $118
I can't believe I am into anything closely related to a "fanny pack" but here we are. Thankfully, this slim lined Rebecca Minkoff bag is worlds apart from the dorky version we wore in the 80's. The design lays flat across your waist allowing you to be hands free with all your essentials close by and no bulk.
If you still have some travel on the books for the summer, you'll love how easy this is to bring along, and you'll be happy you have it ready for all the busy fall weekend activities.
Dressy Joggers – $79
You can do so much with joggers. They make for a better version of a sweatpant when done in cotton, or can go from the office to date night when made in a lovely crepe material. I found this pair at Nordstrom for under $80, fair warning, sizes are limited.
You can wear them with anything from your favorite sleeveless top and strappy sandals or add a blazer and a pump to take to the office in the early fall. I get more wear out of my pair than I imagined when I first bought them. They make me feel like I'm wearing something cool but not costumey. (Stay tuned for next Wednesday when we show you how you can easily style them for work.)
Sweatshirt with a Twist – $32
I picked up this sporty sweatshirt with a literal twist for our upcoming time at the shore. There is nothing I love more than a cool night on the beach in cutoffs, flip flops, and a cozy top. It's heaven.
But once we're home and in full back to school mode, this will be equally comfortable and still pulled together with a pair of boyfriend jeans or leggings and sneakers for early mornings at the bus stop.
Print Scarf – $30
For a budget friendly style surge, grab a scarf in your favorite print. Many of you know I'm not a huge fan of pattern. But a leopard print acts more like a neutral. Wear it now to zhush up your shorts and tee shirt outfits and they go crazy in the fall layering it under sweaters, blazers and jackets.
Tie Waist Pants in Burgundy – $99
These trend right pants hit the mark in style and color. Tie waist pants are the kind of trend that can slip right into your current wardrobe and not feel out of place.
For under $100, your price per wear will be cents before the new year. Pair now with a your favorite white short sleeve blouse, or go with the always chic combination of pink and burgundy.
In the fall, add a long sleeve blouse, and a pair of suede pumps.
Easy peasy.