I usually wait until after Thanksgiving to decorate for Christmas, but I started this week. My kids have been in full-time, in-person school since the start of the school year (it's been wonderful) but are going virtual for two weeks, beginning on Monday.
Knowing the next few days will be filled with distractions, I'm putting in a marathon effort this weekend to get the holidays set up.
This year I want to make it as cozy and fun as possible. That shouldn't be too hard since Vivi turns two a few days before Christmas. Getting to redo all of our holiday traditions with a little one again has been an absolute gift. I'm not sure who is enjoying it more, her or me.
One of my favorite childhood traditions was how my mom made sure we always had a few special things to wear, like pajamas just for Christmas Eve and a new Christmas Day outfit. Of course, I do the same for my kids. Because what we wear can set the tone for the occasion and end up marking a memory.
And for me, there is no pattern more memory-evoking than a Fair Isle print.
So as we head into the weekend, I'm rounding up some of my favorite cozy Fair Isle sweaters for holidays at home. They are perfect for this time of year, for Thanksgiving, the night you decorate your tree, or just snuggling on the sofa with a holiday movie.
5 Fair Isle Sweaters for Thanksgiving and Beyond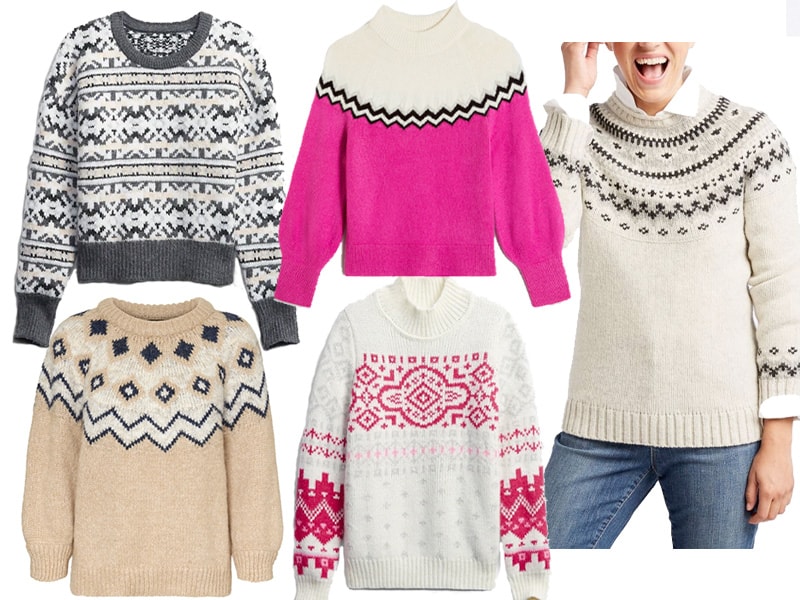 How fun are these? They're the stuff of Hallmark Movie magic. If you pick one up, or already own one (and you really only need one) keep your look simple: a pair of jeans, a pull on pant, or a jogger, the pour yourself a glass of wine and relax by the fire.
Below are my top picks in all sizes including regular, tall, petite and plus:
LL Bean, $75
Vero Moda, $65
Gap, $80
Gap, $70
Ann Taylor, $90 (On Sale for $45)
---
Our Style Content is Inspired by Our Readers
Our readership inspires all of our posts and is not sponsored or paid for by brands or retailers.
Recommendations are based on my experience as a personal stylist and wardrobe consultant for over a decade. I worked with busy, down-to-earth women who wanted to look chic and feel confident but were often confused by so much of retail.
Some links are affiliate links, which means if you purchase via our site, we receive a small commission.
If you enjoy our content and would like to help us grow, please consider following on Instagram and join our Private Facebook Group to access more advice and exclusive in-depth conversations with other like-minded women.