Sneakers started to have a moment even before the world hit the pause button a few months ago. Sartorially, we were seeing them paired with everything, from jeans to business suits.
Today, with our lives looking more casual than ever, a few novelty sneakers may be just the thing to breathe new life into our wardrobes, especially if you are like me and starting to miss the fun of getting dressed up.
So, I rounded up a few pairs that will jazz up your joggers, add a sporty balance to a feminine dress, or simply put some personality into a pair of jeans and a tee-shirt.
6 Cute Sneakers to Update Your Stay at Home Outfits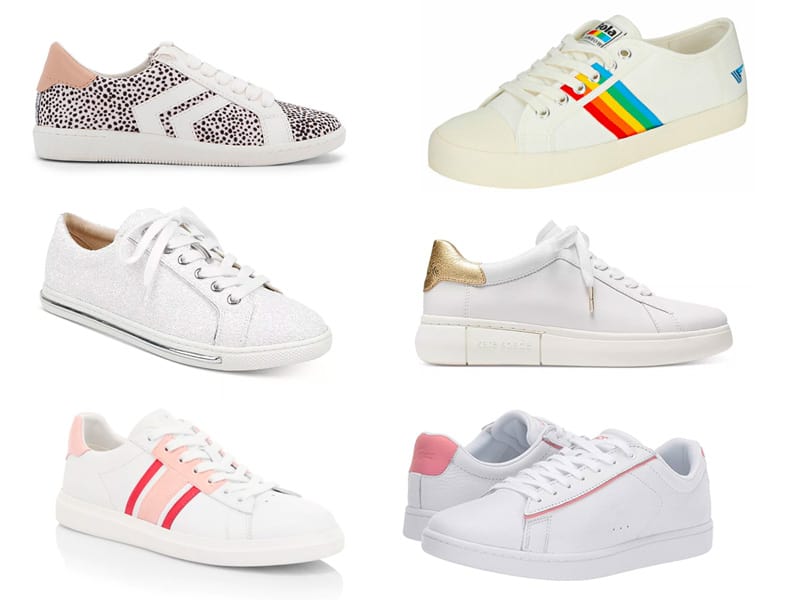 There are a few things to remember as you create outfits around a pair of sneakers.
First, and most importantly, do not use your gym sneakers for this. Keep them for runs and workouts.
Second, balance is key. You want to use a sneaker with a slim profile. One that is too clunky will throw off the proportions.
Finally, don't be afraid to use your sneaker to add some personality, much like a sandal or a pair of heels. Play with color, texture, and pattern. Have fun with it!
Below are some of my favorite options, including the pair I'm currently wearing on repeat.
My Top Pick: Subtle Leopard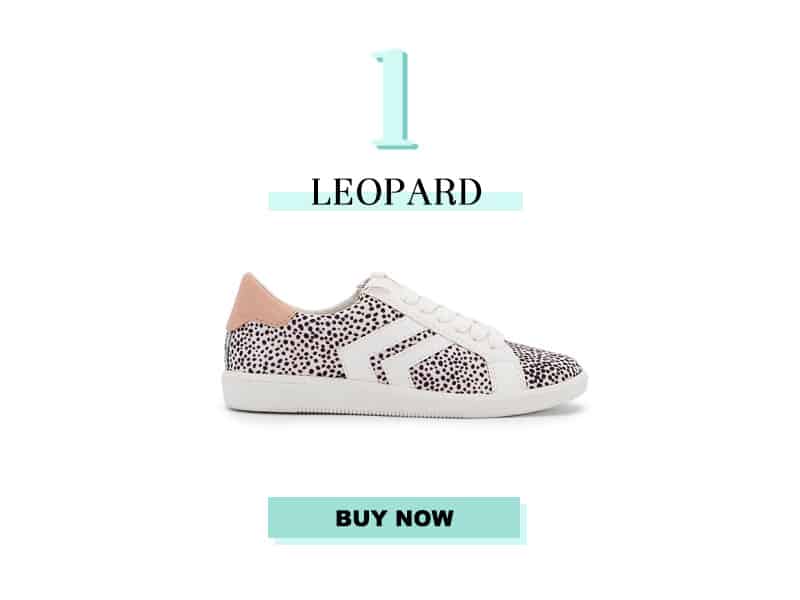 Leopard, $69
I absolutely love these and wear them all the time. The pattern is subtle, so they work with almost everything. My wardrobe leans heavy in better basics, which can sometimes feel boring and redundant. These UP! the style factor of any ordinary outfit. You can buy them at DSW here with quick shipping.
Rainbow Trend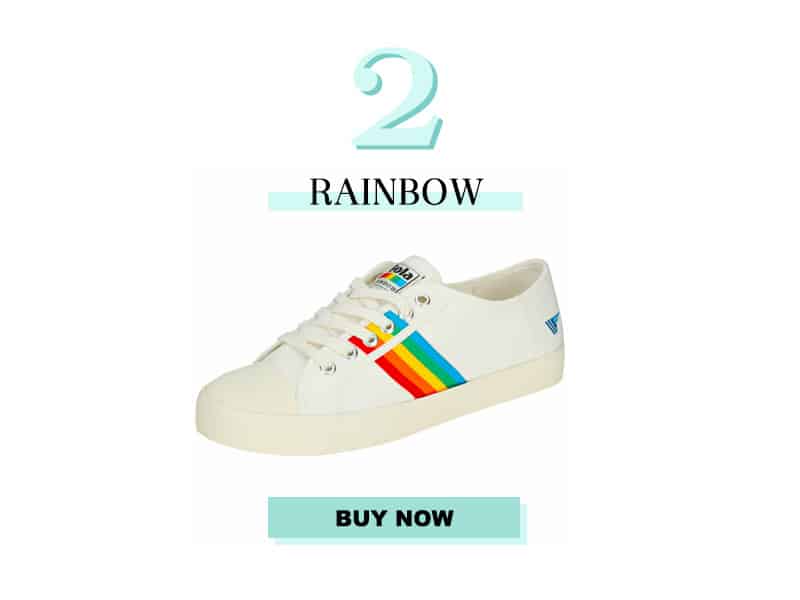 Rainbow, $65
The rainbow trend is everywhere. We're organizing our bookshelves, pantry, and even our fridges, by color, so of course, it's creeping into fashion too. I love these sweet kicks by Gola for under $70. They add a cheerful optimism to any basic outfit.
Lux Detail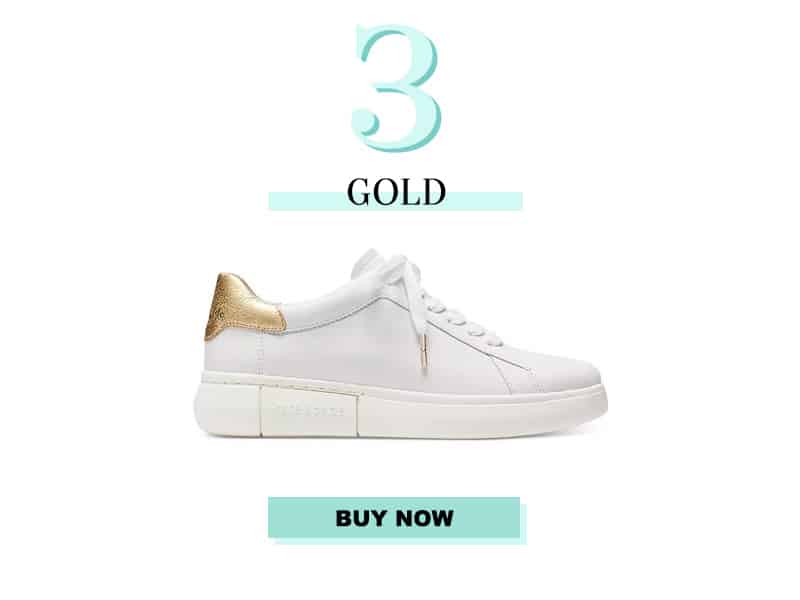 Gold, $77
Kate Spade has made adorable sneakers for years and these are no exception. These are a great choice if you want to ease into the trend. The gold details elevates the sneaker without going overboard and you can wear them with absolutely everything.
Sporty Glam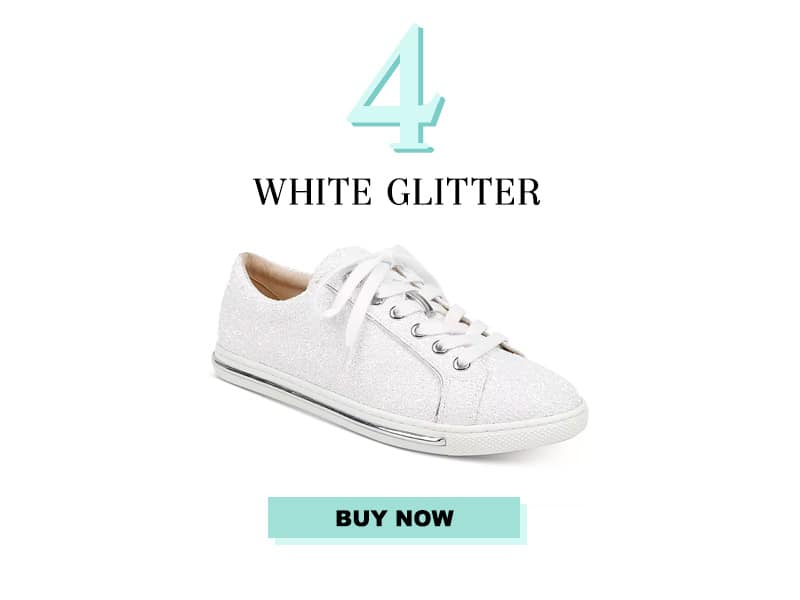 White Sparkle, $145
File these under, I don't know who needs these sneakers, but someone does. They are so beautiful. I could see a bride hide them under her dress, or wear them to a city hall ceremony. They would also look pretty with a casual feminine dress, like a floral maxi or a simple pair of shorts with a pretty top.
Splurge Worthy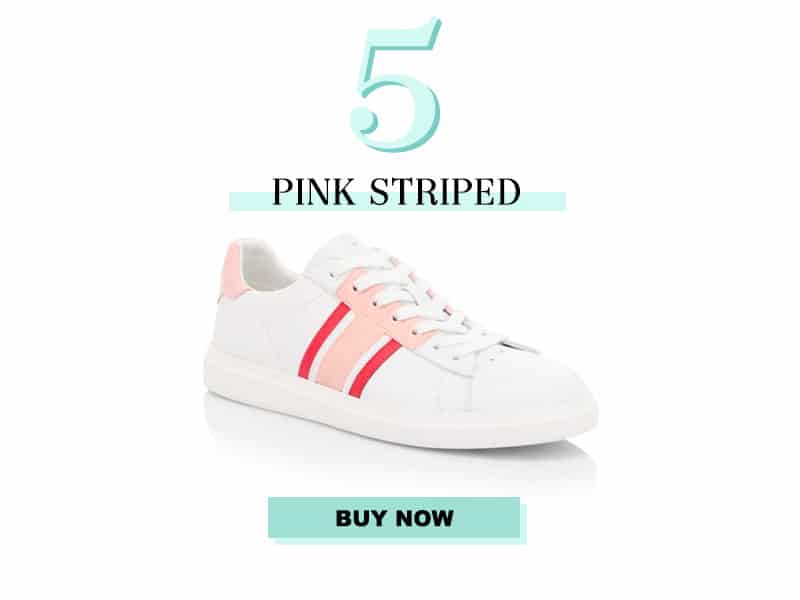 Pink Stripe, $198
These are the most expensive option on this list, but I had to include them. They are so bright and cheerful. If your budget allows and they fit into your style, you'll have these for a long time. They are the perfect combination of classic, preppy and pretty.
Everyday Style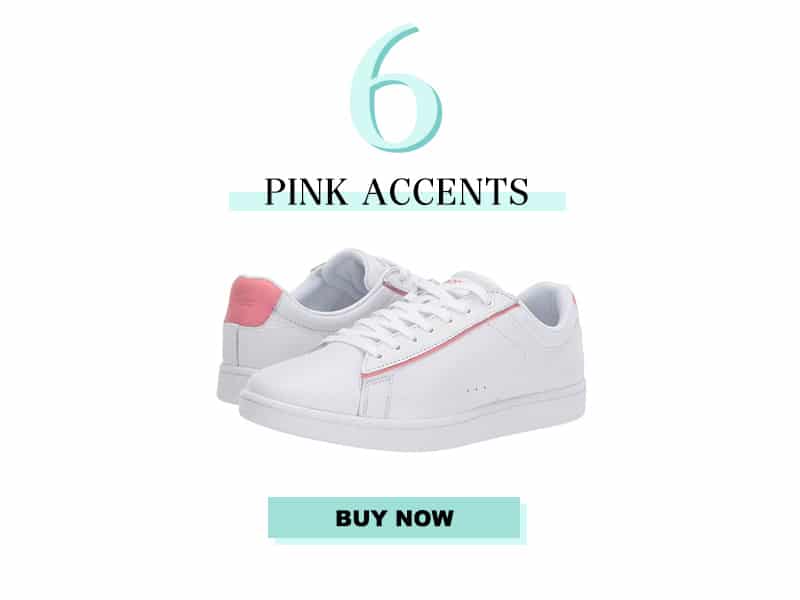 Pink Accents, $80
Finally, these classic white and pink Lacoste sneakers are ideal for everyday wear. Wear them for walks, running errands, or take them on an upcoming road trip. If you don't love the pink accents you can get them with black instead. Read their Five Star Reviews here.
---
Our Content is Inspired by Our Readers
Our readership inspires all of our posts and is not sponsored or paid for by brands or retailers.
Recommendations are based on my experience as a personal stylist View Postand wardrobe consultant for over a decade. I worked with busy, down-to-earth women who wanted to look chic and feel confident but were often confused by so much of retail.
Some links are affiliate links, which means if you purchase via our site, we receive a small commission.
If you enjoy our content and would like to help us grow, please consider following on Instagram and join our Private Facebook Group to access more advice and exclusive in-depth conversations with other like-minded women.
---