This content has been archived. It may no longer be relevant
For several years I traveled the country as a personal brand expert. I worked with companies and their teams helping them craft authentic, strategic messaging. We covered everything from tips on how to dress to how to leverage social media to stand out in a crowded market. That experience taught me so much and gave me some incredible insight into the workings of some of the top companies in America. Today, I still do a bit of that work, but my main focus is this site.
With the summer coming to an end and the fall on our doorstep, now might be the perfect time to evaluate your personal brand. Paying attention to how you come across and making small adjustments may be the leverage you need to reach all of the goals you set at the beginning of the year.
5 Ways for Women to Build Their Personal Brand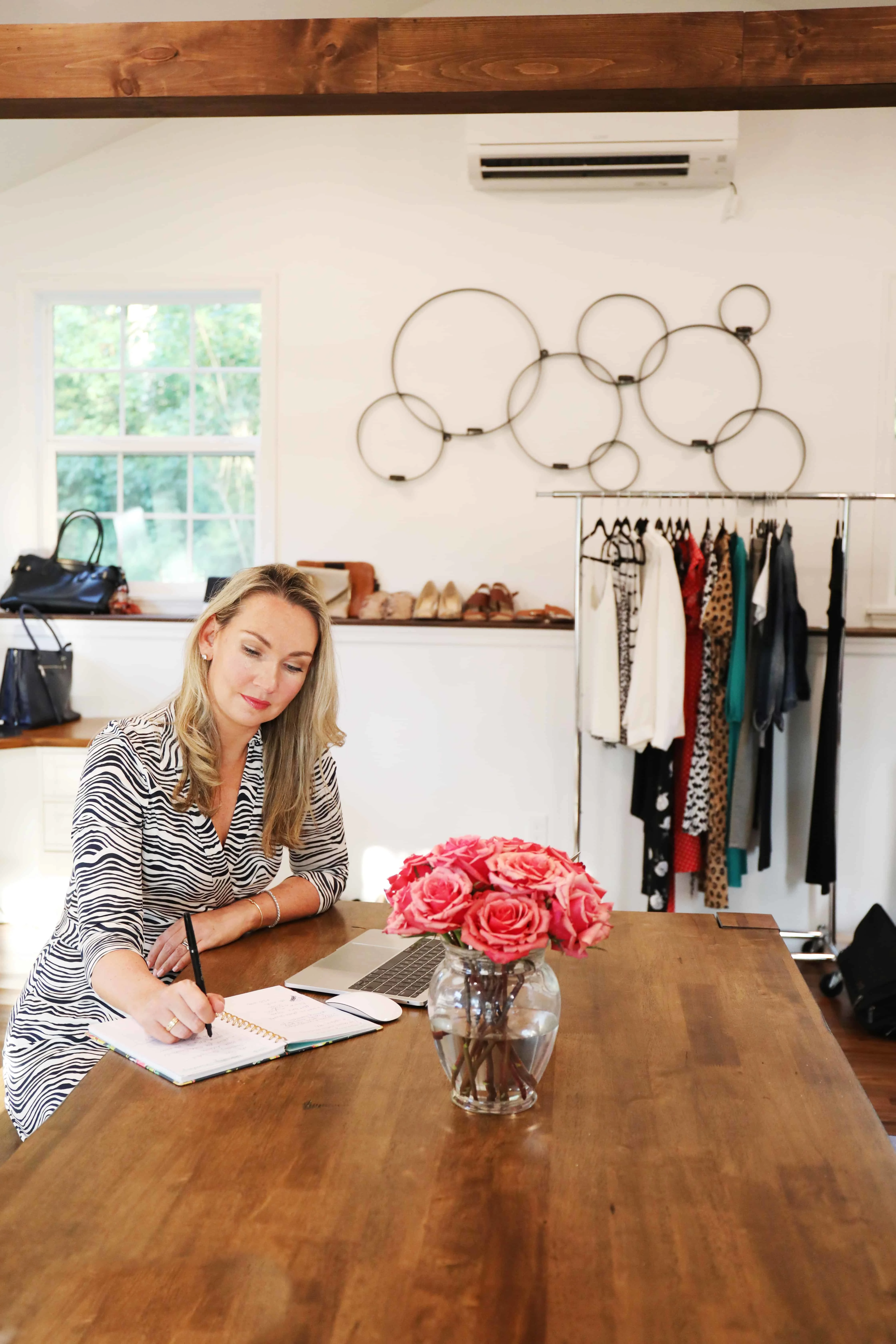 As women, building our personal brand is more in-depth and complicated than finding a heel we can stand in all day and swiping on a long-lasting lipstick. Don't get me wrong, both help you look and feel your best, and feeling confident in our appearance can be a game changer in how we come across, but there are so many other elements that need our time and attention.
Learn to Market Yourself
A personal brand is built on simple marketing principles. You can use the same strategies you would use to market and sell a product for yourself. As yourself:
How do I want to position myself?
What makes me different and unique?
How do I solve problems better than others?
How can I highlight my strengths and negate my weaknesses?
It's a lot to consider and is only complicated more by the underlying and overt bias that women face in the workplace.
Appearance is Only Part of It
Here's what I know for sure: when it comes to your appearance, you have to look put together, updated and modern. Looking dated, frazzled and overwhelmed is the kiss of the death for women in the workplace. You'll be written off before you even open your mouth. Is it fair? No. But it's a fact, so if you want to win, and gain leverage, take it seriously. It's the easiest strategy to implement.
Gone, however, are the days of "power dressing." Some of the most successful business people in modern history wear jeans and tee shirts. But most of those individuals not only have power, they have ownership. Basic principles of dress still stand in most industries, so pay attention to the culture and use how you dress as a form of messaging.
Today, we'll dive into a more nuanced conversation about how to establish a reputation as a leader and get what you want. Building a strong reputation is the first step in creating the brand. As always, I'd love to hear your thoughts and experiences in the comments below.

I use to have a boss who lived to tear her team down in a meeting. She would challenge every single sentence we uttered. She liked to embarrass us in front of her boss, and act like, "See what I'm dealing with? They are so incompetent."
I quickly realized her behavior came from a place of insecurity. I decided to out game her and came to meetings with every data point we could ever need. While it is an extreme example and was undoubtedly unhealthy while it was happening, I learned a valuable lesson: know your stuff inside and out.
Set yourself up in the eyes of others as a content expert. By showing up overly prepared, no matter how poorly she behaved, I gained the respect of everyone else in the room.
Before a meeting do your research. If it's a new client, find out their language pallet. What words do they use? How do they refer to themselves, what are the titles they use, how do they view their hierarchy? Search news feeds and social media to see what they are promoting and try to find out what has been newsworthy in their world.
If you're going into a sales meeting or pitch, have as much well-organized information as possible at your fingertips, and know how you are going to answer tough questions.
Go above and beyond in your preparation , it will always pay off.

Do you look overwhelmed? Are you frequently late to meetings? You may not even realize it, but you are doing yourself and the other women in your office a huge disservice.
First of all, no one cares why you are late, especially if it's happening on the regular. If you happen to be late, and it's a fluke, apologize for it but don't go into the dirty details (and please, don't roll in with a Starbucks). Assume there is someone else in the meeting who had a similar morning and was able to make it in on time, and skip the sob story.
Optically, take a minute to assess how you are showing up. Are you carrying multiple bags? Are your arms filled with books and papers? If you are walking around fumbling and frazzled you're just feeding a stereotype. Instead, corral your things into one streamlined bag so you have a free hand to greet others.
A composed first impression is worth its weight in gold.
Take a minute to pull yourself together before you walk into a room to appear composed. It makes a significant difference in how you will be perceived.

We are emotional creatures. It is our innate ability as women to practice empathy and compassion that will truly change the world for the better. Feelings are a good thing, and have their place in the professional world. But watch how your emotions come out.
If you find yourself reacting, deep breathes are the key to your success. While it may feel great in the moment to respond with your first flipped thought, it's a bad strategy long term. As a leader it's important to take a pragmatic approach since your behavior, attitude and energy will deeply impact your team.
This seems like common sense but in real life offices it's astonishing how many leaders (both men and women) fain the flames of drama whether they know it or not.
Finding the balance between using your ability to build connection through emotion while maintaining your composure is the key to success.

Habits are hard to break but one worth the effort is our tendency to use limiting and tentative language.
Don't start your sentence, with "I might be wrong but" or "You may have already covered this but."
Stop saying you're sorry for nothing. Swap out, "Sorry, I don't understand," with, "Please clarify what you mean by."
Receive compliments with confidence. Instead of, "Oh, I can't take the credit, it was such a team effort!" say something like, "Thank you, I'll share that with the team."
It's a simple but powerful change.
Don't Ask Permission
You know the saying, better to beg for forgiveness than ask for permission. Whether you want to start a business of your own or create an initiative in your office, don't ask just do. You can seek strategic support but don't ask if something you want to do is ok and don't ask for opinions when you don't need them.
Once you're in a position with some autonomy take full advantage to create and change the things you can control.
Don't ask just do. No one is going to offer it to you; you have to take the lead.

Too many women are worried about there not being enough space for everyone, especially in the corporate world. But this attitude does nothing for making the workforce a friendlier place for all generations of women. Being firm and strong, and kind and generous is possible. You can practice empathy and compassion, and still be highly respected and effective.
The more successful women there are in the world, the better off we all will be. Become a champion of other women – be known for it. If you are a senior leader in your office, mentor a group of young woman. Create your own version of a "boys club." Set up a monthly coffee with a small group, or organize a dinner so you can talk frankly about your challenges and how you manage them, answer their questions and guide them. If you work for yourself, be generous with your knowledge and connections.
When you support other women, you not only build up the next generation, but you are enforcing your brand as a champion for change.