Depending on your wardrobe, you may only need a few fresh pieces for spring.
If so, today's post is for you. I rounded up 5 easy to incorporate spring staples that will build out your wardrobe, each with a unique twist, all under $100.
As always, there is something for everyone here, in all sizes.
5 Spring Staples for Under $100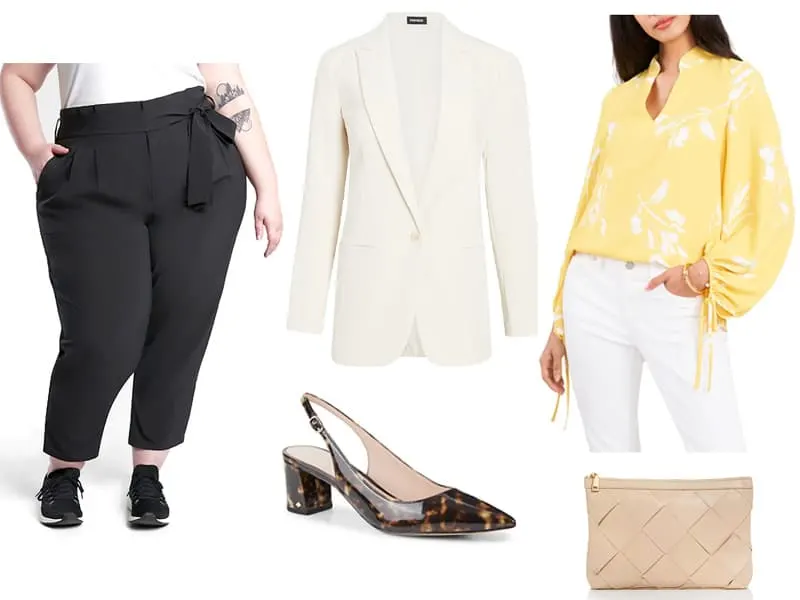 Please remember, prices are subject to change and inventory may be limited. This post is NOT sponsored in any way.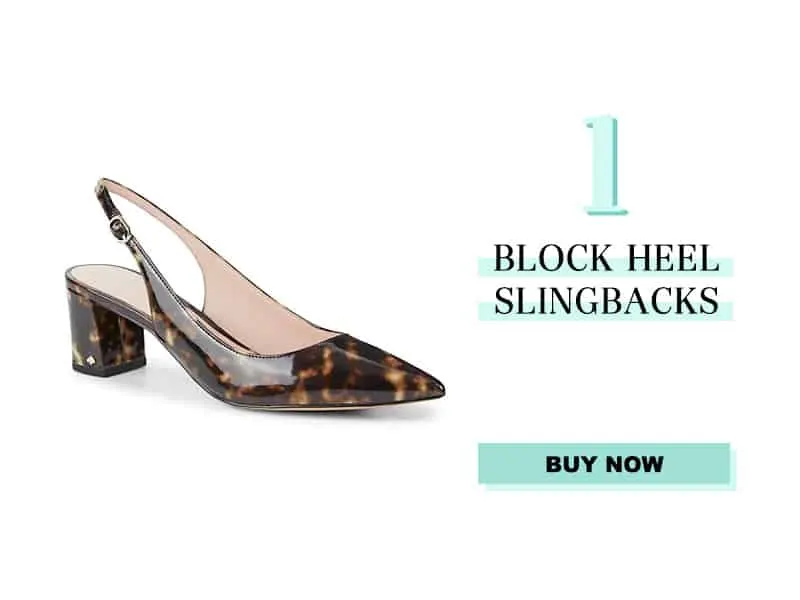 Block Heel Slingbacks, $80 (Originally $178)
A few seasons back, I purchased a pair of tortoiseshell print pumps from Ann Taylor (still available), and they quickly became one of my go-to shoes. The combination of black and brown create a lovely pattern that works with so many pieces. So when I stumbled on these block heel slingbacks in a similar design by Kate Spade (on incredible sale), I knew they would be an excellent item to share.
A block heel has been around forever, but its most recent interpretation is just as comfortable but has a slimmer, more feminine profile. This particular pair is perfect for summer, with a practical heel and seasonal slingback styling.
You can wear this with skirts and dresses, ankle pants, or how I wore mine recently with white jeans and a black fitted sweater. Use the print as a neutral to create interest and depth to your outfits.
Woven Clutch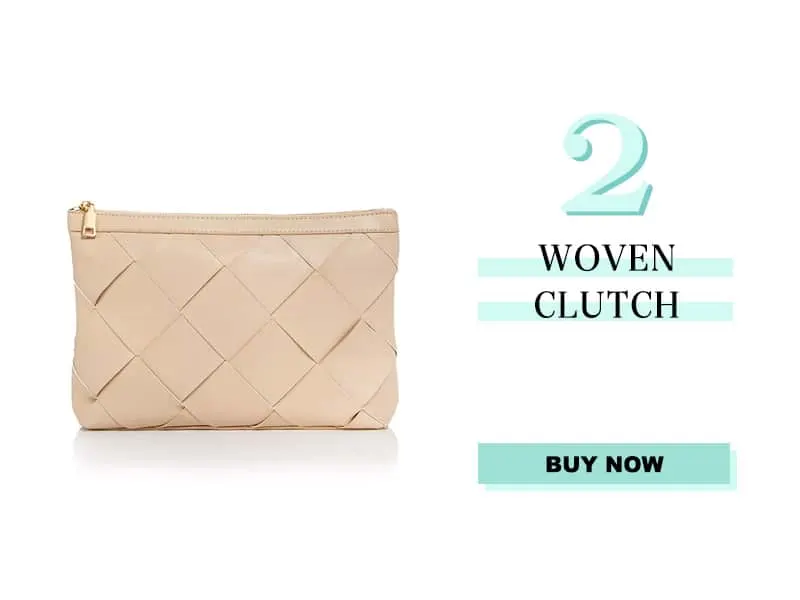 Woven Clutch, $58
When I found this woven clutch at Bloomingdales, I squealed. I LOVE it.
It looks designer for under $60. Available in bone (above) and dark tan (here), I bought both for our trip to Greece this summer (we will be vaccinated in time to go, so, yay!!) But let's not wait until then. This can go to drinks with friends, date nights, baby showers, weddings, graduations and all the things Spring has to offer that we had to miss last year.
White Blazer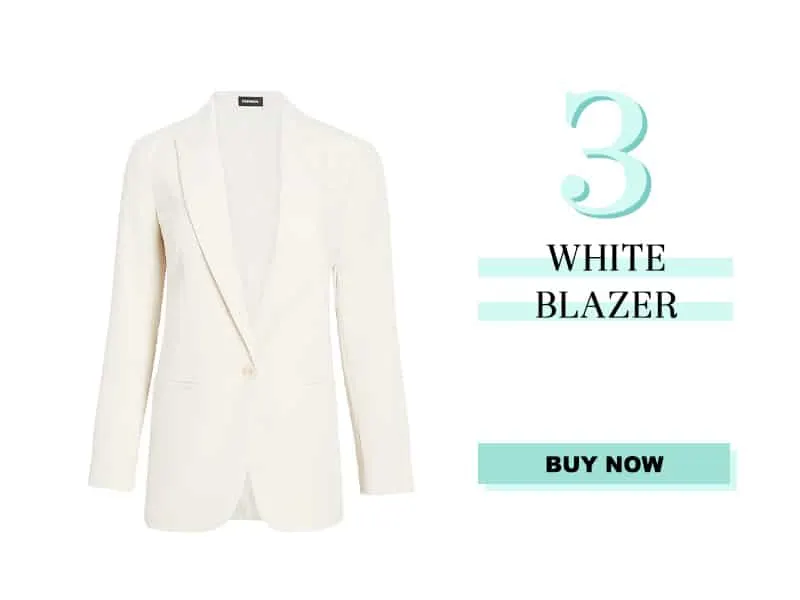 White Blazer, $77
A white blazer is always on my list of must-haves for spring, but they weren't as easy to find this year. If you already have one, pull it out of your closet and pair it with boyfriend jeans. Any time you can create "tension" in an outfit, like partnering a tailored blazer with soft, casual jeans, you create a modern, stylish look almost instantly.
If you need a new one, I like this one from Express (also available in petite).
I'm also keen on this double breasted style from Lioness at shopbop. Madewell has a similar style in in plus size here.
Floral Top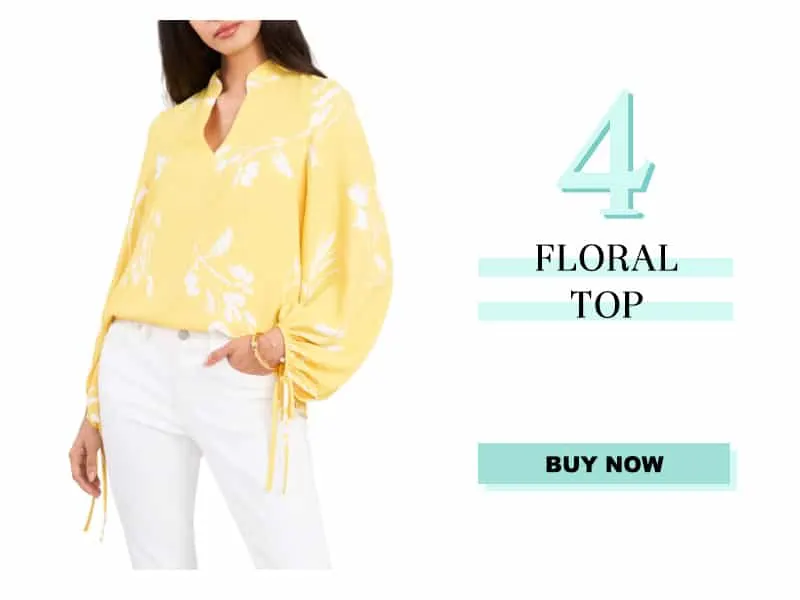 Floral Top, $79
You know those occasions when you want a fun top, something different, that you didn't just wear all day in the office?
This is what you want.
It fresh and seasonal, with a modern cut, super flattering neckline, and cut like a blouse and tunic in one. You can wear it out or do a front tuck like on the model above.
Available in four colors, in XXS – XXL and plus size here in black. And in yellow plus here.
Because the sleeves are full, pair it with a slim or straight leg bottom to help balance out the effect. I love it with white jeans and a pair of woven sandals.
Tie-Waist Pants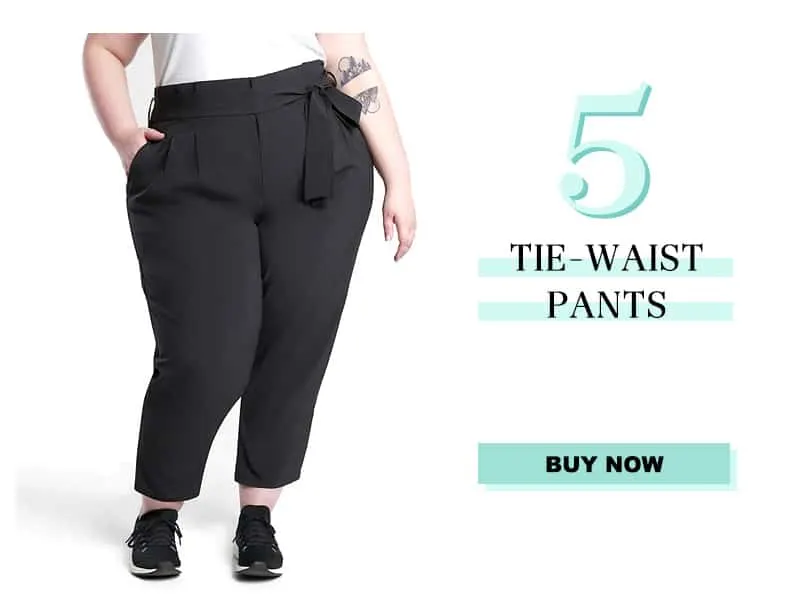 Tie Waist Pant, $60
These tie waist pants from Athleta have over 600 5-star rave reviews.
They are available in every size, from 00 – 26 in regular, petite, and tall. I'm showing them in plus size above because I want to reinforce the fact that you can wear whatever you want regardless of your shape your size. The model is showing it with sneakers for a sporty look. I would also pair them with pointy flats or strappy sandals.
Our Style Content is Inspired by Our Readers
Our readership inspires all of our posts and is not sponsored or paid for by brands or retailers.
Recommendations are based on my experience as a personal stylist and wardrobe consultant for over a decade. I worked with busy, down-to-earth women who wanted to look chic and feel confident but were often confused by so much of retail.
Some links are affiliate links, which means if you purchase via our site, we receive a small commission.

If you enjoy our content and would like to help us grow, please follow on Instagram and join our Private Facebook Group to access more advice and exclusive in-depth conversations with other like-minded women.
Learn about our mission to help women look and feel their very best, every day, here.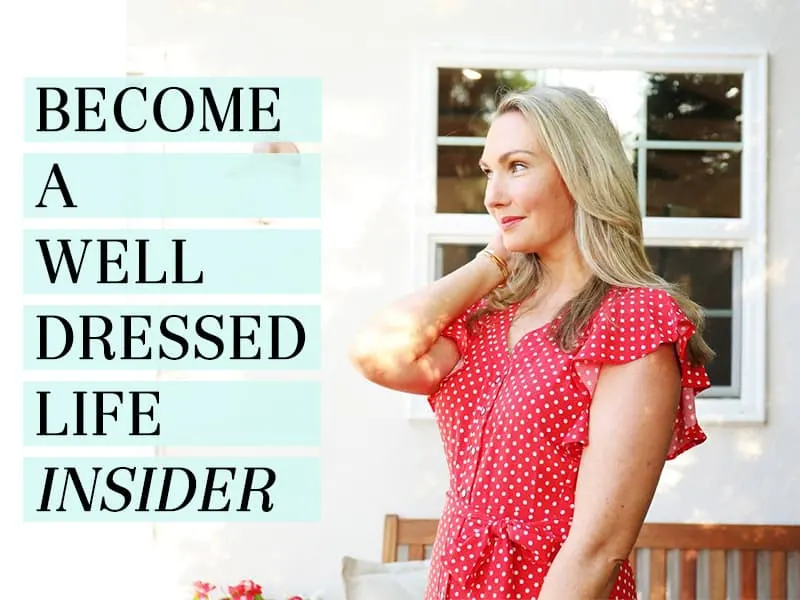 Sign Up for Daily Content and Receive Our Free Classic Wardrobe Checklist