Our Private Facebook Group is a gift. At almost 3,000 members strong, it's a treasure trove of ideas and inspiration to help me come up with specific posts that serve our ever growing audience on a daily basis.
One question, posted a few days ago, was about maxi dresses.
So, how is everyone feeling about maxi length skirts or dresses? Are they over or about to have a new moment?
And the consensus was pretty unanimous – we love them!
Of course, not every style is for every person, so I was surprised and delighted to read such enthusiasm.
Based on that question, and the comments that followed, I thought it would be helpful to share a few options that you can wear right now and then later, along with some "best practice" tips.
So let's start there.
Maxi length dresses are everywhere. Formal, casual, swim coverups … you have your pick!
But for today's post, I had a few requirements.
First, you have to be able to wear a regular bra. None of this strapless nonsense while we're social distancing at home. And no funky cut outs, or backless details.
Now is not the time 😉
Second, length is always an issue. So I made sure to include petite options (you still might need to have it hemmed), a few that will work if you are tall, and some that will hit right below your calf, so no matter your height, you're covered.
I ordered two of these and will share pictures over on Instagram when it warms up – it's still a little chilly on the East Coast.
Finally, the prices on most of these are insanely good.
Five Maxi Dresses for Now and Later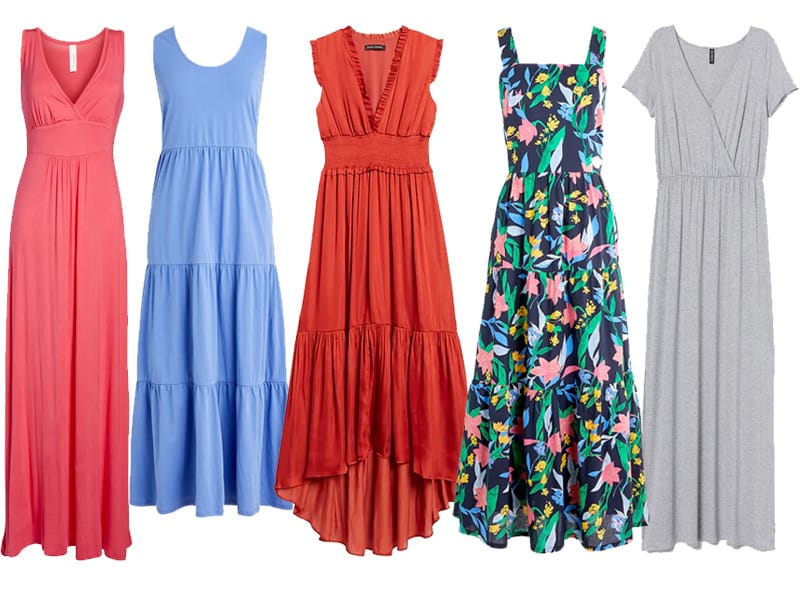 From left to right: V-Neck Jersey, $35 | Solid Tiered, $68 (take 30% off for under $50) | Soft Satin, $119| Floral Tiered, $35| Short-Sleeved Jersey, $25
Maxi dresses are nice alternatives to the leggings/joggers/jeans that we've all been living in. Now that the weather in many of our towns is getting warmer, having one or two of these on hand will help break up how mundane many of our wardrobes are feeling.
Outside of staying at home, these are lovely, breezy pieces to wear to the beach, a casual dinner, or an night with friends (remember them??).
I like them as an alternative to shorts or short dresses and, as a bonus, they help you instantly feel more feminine. I don't know about you, but I could benefit from feeling normal, and pretty right about now.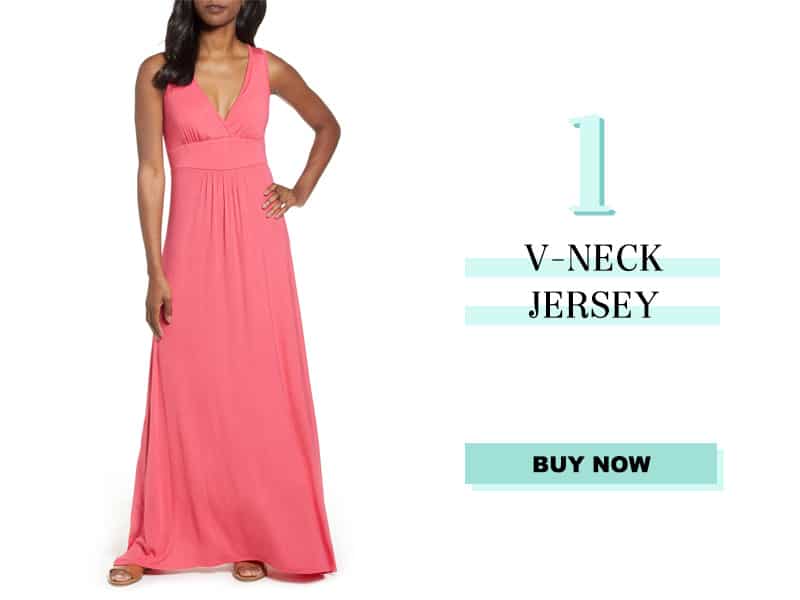 V-Neck Jersey, $35
This affordable dress is flattering, comes in five colors including this pretty pink above. It's available in petite and regular from and XS – XL.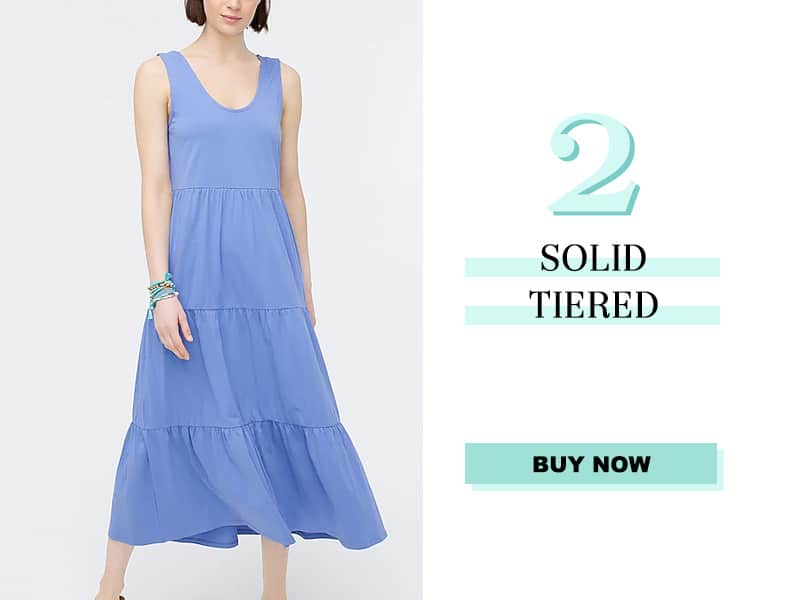 Solid Tiered, $68 (take 30% off for under $50)
Megan's Pick!
I absolutely love this simple tiered dress. It's available in for colors in sizes XXS – 3X. Pair it with flip flops around the house and then flat sandals when we get back out and moving.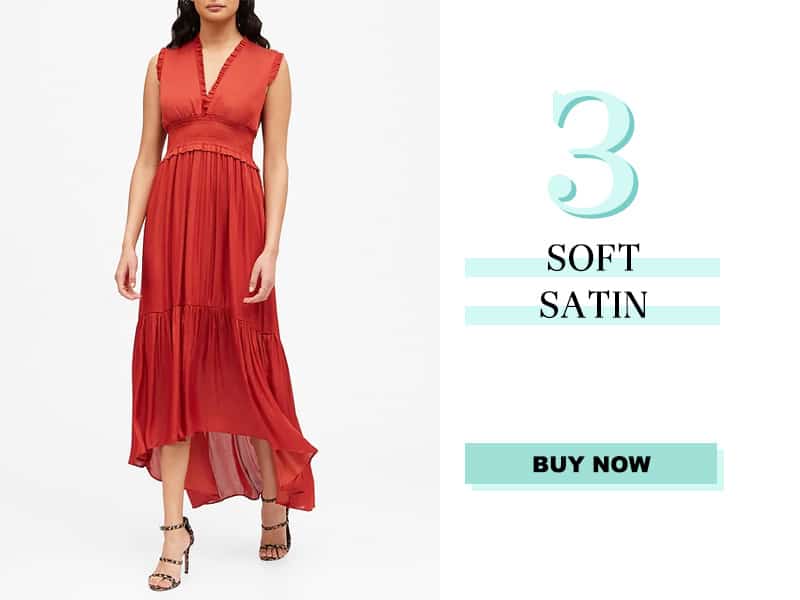 Soft Satin, $119
A high low hem adds just a wink of drama to your look. Throw this on at home for a date night on the deck, and then add a strappy sandal, pile on some bracelets and grab a wrap for real date night in the summer.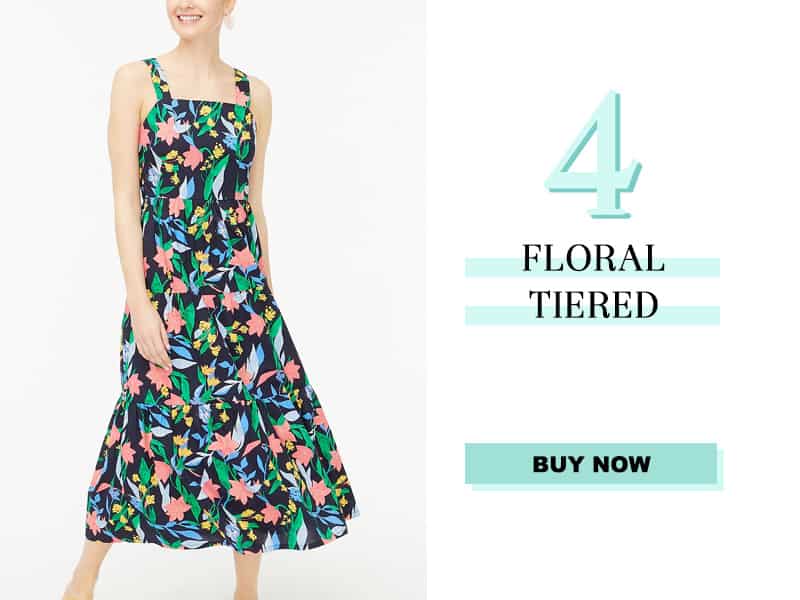 Floral Tiered, $35
Megan's Pick!
Bright, cheerful, and only $35. You can't feel down in this dress so I put it directly in my shopping cart. Again, wear it now with flip flops, take it out on a neighborhood stroll, and then wear it for a night out with friends this summer. Available in 00 – 20.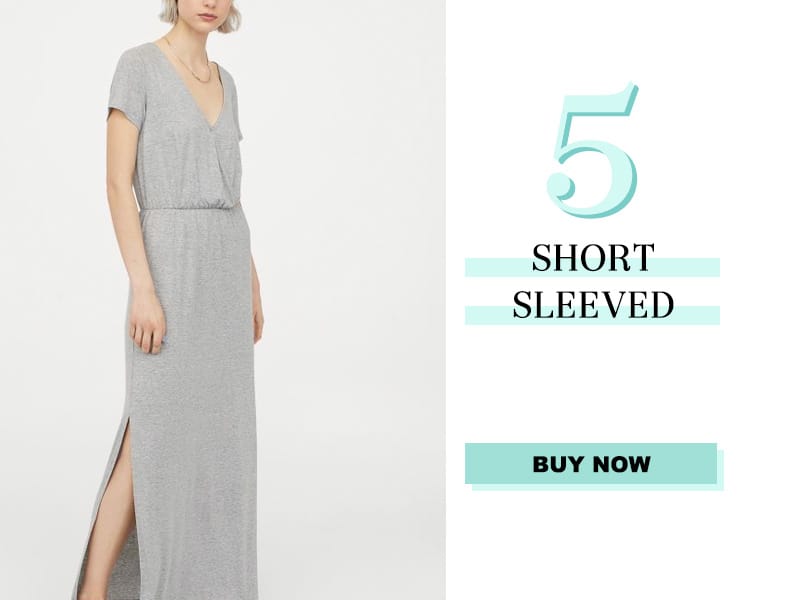 Short-Sleeved Jersey, $25
Like a sweatsuit, only not, and maybe better. You can curl up on your sofa, watch a movie, and play with the kids but look and feel a little more pulled together.
Wear it now with whatever you like, flip flops, slippers – who cares! But later add a sweet pair of sneakers and a denim jacket. Available in XS – XL.
And, don't forget about this short sleeve tee shirt maxi I featured a few weeks ago – it's long (I'm just shy of 5'10) and is getting lots of wear right now.
---
Our Content is Inspired by Our Readers
Our readership inspires all of our posts and is not sponsored or paid for by brands or retailers.
Recommendations are based on my experience as a personal stylist View Post and wardrobe consultant for over a decade. I worked with busy, down-to-earth women who wanted to look chic and feel confident but were often confused by so much of retail.
Some links are affiliate links, which means if you purchase via our site, we receive a small commission.
If you enjoy our content and would like to help us grow, please consider following on Instagram and join our Private Facebook Group to access more advice and exclusive in-depth conversations with other like-minded women.
---