Mock neck blouses are popping up across retail, providing a welcomed change in the sea of your standard v-neck tops. These overtly feminine pieces are an attractive option for work, especially if you only dress from the waist up. They bring attention and color to your face, which is all most of your colleagues are seeing of you these days anyway.
If you are back in the office, they pair beautifully with any bottom, like a slim pencil skirt, a full pleated skirt, and your favorite trouser in the best cut and shape for you.
Of course, take this out of the office to drinks and dinner with a pair of jeans. Or, add a faux leather skirt and wear these straight into the holidays.
Pick this style up if you have narrow shoulders and a small bust; however, avoid if you are bustier since it will only make you look wider and fuller than you are.
General body types this will complement are triangles since it will add volume to your upper half balancing out the lower, and straight up and down because it creates curves and visual interest. Hourglass could also pull it off as long as you balance your waist and hips.
It's also a fantastic option for Petites with a small frame.
I found five seriously gorgeous options in a range of sizes and prices.
5 Fresh Workwear Blouses for Fall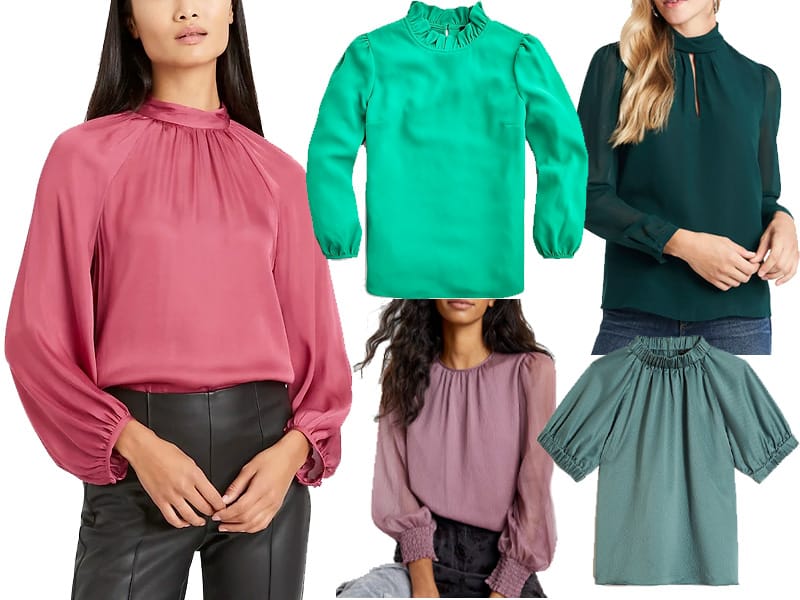 Banana Republic: Satin Billow Sleeve Blouse | Under $50, in regular, tall and petite, in rose (above) and navy.
J.Crew: Long Sleeve Ruffle Neck Top | Originally $89.50 (on sale for Under $50 with code FALLTIME) Sizes XXXS – 3X in green (above), white, pink and navy
Ann Taylor: Seersucker Mock Neck Top | $69.50 in dusty teal (above) sizes XXS – XXL
Anthropologie: Letizia Blouse | $98 in mauve (above) sizes XS – XL
Nordstrom: 1. State, Keyhole Blouse | $69 in green (above) and pink sizes XXS – XXL
---
Our Style Content is Inspired by Our Readers
Our readership inspires all of our posts and is not sponsored or paid for by brands or retailers.
Recommendations are based on my experience as a personal stylist and wardrobe consultant for over a decade. I worked with busy, down-to-earth women who wanted to look chic and feel confident but were often confused by so much of retail.
Some links are affiliate links, which means if you purchase via our site, we receive a small commission.
If you enjoy our content and would like to help us grow, please consider following on Instagram and join our Private Facebook Group to access more advice and exclusive in-depth conversations with other like-minded women.