This content has been archived. It may no longer be relevant
We spend time figuring out our style, purging and organizing our closets, and putting together outfits. Then, we throw on a coat, any old scarf, cover up our hard work and head out the door. Let's take a minute to create a look with our winter coat thoughtfully so when we walk into the office or enter an early morning meeting; our outer layer is as chic as what's underneath.
For this post, I followed a few guidelines. First, I set an under $500 price point for the coats, all of these ended up being under $400. Next, these are not the coats you wear in a snowstorm. Instead, they are classic, toppers. Some look like a traditional car coat; others are three-quarter length with a tie waist. They are what you would wear to work, and all can be dressed down with jeans on the weekends.
Please click the links for color options and sizes. Finally, they all have wool in them. I can't find non-wool options I would recommend.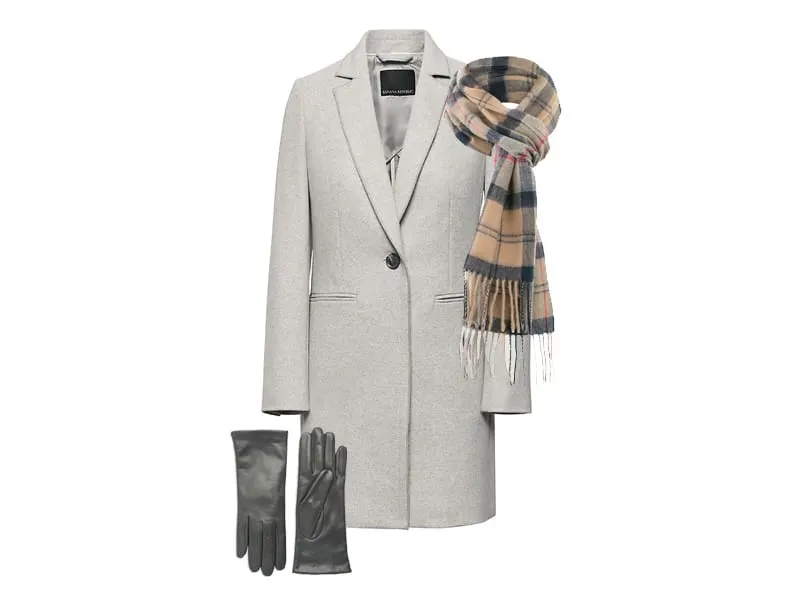 Mix of Grey: Coat, $299 | Scarf, $59 | Gloves, $66
A combination of dusty greys is elegant, professional and timeless. The coat by Banana Republic comes in red, navy and grey (above) in missy and petite and goes to a size 20. They are calling it a "car coat" but it's slimmer than a traditional car coat style, so keep that in mind. I used a tartan plaid that has shades of grey running through it at a great price. For gloves, these grey gloves are softer than wearing black and on sale (along with a dozen other colors) at Off 5th.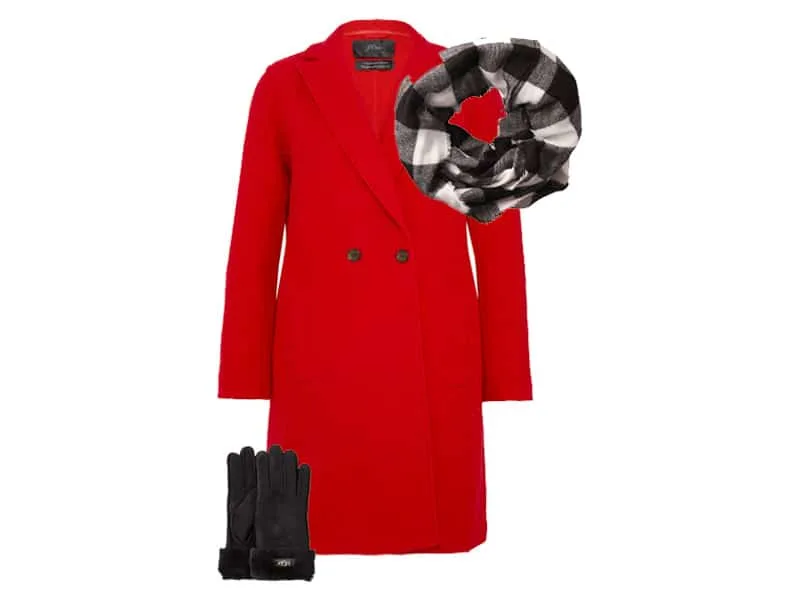 Red and Black: Coat, $230 | Scarf, $25 | Gloves, $80
This look is the most casual of our line up with a slightly boxy wool felt coat from J.Crew. I wanted to feature a black and white buffalo check scarf since it's on trend and love how it looks here. Depending on where the sleeves of the coat hit you, you may need a longer glove, but if they hit just right, these UGG gloves are the warmest things you'll ever put your hands in.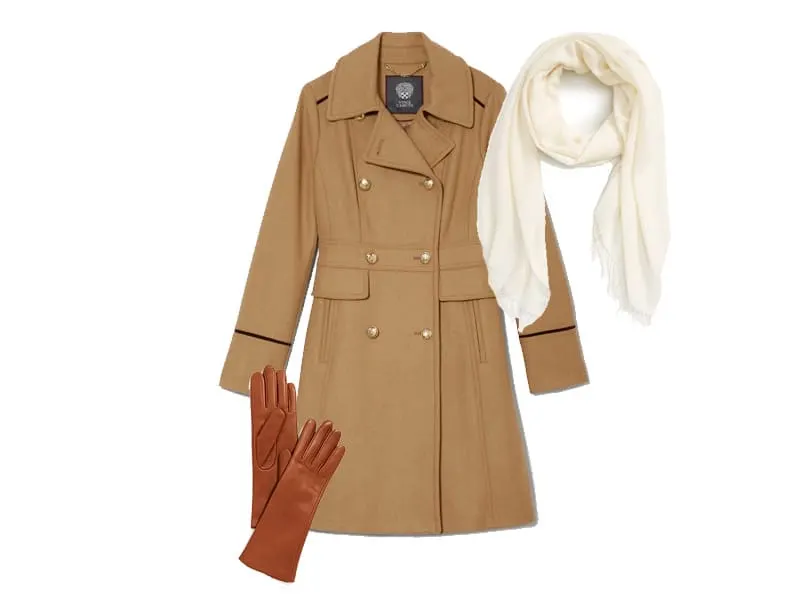 Cognac and Camel: Coat, $258 | Scarf, $99 | Gloves, $156
My favorite combination will forever be shades of neutrals. We featured this Vince Camuto military inspired coat earlier in the season, so if you pick it up, here's how I would style it. These cognac gloves (also available in black) make my hear sing. As someone with extra long arms, I appreciate the length too. You can pair this color with camel (above), navy, black, or dark grey. For the scarf, I went this ivory wool and cashmere blend at Nordstrom. I have a few of these in different colors and use them year round. They are well worth the price (under $100) and make a wonderful gift too.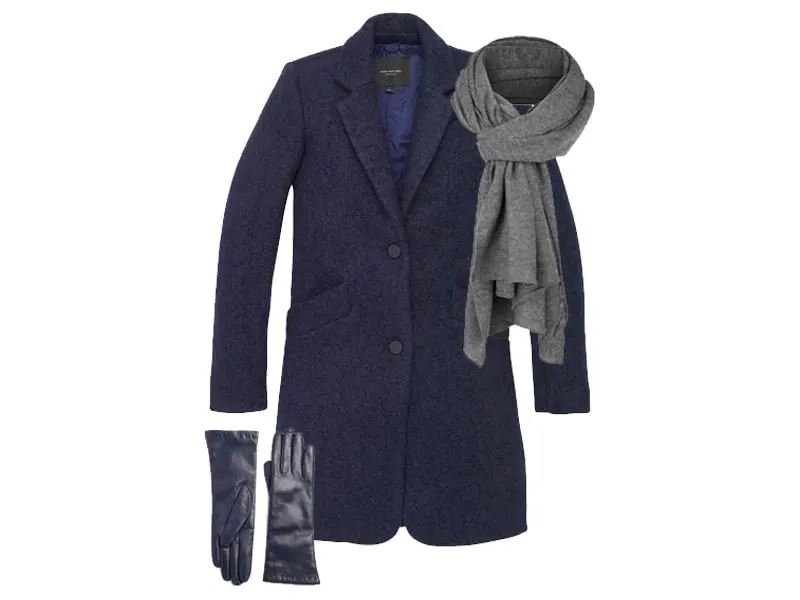 Navy and Grey: Coat, $320 | Scarf, $68 | Gloves, $135
A blazer style coat, done here in a boucle wool for added texture, is a streamlined staple that looks best if you wear mostly pants. It's available in black, burgundy, grey and navy (above) up to a size 14. You can pair many colors and patterns with a navy coat. Look for a plaid with various shades of blue, winter white, olive can also be lovely, or a heather grey like we did here. It's kind of sporty, cozy and simple. For gloves, I like matching the color as close to the coat as possible. These navy gloves are gorgeous and come in several colors.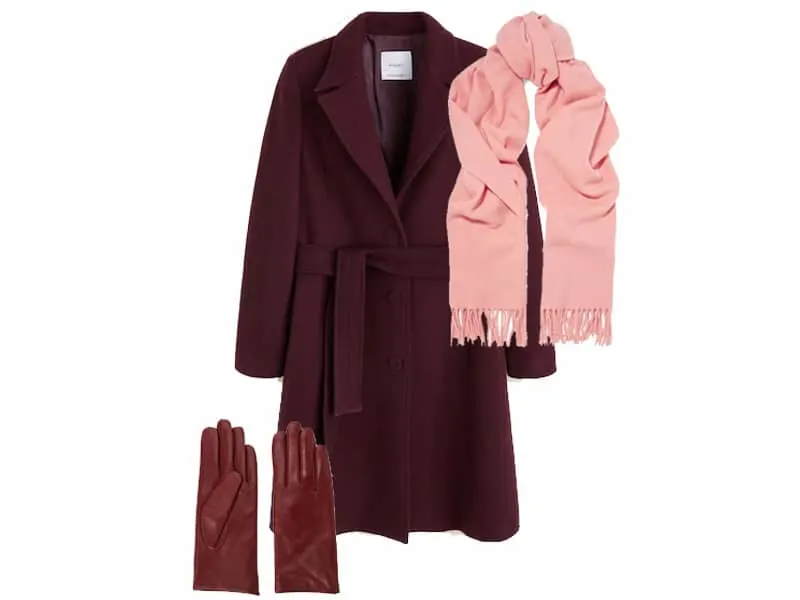 Burgundy and Pink: Coat, $230 | Scarf, $150 | Gloves, $30
The mix of burgundy and pink is updated and feminine, yet still neutral. This wrap coat is by Mango. I find they tend to run small so check their "fit finder" that helps you determine the best size for you. The scarf is such a lovely shade of pink in a size and shape that lets you wrap yourself up comfortably without looking like you took a blanket off your bed. For gloves, I found these cashmere lined leather gloves on sale at Century 21. They are available in an assortment of colors and sizes, ideal for you or someone on your gift list.