Welcome to week two of our Wardrobe Challenge!
This time around we are hosting the most participants of any challenge, which is very exciting.
First, a big thank you to everyone who has joined our private Facebook group and taken the time to post their Pinterest style boards and lifestyle breakdowns from Week 1.
Because ofth
There have already been some big takeaways after week one, and they are exactly what I was hoping they would be!
If you are just joining us, or are running behind, don't worry.
Go at your own pace and utilize our FB group to keep you motivated and on track.
Be sure you finish each challenge before moving to the next.
Week 2: Edit Your Style and Closet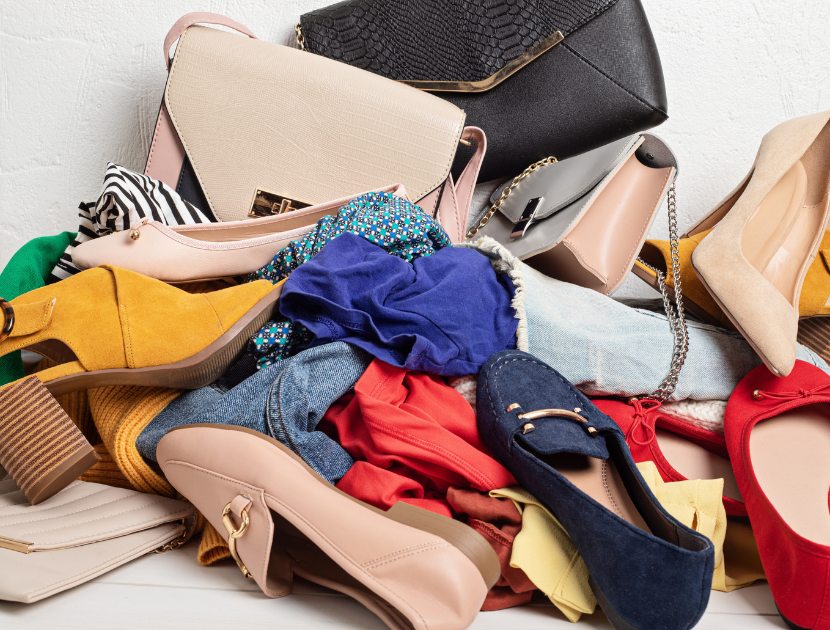 Challenge #1: Edit Your Pinterest Board
This part of the challenge always creates the most conversation.
You might think you need to pick a style and commit to it.
We're often told we are either "classic," "trendy," "boho," or whatever. Like we have to choose a lane and stay there.
But the truth is we are all a unique combination of many things.
For example, I used to think I was "preppy."
But I'm not.
I like elements of preppy style.
I never pass up an opportunity to monogram something, and a good chunk of my wardrobe is from J.Crew.
But I'm not fond of bright colors and prints; I prefer saturated neutrals and better fabrics.
After going through this process for several years now, it's clear that my style is classic and modern with a twist.
That "twist" is usually an interesting detail, a splurge-worthy piece, or an unexpected personalized element – like a monogrammed bag or bold accessory.
To help you with this, go through your Pinterest Board and only keep the images you LOVE.
You must LOVE every pin. (I know! It's hard.)
The Difference Between "Liking" and "Loving"
It's not just what you like, it's what you want to LIVE in.
You can appreciate all the different styles.
But narrowing down to the ones you want to wear all the time and starting to understand how you can adjust your style to your life is the point.
Take a few minutes to write down what you dislike, like, and love.
Mine are below: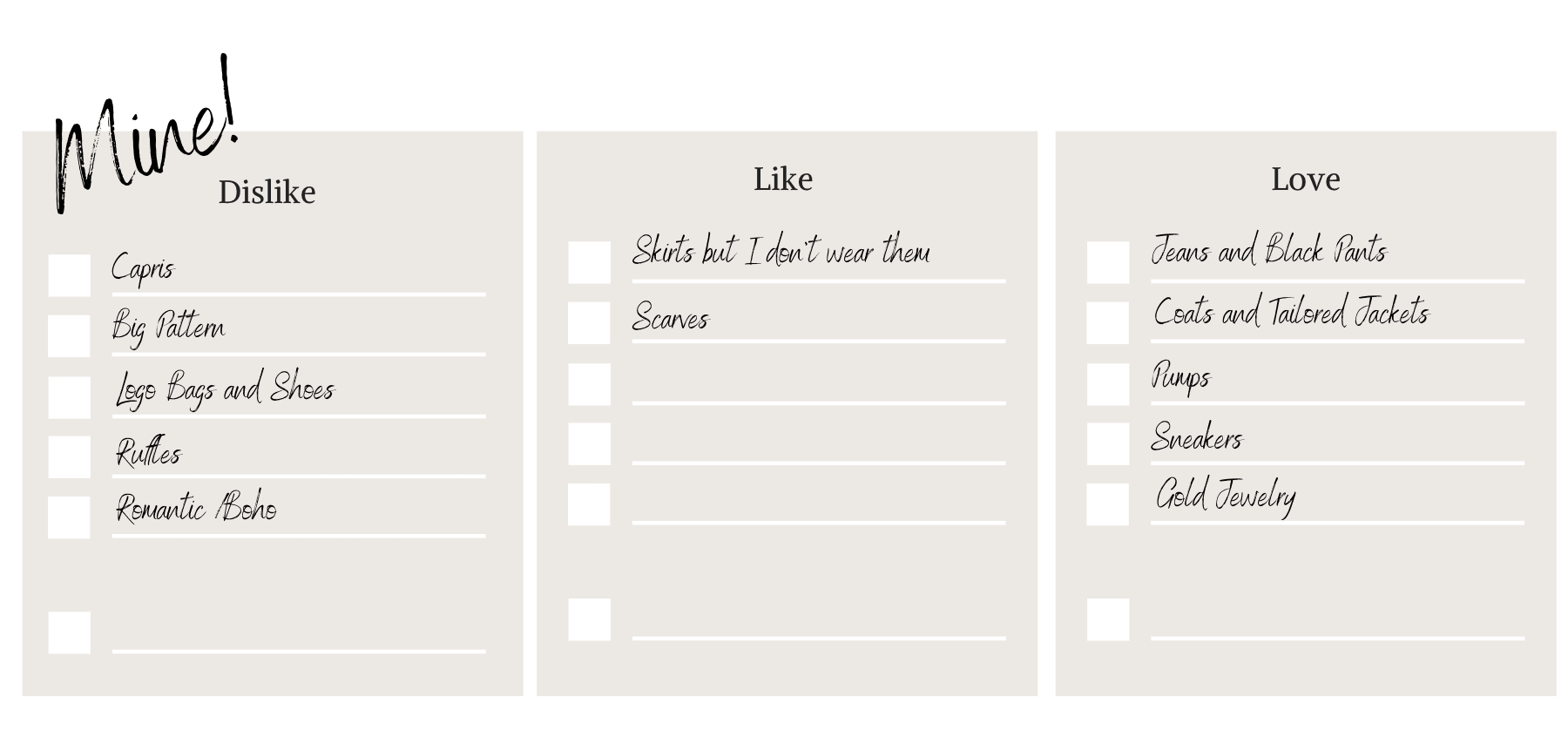 Remember, this is personal.
I dislike ruffles ON ME. They look lovely on others.
Doing this exercise forces you to think about your preferences and ensures your wardrobe mixes and matches well, and that you always look and feel yourself.
Find Your Common Theme
Next, review your edited board and look for commonalities and consistencies.
It might not be abundantly clear, but stick with the challenge; it will start to show itself.
You can keep pictures of outfits you think are not suitaible for your body type; we'll get to that later. Your board is pure inspiration.
Any style can work for any body type with proper adjustments to make you feel comfortable.
What we're looking for here is a theme.
Some a-ha's you might have:
You pinned lots of jeans and pants but have a ton of skirts collecting dust in your closet.

Maybe you pinned a dozen monochromatic looks yet own lots of patterned tops and dresses.

Do the outfits on your board have scarves and accessories, but you never incorporate them into your daily outfits.
If these are the revelations you have as you finish up this part of the challenge, you are right on track!
Challenge #2: QUICKLY Edit Your Closet
You can do this next step all at once or over a few days; it depends on how much you have in your closet.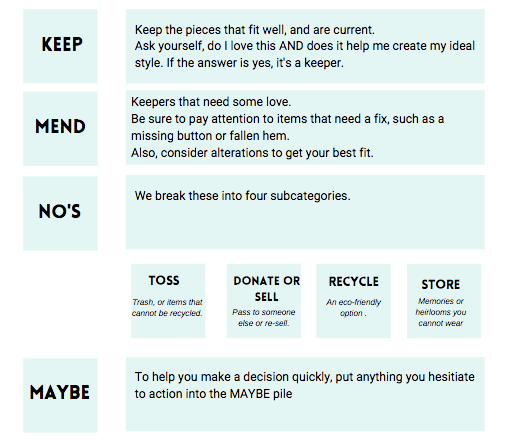 Set up a workspace in or close to your closet. Designate four piles:
Keep:

For anything you know you love, use regularly, and fit in your style.

Mend:

Keepers that need to be tailored, cleaned or repaired.

No's:

Items that do not help you achieve your desired style.

Maybe:

Use this as a parking lot for items your undecided items.
Having a rolling rack for this exercise makes it easier to stay organized.
I use mine for the "keeper" pile.
Next, take your Pinterest board into your closet.
Quickly Edit Your Wardrobe
With your inspiration pictures as your guide, QUICKLY, go through your wardrobe.
Hold every piece up and ask yourself, does this get me to where I want to be?
If your answer is "yes," put the item in your keeper pile or rolling rack.
If your answer is "no," put it in your no pile.
If you have no idea or don't want to deal with it, put it in the maybe pile.
We'll deal with those items next week.
Do this quickly. The maybe pile is there to take away any pressure.
You will likely have to keep a few pieces that are just okay so you can get dressed in the morning.
Put these in the undecided pile too. The most important part of this exercise is to see if or how much of what you are buying reflects your style.
Once finished, go through the no's and decide how you want to process them.
You can donate, resell, recycle, or they go right in the trash.
Hang and fold everything else.
Put your undecided pieces back in your closet, behind the pieces you love, so your favorite items are the first thing you see.
Please don't focus on organizing anything yet (you can guess where we're going next week).
Repeat the same editing process with your shoes and accessories.
While you're in your closet, ask yourself these questions and write down the answer:
Is your current wardrobe reflective of the style you love?
If not, what is your motivation for making purchases? (Sale price, impulse, need, etc.)
What do you have more of, basics or trends?
For example, my Pinterest board has always been primarily neutrals and solid colors, yet I had at least a dozen print blouses and tops hanging in my closet when I first created this exercise.
There was nothing wrong with them, except I don't like many patterns, and I wasn't wearing them.
So why do I keep buying them?
In my case, I equated pattern with variety.
I was also using Stitch Fix at the time (I had just had a baby) and kept many pieces they sent only because they were okay-enough and fit.
Once I completed the exercise, I permitted myself to let go of what didn't fit into my style.
You may not have many things in your current wardrobe that reflect your style. If you do, you're way ahead of most of us!
It's okay to feel frustrated. Take a deep breath and trust the process.
These steps will allow you to discover what you like, understand your decision-making process when shopping, and eventually help you fill your closet with items you can't wait to wear.
The process of creating a cohesive wardrobe is not immediate.
That's why so many readers do this challenge every season.
It takes time to curate your look, find the pieces that work best for you and, of course, work those purchases into your budget.
But after this challenge, you'll be off to a great start.
If you're just joining the challenge, start with Week One, follow the link below
The Well Dressed Life Wardrobe Challenge: Week 1
Join Our LIVE Q&A
Join me on Monday, January 16th at 3pm EST for our Week 2 LIVE over in our Facebook Private Group.
I'll recap Week 1, set you up for Week 2 and answer any of your questions.
If you can't make, you can catch the replay posted on Facebook once the LIVE wraps up, and if you're not on Facebook, I'll up dated this post with a recording to you can watch as well.