This content has been archived. It may no longer be relevant
A shirt dress is an overlooked wardrobe staple. The shape and style fit many body types and personal aesthetics. For the spring and summer, it's a lovely option for a casual or business casual office that feels polished without trying too hard.
These days you'll see many versions of a shirt dress from unstructured long button downs paired with leggings to dresses that are so short you look like you forgot to put on pants.
Today, we're leaning more traditional, with three gorgeous dresses that, with the right accessories, will take you to the office and beyond.
Notes on Fit
It's easy to create a custom fit with a few basic alterations. First, pay attention to the skirt length. You want the hem of the skirt to stop anywhere between the top of your knee to an inch above. This length will allow the shape of the dress to fall correctly.
Any longer and the dress will overwhelm you, any shorter and you'll look like a school girl.
If you have a fuller bust, you don't have to discount this style. Try buying a size up from what you typically wear and have the dress adjusted down. You always want to buy a garment that fits your widest part. For most women, that is our bust or hips (or both!). So size up and alter down.
Likely, a tailor or seamstress will take in the dress at your shoulders, and bring in your shape, while accommodating your bust with the darts. It's a straightforward fix.
How to Wear a Shirt Dress to Work
Today's looks are feminine and colorful, perfect for the warm weather. Shirt dresses translate into many styles. Here, I broke them down into three categories: classic, retro and modern. All of these looks are updated and current so you don't run the risk of looking dated.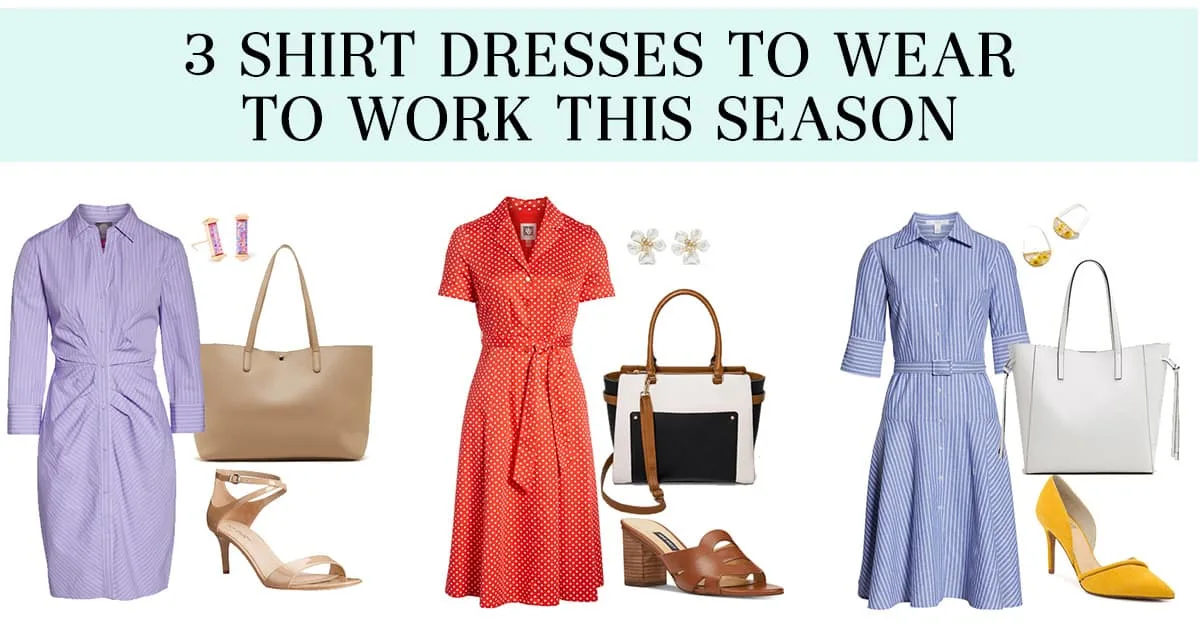 Classic Menswear Inspired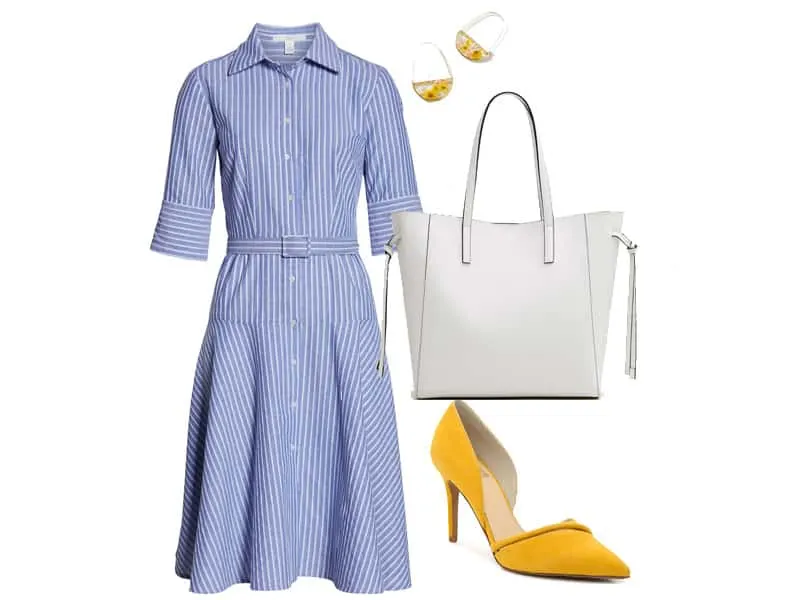 Dress, $83 | Heels, $70 | Bag, $40 | Earrings, $44
A traditional shirt dress is cut like a button down, with a full skirt and a belted waist. This simple dress plays with both a menswear inspired cut and pattern so it creates a striking contrast.
You can wear any neutral-to-you shoe here, but I thought it would be fun to play with color. Blue and yellow is such a fresh combination. I don't want you to spend a lot on a yellow pump, though.
Above we featured marigold suede pumps by Vince Camuto , I like these by Marc Fisher, and if they are office appropriate for you, these butter yellow espadrille wedges are adorable, all available at DSW.
Another place to save is on a white tote. They come in quite handy in the warmer months, but there is no need to spend. This shopper looks a lot more expensive than its $40 price tag and this option at Target is only $30.
Finally, I wanted a way to tie in the pop of yellow without feeling too matchy-matchy. These earrings from Anthropologie are beautiful and just the right amount of color so the look makes sense.
Modern Streamlined and Fitted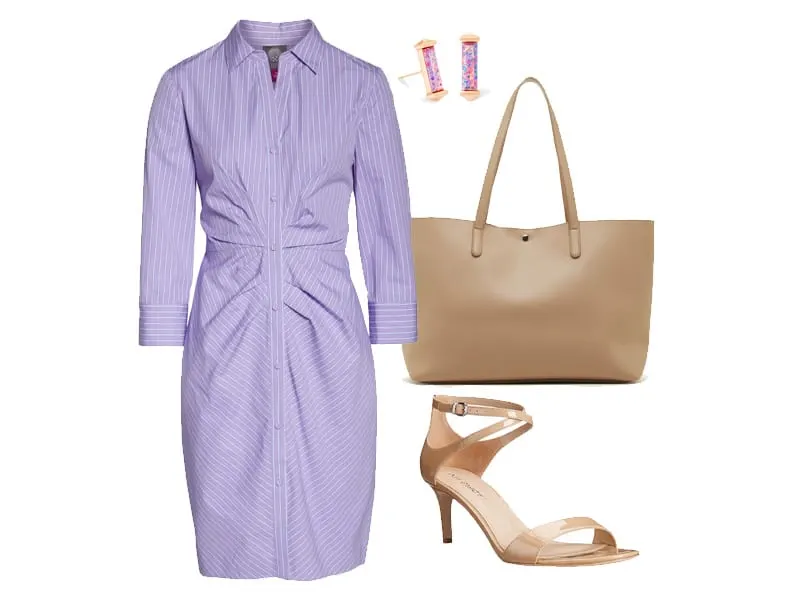 Dress, $148 | Sandal, $42 | Bag, $49 | Earrings, $68
This lavender shirt dress as a narrow, figure hugging design that gathers at the waist. It combines traditional styling with a modern twist. If your body type is straight up and down this cut will create the illusion of curves in the best way possible.
I kept this outfit on the simple side with neutral-ish shoes and a bag. Again, for today's outfit ideas, I'm thinking of offices with relaxed dress codes. This shoe would be too bare for a formal office setting, but more and more workplaces are embracing a "come as you are" approach to office dress.
This sandal is by Via Spiga on sale on Amazon. They just make a solid shoe, with classic design, that lasts season after season. I paired it with a bag in a similar neutral tone for $50 by Sole Society.
You don't have to match your shoes and bag, but it is a way to create symmetry. I did it in this outfit because I didn't want anything to compete with the dress.
Finally, I love these earrings by Kendra Scott. They add to the overall modern feel and pull out just enough color to feel purposeful.
Retro Feminine and Vintage Inspired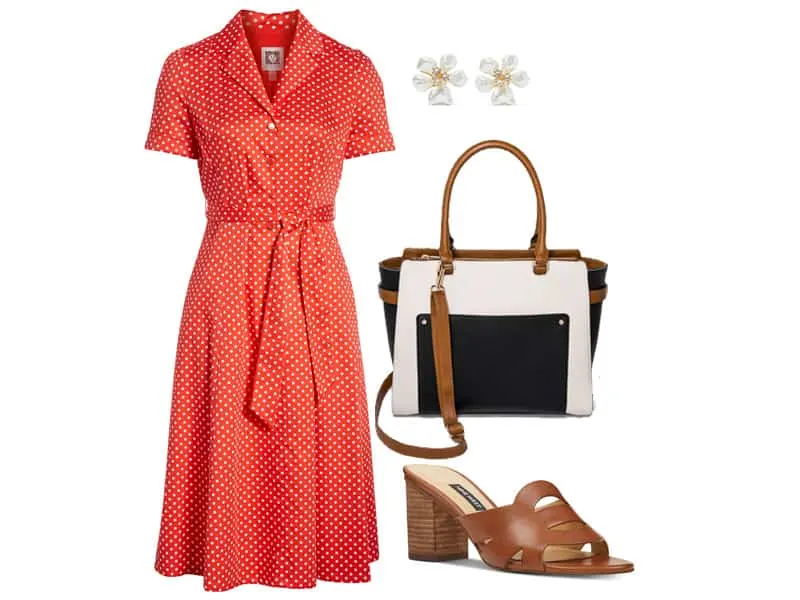 Dress, $139 | Sandal, $89 | Bag, $45 | Earrings, $85
I hesitate to call this retro because we often assume that means costumey, but this design has enough modern touches that look sweet and current. It's just a pretty dress with a vintage vibe.
To make it a bit more serious, we used a pair of dark tan block heel sandals. The heaviness of the shoe balances the femininity of the dress and makes it look more serious.
I was delighted to find this inexpensive tote at Target that pulls in the color of the sandal while still appropriate for the season. That's the challenge with a dress like this that has a particular feel; your accessories can make or break the look. They also need to work together so the sandal and the tote not only share a similar color, but they also have the same weight, and that creates balance.
Finally, these flower earrings are a wink to the playful nature of the dress. You could also use a small pearl or gold hoop earring.