This content has been archived. It may no longer be relevant
It's Memorial Day weekend and the unofficial start of summer! I'm ready for school to end and our pace to slow down a bit. Here on the east coast it's suppose to be a beautiful weekend. I'm looking forward to spending time with our friends, enjoying some fresh air, and taking the kids to the pool.
Whatever your plans you might need an outfit or two, so today we're showing you three chic bbq outfits for Memorial Day weekend.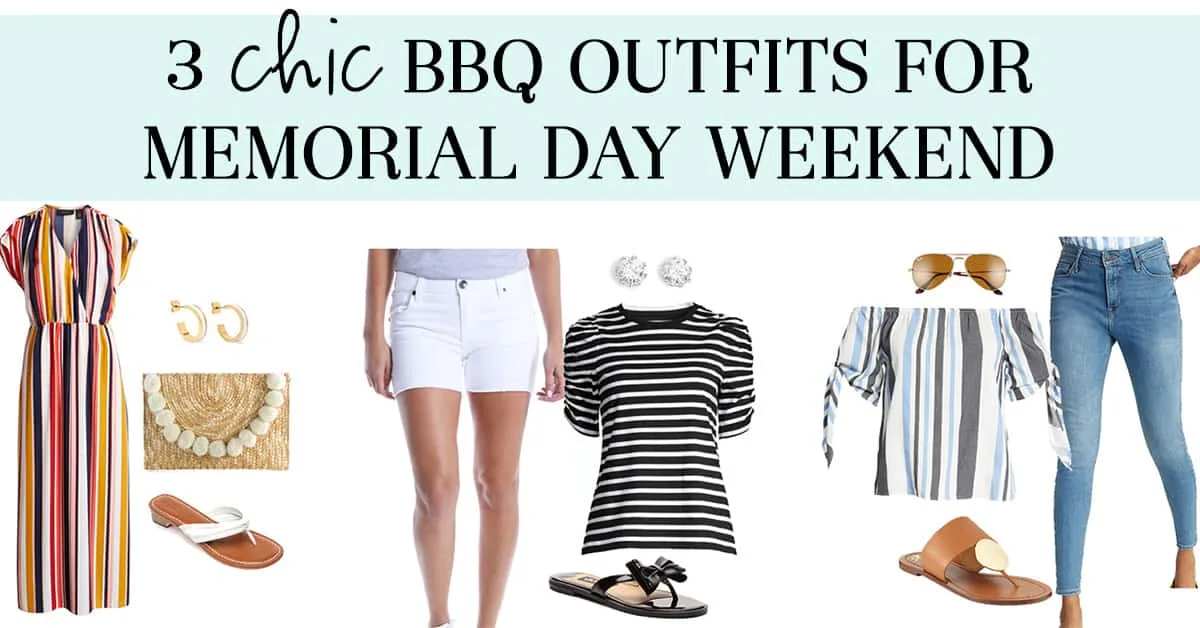 I wanted to create three entirely different outfits using pieces that you either have at home (in some form) or can pick up and use all summer long. For most of us, the summer is a quick season, that seems to move by faster and faster with every passing year.
Picking up a few pieces now will save you time and energy since most summer inventory isn't restocked. That's why if you start looking for a pair of shorts in July you will come up with nothing (our roundup of best shorts comes out next Friday – stay tuned!)
Polished at the Pool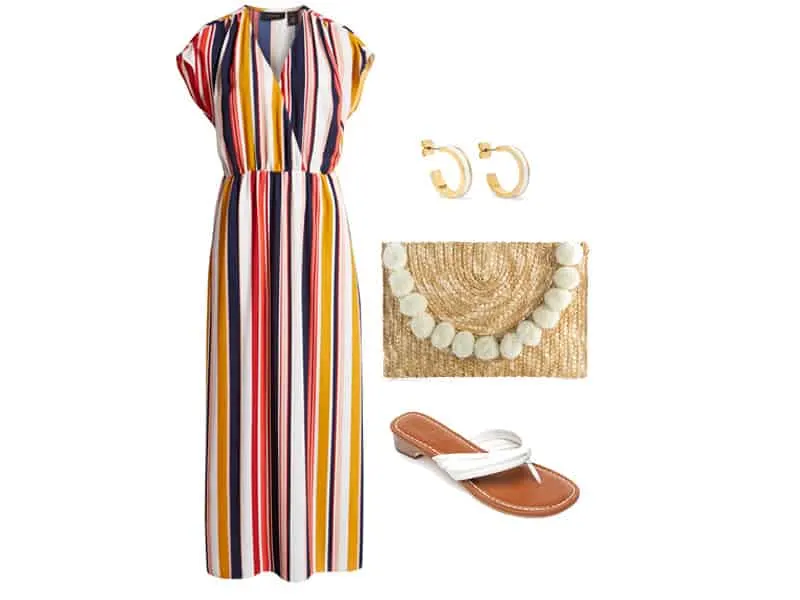 Dress, $89 | Sandals, $158 | Clutch, $20 | Earrings, $50
You know I love a dress as an alternative to jeans and shorts when the weather warms up. It's nice to have pieces on hand that are easy to put together and looks extra polished. I would wear this to the happy hour at our pool or a kid-free night out with friends.
This under $100 maxi dress is by Halogen, a private label found at Nordstrom. We are featuring it in this fresh stripe that feels different and a little modern. It's also available in seven other colors and patterns.
You've seen these earrings before. They are on sale for $50 and are a total steal. Just that little bit of white enamel running down the center of the hoop elevates the earrings to something special. The clutch is on trend and only $20. Carry from now until Labor Day weekend.
For shoes, I would wear a better flip flop. These are called thong sandals, they are made of leather, and will go with so many outfits, especially if you can't wear a heel.
Backyard Party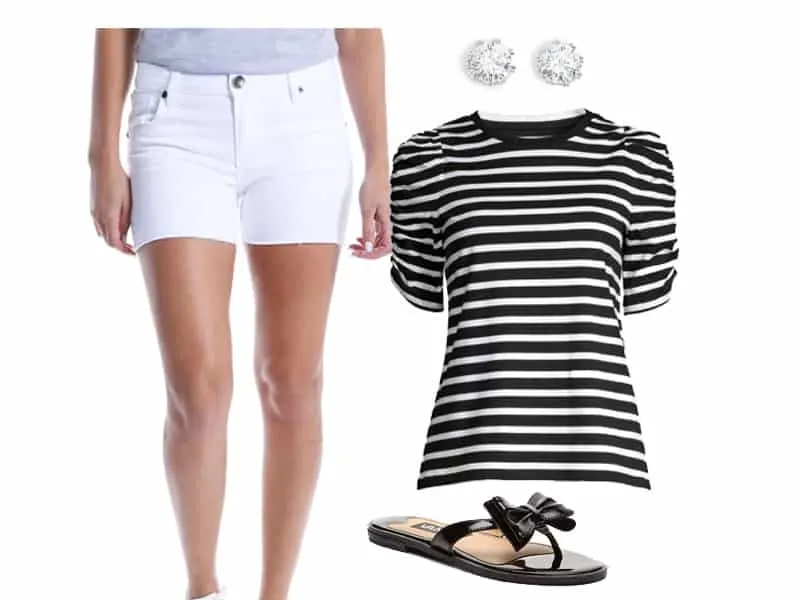 Shorts, $59 | Tee , $88| Earrings, $69 | Sandals, $30
Many of us will be headed over to a friends house with kids in toe. Wearing anything other than shorts and a tee shirt might feel over dressed, but you might be left feeling a little flat. That's why we want to find items that are just elevated enough to look finished without having to add anything to the outfit.
First, let's talk about shorts. They are not for everyone. If you don't like them, or can't wear them for whatever reason, you don't have to. There are lots of alternatives. If you want them, there are some good options right now. I like these by KUT from the Kloth. They have stretch, excellent back pocket placement and come in sizes up to and including a 16.
Next up is a simple striped tee by Kate Spade with a sweet ruched sleeve. This top is selling out everywhere so if you like it, pick it up. Otherwise, look for tees to pair with shorts that have an extra design detail like an interesting sleeve, neckline or hem.
Then, black patent bow sandals for $30 are better than the rubber ones we spend our days in but are still casual, and sparkly earrings finish this super simple look.
Laid Back Day Out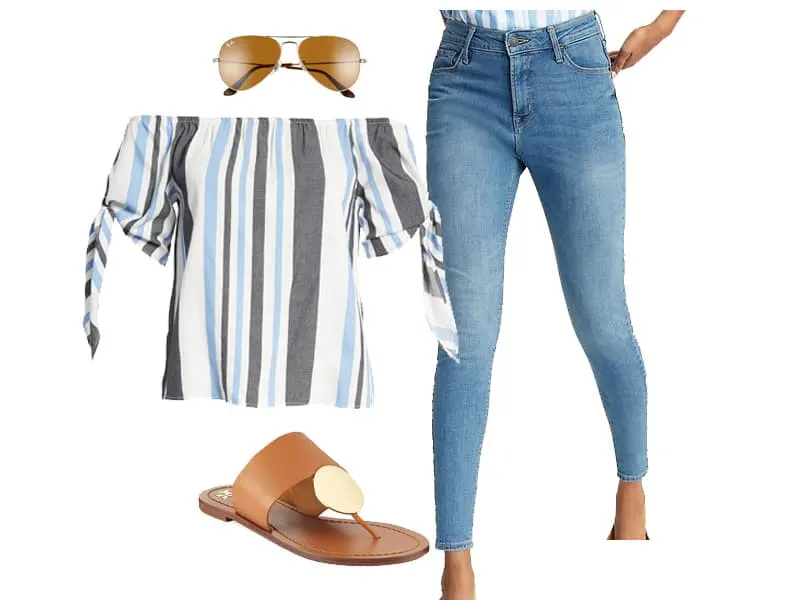 Top, $45 | Jeans, $40 | Sandals, $248 | Sunglasses, $153
Finally, for a day with a few events on the books, skinny jeans and a cute top might be perfect. Here, I used two inexpensive pieces and paired them with a better shoe. This makes the whole look feel updated and is a good lesson in mixing high and low for an overall well composed look.
Old Navy's high waisted ankle jeans are some of my favorites, and while I usually go for a dark wash, I happen to love this lighter wash version for the summer. It's important to call out that the higher waist works well with flow tops. You don't want to see your belly under a top as you move.
This off the shoulder top is only $45 at Nordstrom. Whenever you wear an extreme, balance it with the opposite. So here, we're balancing your exposed shoulders with an ankle jean. I wouldn't wear a bare shoulder top with a pair of shorts because it would be too much shoulder and leg at once.
These sandals are on the expensive side, but I love them. I don't usually like a lot of Tory Burch because she puts her logo everywhere. These, however, look so incredibly chic and are void of any over the top branding. The gold and tan leather combination are also super sophisticated.
Finally, I added my favorite sunglasses, Ray-bans will never go out of style, so if you don't lose them or sit on them, you'll have them forever.
Whatever you wear, I hope you enjoy the long weekend! We still have a post scheduled for this Monday. 🙂