We've received many requests for a capsule wardrobe specifically for a casual office in the summer. "Casual" translates in different ways. The last time I worked in an office, casual was the general guideline for our dress code, but what people wore varied, and depended on their job, role, and seniority in the company. Not surprising, the higher level executives, and go-getting up-and-comers always looked a bit more elevated than everyone else.
I'm of the school of thought that getting dressed for work is a way to show respect for what you do, who you work with and, of course, yourself. So if you work in a very casual environment, you don't have to show up in a three-piece suit – that would be inappropriate and too fussy, but some better, classic pieces and a few thoughtful accessories will take you a long way in looking your best.
As much as this is a capsule that works together, it's also a list of seven pieces that will make building a relaxed summer work wardrobe a bit easier.
Casual Summer Office Capsule Wardrobe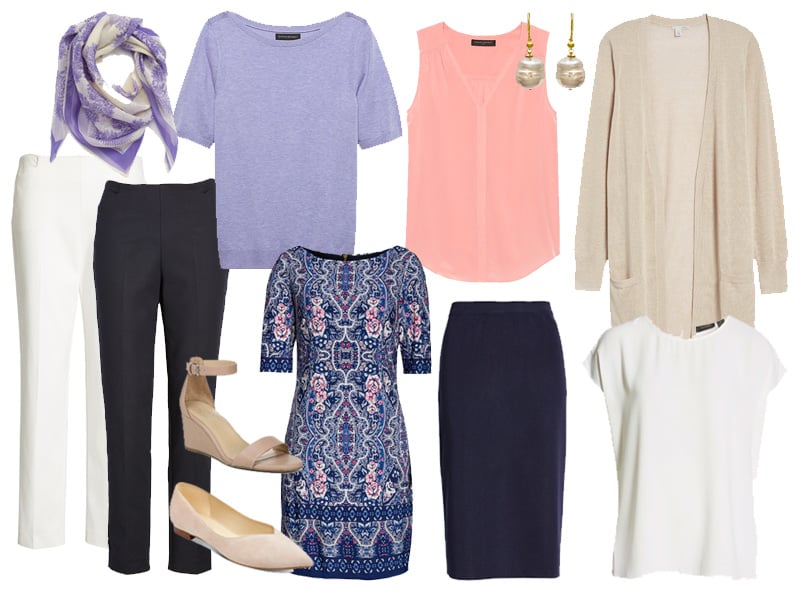 Ankle pant, $52 | Skirt, $150 | Short Sleeve Sweater, $29 | Dress, $71 | Cardigan Sweater, $45 | Sleeveless Shell, $99 | Nude Flats, $69 | Wedges, $60 | Scarf, $79 | Earrings, $80 | Blouse, $49
A Dress
Finding a starting point for a capsule can feel overwhelming. That's why I like to start with a statement piece and pull color and inspiration from it. Sometimes it's a blouse with a fun pattern or a scarf with an interesting mix of colors. Today, we are starting with this shift dress from Eliza J. (on sale for $71). It's available in petite and missy, up to a size 16. The same dress in a different pattern is also available in plus sizes.
I like the idea of a shift dress with a sleeve for a less formal office. You can skip a blazer, and not have to add any additional layers while still looking professional. Pattern can be tricky in a formal business setting, but when the rules are relaxed feel free to have some fun and bring them into the mix.
Pants
We feature so many different styles of pants, it's hard to narrow down to one, but if I have to, for the summer, an ankle pant is the way to go. They work with a heel and a flat, so one pair will take you far. Here, we featured navy and white (they are also available in black).
I went with these particular pants because they have a very flattering side zip, flat front detail and are a cotton stretch blend, making them less formal but still professional. They are on sale for $50 in petite and missy and a similar style in plus size here.
Skirt
Not everyone loves a skirt, so if they don't appeal to you, you can skip right over this. If, however, you like them, and need one that will wear well all day long, this Ming Wang straight skirt is fantastic. It's in a wrinkle-resistant knit, so it wears and travels well. The knit material makes the skirt feel sporty, rather than stuffy. Be sure to have it hemmed at the most flattering point of your leg, just about your knee.
Short Sleeve Top
I'm so excited to have found this short sleeve sweater top from Banana Republic. It's just the piece for a chilly summer office when you don't want to have to wear an extra layer like a blazer. You can wear it with so many things.
If you have printed skirt in your closet and you can never figure out what to wear on top, this is it. If you want to wear a simple top and pants to the office, maybe add a scarf or necklace, this is it. You can choose from eight colors, in XXS – XXL. The neckline and sleeve length are universally flattering, and it will hit right at the top of your hip, helping to elongate your legs.
Sleeveless Blouse
If you need a more significant layering piece, this washable silk shell, also by Banana Republic, is ideal. We've featured it several times in the past, so – yay! – if you already have it. You could wear this on its own if you are comfortable with showing your arms, but it's also a lovely first layer, that works with any topper. Other color options available here.
Lightweight Cardigan
I think it's important to incorporate pieces I know many of you have to help build a wearable wardrobe. This cardigan was a top reader pick after we featured it in our last work capsule. In this collection, you can pair it with the pants and the dress to create some interest with layers and texture.
Simple Blouse
I love the crisp, clean feel of this blouse. You can wear it on it's own, under a jacket or cardigan, add a scarf, or a necklace. It's easy and kind of perfect. It's available in a few staple colors here in missy and petite and in the same color options in plus size here.
Shoes and Accessories
The key to capsule dressing is simplicity and versatility. Keep shoes neutral so they can work in as many outfits as possible. For a casual office, we used a basic closed toe flat and then a streamlined wedge (side note, beige wedges are hard to find but ideal for summer parties and weddings outside or on the beach, so if you need a pair consider picking these up). Both shoes will work with any outfit.
Finally, I found a soft and feminine scarf you can tie around your neck or loop around your handbag. It's especially flattering with the neckline of the sweater top. And these pearl drop earrings are classic with a twist, providing movement and texture to any of the outfit combinations.
See below for a few outfit ideas.
Dress Up or Down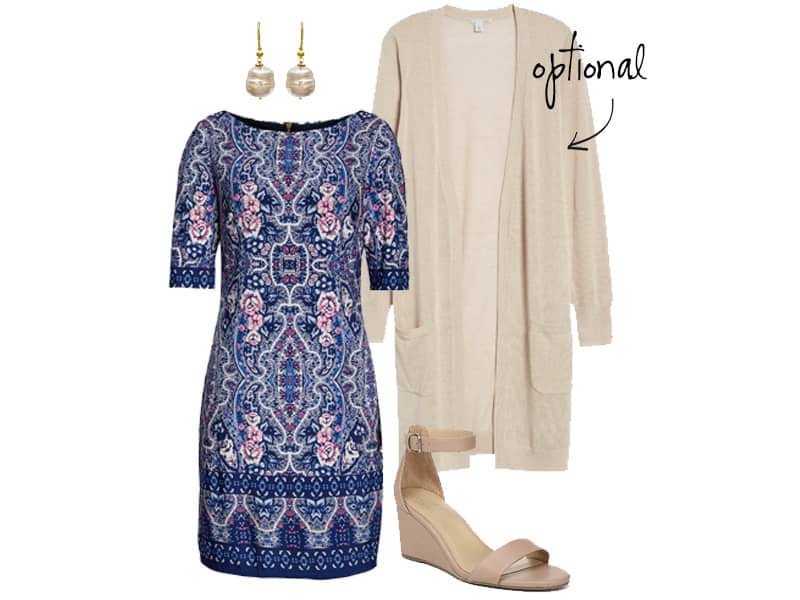 Dress, $71 | Cardigan Sweater, $45 | Wedges, $60 | Earrings, $80
Notes: You can also wear the dress with the flats and no cardigan. Or, if you have the Eliza J. white blazer in ivory you can add that on top for an additional look.
Ankle Pants Three Ways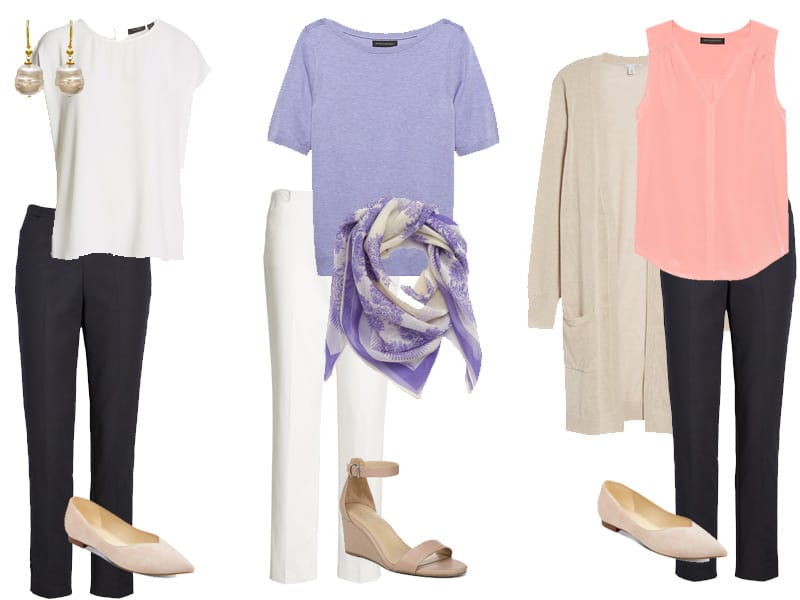 One: Ankle pant, $52 | Nude Flats, $69 | Blouse, $49 | Earrings, $80; Two: Ankle pant, $52 | Short Sleeve Sweater, $29 | Wedges, $60 | Scarf, $79; Three: Ankle pant, $52 | Sleeveless Shell, $99 | Cardigan Sweater, $45 | Nude Flats, $69
Notes: You have so many options here. In addition to the looks above, try a column of white and ivory – be brave! Pair the white pants with the simple blouse and add the beige cardigan, earrings, and wedges. Or pair the blush sleeveless blouse, with the white pants and the beige cardigan and gold tone accessories for a soft and fresh look.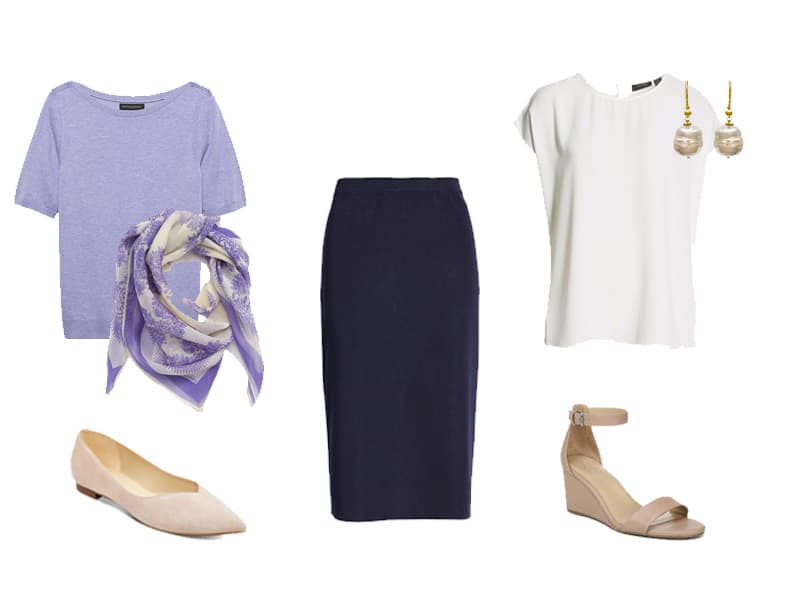 One: Skirt, $150 | Short Sleeve Sweater, $29 | Scarf, $79 | Nude Flats, $69; Two: Skirt, $150 | Earrings, $80 | Wedges, $60 | Blouse, $49
Note: The skirt is so easy; it will work with many tops you already have hanging in your closet. If you are on the tall side, you could also add the long cardigan, just make sure it doesn't overwhelm you and the outfit.