There are tons of articles highlighting spring trends- some of which are hilarious and wild.
But I focus on the trends that will turn into modern basics, the pieces that will make your existing wardrobe feel fresh, and little ways to keep up with the style times without spending a fortune.
And before you send me an email telling me you "don't follow trends," yes, you do.
You just don't realize it.
At the risk of sounding like Miranda Priestly ("you're wearing a sweater that was selected for you by the people in this room"), trends are how style evolves.
The trends that stick are why women wear pants, two-piece bathing suits, and shoulder pad-free jackets.
More recently, it's why we've happily ditched stilettos for sneakers and have "nice" sweats.
Trends for Spring 2023
So let's talk quickly about some high-level trends were seeing.
On the runways, we saw sheer tops, extravagantly detailed denim, long skirts, and shoes that looked like they should be in a museum.
But in mainstream retail we're seeing "elevated everyday", a continuation from the Fall of wearable, clean-lined basics with a baseline of 90s aesthetic mixed in.
There will also be lace details, tweeds, bright colors, a return of some classic shoes and my favorite , "jumbo pearls".
12 Spring Wardrobe Staples for 2023
Today, I rounded up a dozen items that you can buy now and wear now and later in the spring.
These are items that will slip right into what you already have, ideal for this transitional time of year.
And the best part is you probably have most of these in your closet already.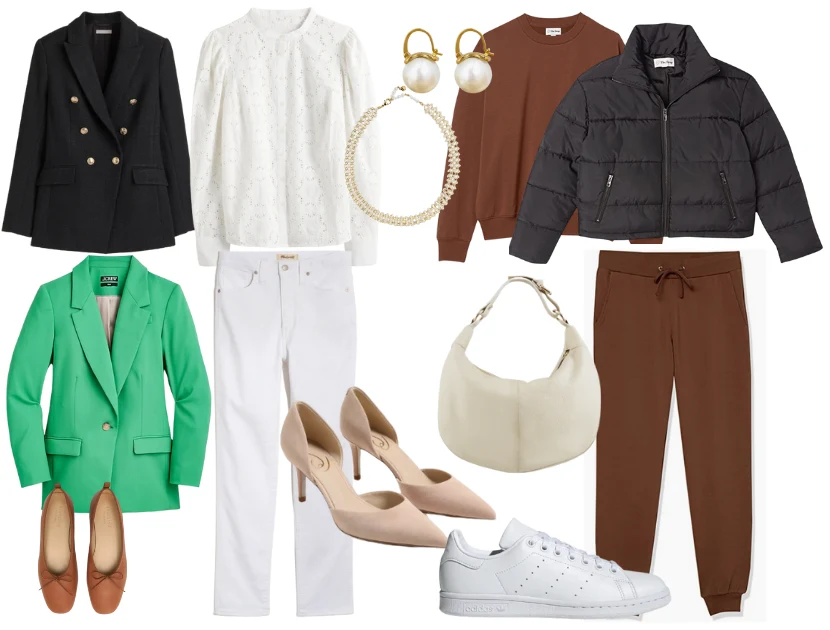 Tweed
Tweeds will be a dominate fabric moving from winter to spring, think Chanel-style with bold gold buttons, fringe detail, etc.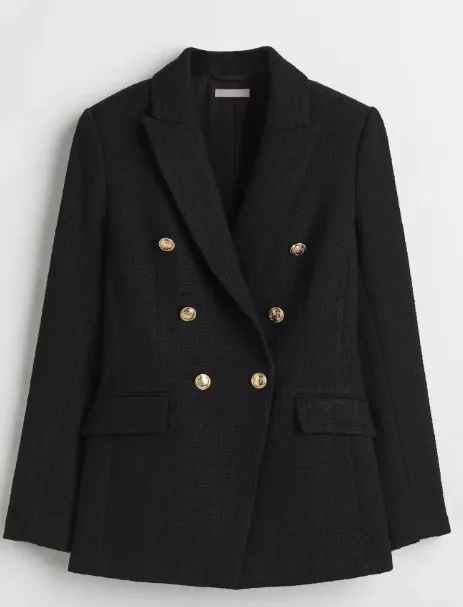 You'll have your choice of colors, but I would stick with a neutral.
I love H&M for jackets like this.
You can't beat the quality for the price.
Our featured jacket comes in XS – XXL for $60.
Create a suited look by pairing with your favorite black trousers or use it as a separate and wear jeans.
Remember: With bold gold buttons you want to keep the rest of your hardware either gold or none at all. Meaning don't carry a bag with silver metal on it, etc.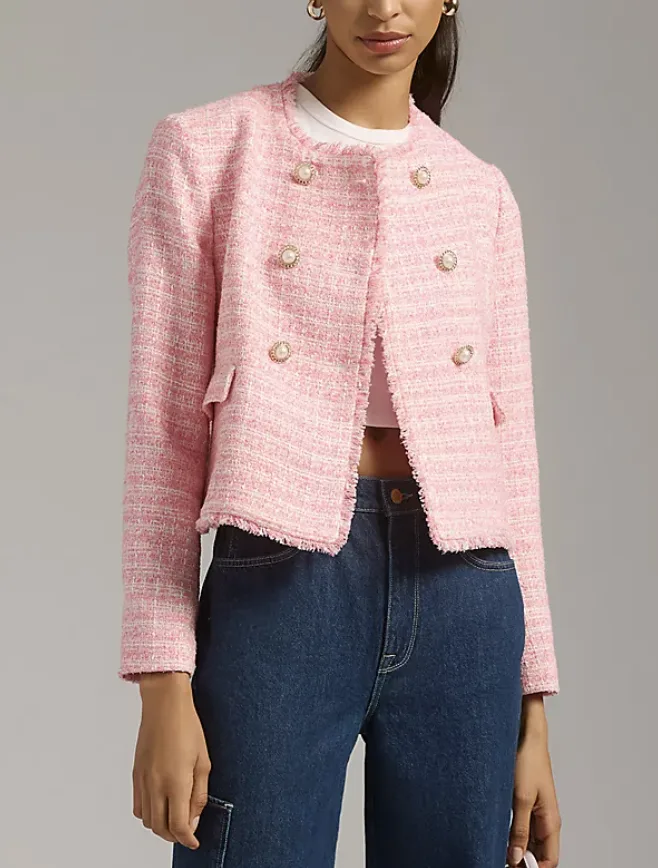 I also like this cheerful pink double-breasted jacket from Anthropologie.
Also available in blue, in a fabulous range of sizes, including regular, petite and plus.
Yay for Anthropologie offering inclusive sizes!
We'll be sharing more from them soon 🙂
Bright Colors
Spring always brings about a new enthusiasm for color, and we're seeing this in extremes ranging from pastels to neons.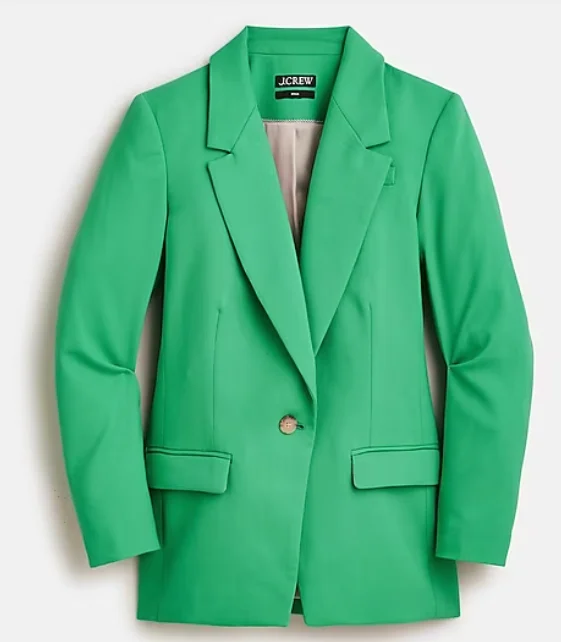 I'm not a fan of of neon, but a bold, poppy color is fun and one of the best ways to make it wearable it putting it in a more traditional style, like a blazer, and we love one from J.Crew.
Available in regular, petite and tall, in 00 – 24.
For a less expensive option, Amazon the Drops brand has a very similar green, also pink, and a bright blue in sizes XXS – 5X.
Just note that the J.Crew blazer is a wool blend.
You can pop either of these over trousers or jeans


Ballet Flats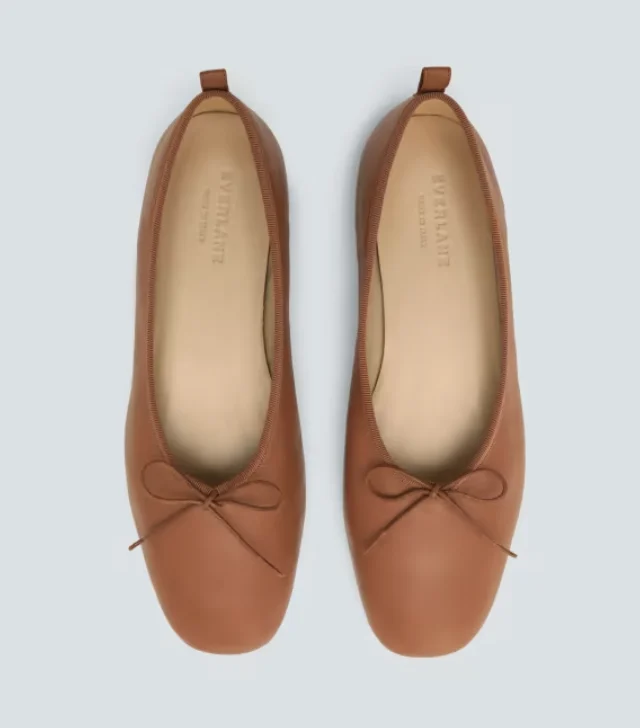 Not everyone likes a ballet flat, but if you love them, you'll be happy this season.
Lots of options will be in stores.
I adore these by Everlane. Made of 100% Italian leather they look designer with a much more digestible price tag.
And they get rave reviews for quality and comfort.
I ordered them in this tan called "sugar almond." Paired with light jeans and a striped shirt … chefs kiss!
Eyelet and Lace Details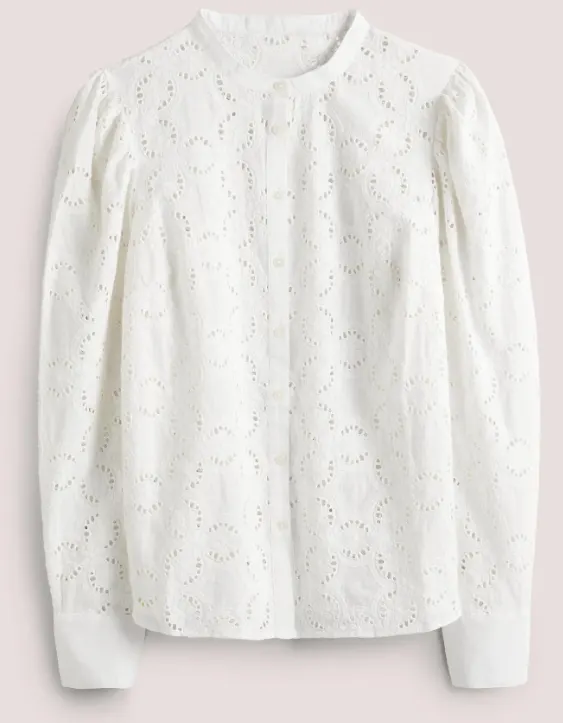 If you're looking for an update to the classic white top, look for something light and lacey, this top from Boden is a great example.
I also like this eyelet boyfriend shirt-style from Gap.
Or take the idea of swapping out a basic tee for an update short sleeve shirt, like this option from Karen Kane at Bloomingdales.
For a plus size option, give this similar style a try.


White Jeans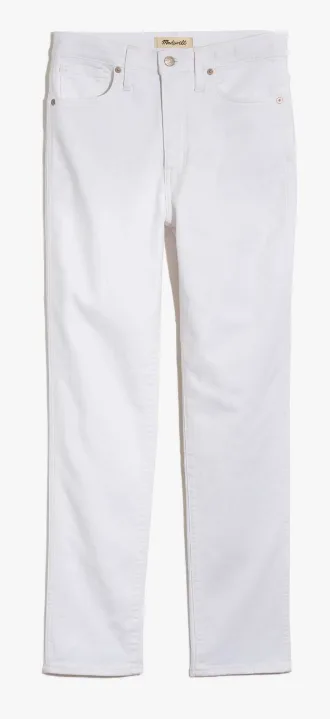 White jeans aren't going anywhere, so if you have a pair, make sure they are in good shape.
My favorite pair are the High-Rise Perfect Vintage Jeans in Tile White by Madewell. I LIVED in these all last spring and summer.
I also like their Stovepipe Jeans in Pure White, available in regular, petite and plus sizes. These are a tad too short if you are tall like me, so keep that in mind.
Both have great stretch and are NOT at all see through.
And the NYDJ Marilyn Straight Jeans are always a good choice, in regular and petite including size 18 with plus size here.
These sell out quickly so if they are on your list, this is not a jean that tends to go on sale, I recommend ordering while there is size inventory.
And size down at least one size. They run large and stretch.
Sweatsuit Sets
If you picked up a few matching sweatsuits in the fall, you'll carry them right into early spring.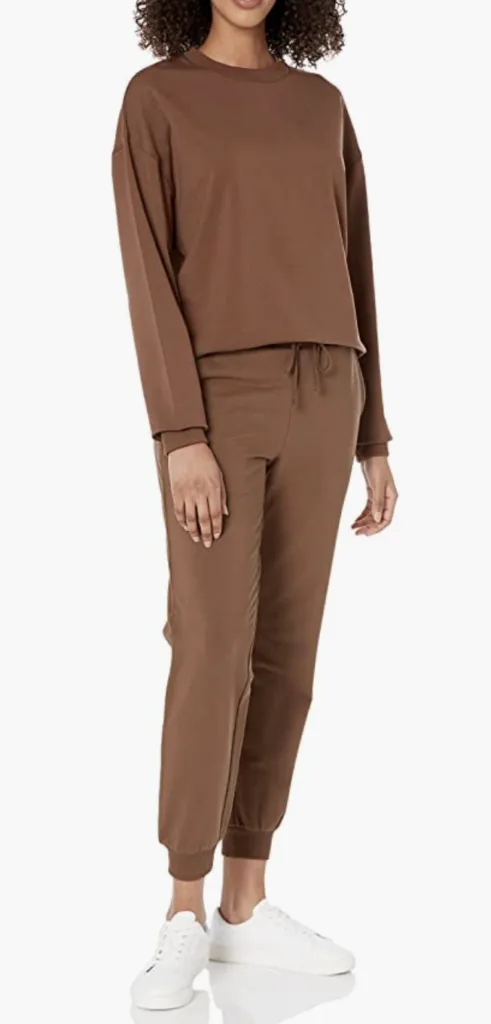 This is what we mean by elevated every day basics, sweatsuits in rich neutrals paired with your favorite better jewelry and chic sneakers (see below) make an easy, comfortable and still pulled together look.
The trick here is to keep the line of the sweats slim.
So nothing baggy or oversized, you want a tailored feel – which sound funny for a sweatsuit.
My favorite option in this category for price, style and quality are the separates from the Drop.
Our Reader Favorites are their crewneck sweatshirt, and these slim joggers.
Available in range of neutral and bright colors, in XXS – 5X.
You can see some other options in our recent round up here.




Chic Sneakers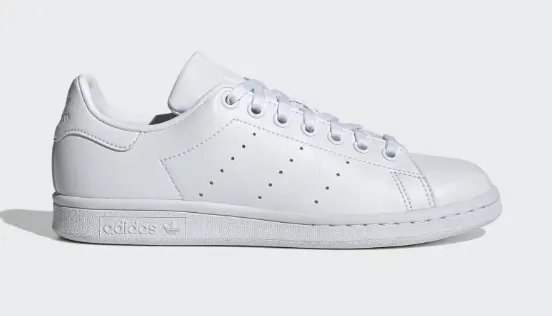 In the same family of tailored sweatsuits, chic sneakers have gone from a trend to a modern classic.
And my feet are so grateful.
Sneakers paired with everything from sweats and shorts to skirts and dresses are still very much the thing.
Of course, you can't go wrong with white sneakers.
You want these to be fresh and bright (and easy to clean is a plus!) with a slim profile.
Like these Adidas Stan Smith Cloud White Sneakers for $100, available in a range of full and half sizes.
If you have a pair of Veja's you'll get a ton of wear out of them, too.
And you don't have to limit yourself to white, any of the neutral sneakers we've shared, like these tan trainers from J.Crew (still on sale) will work with lots of spring looks.

Crescent Shaped Shoulder Bag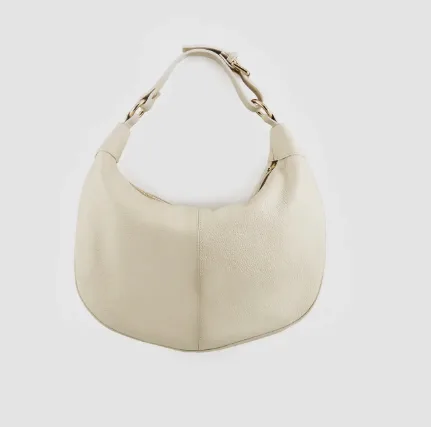 Shoulder bags, specifically in this slouchy, crescent shape are another practical elevated basic.
I know I sound like I'm 100 years old, but I LOVE my shoulder bags.
And our featured bag, from Quince, is GORGEOUS.
It looks so expensive but is only $99.
I'm having a hard time deciding between the "stone" above or my favorite neutral "cognac."
The cognac bag with the cognac Everlane ballet flat (above) would be stunning together.


Pointed Toe Shoes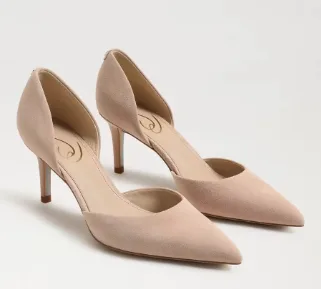 Pointed toe shoes never went out of style.
So I'm happy to see them return to popularity.
You'll see this shape in flats, pumps and boots.
A pointed or elongated toe helps create along line to your leg and works on any body type with any style bottom.
If you're just building a go-to shoe capsule, look for a shade that is neutral to you, in a heel you can manage.
The Viv Pointed Toe Pump from Sam Edelman has one of the best selections of neutrals, currently fully stocked up to a size 12.
Jumbo Pearls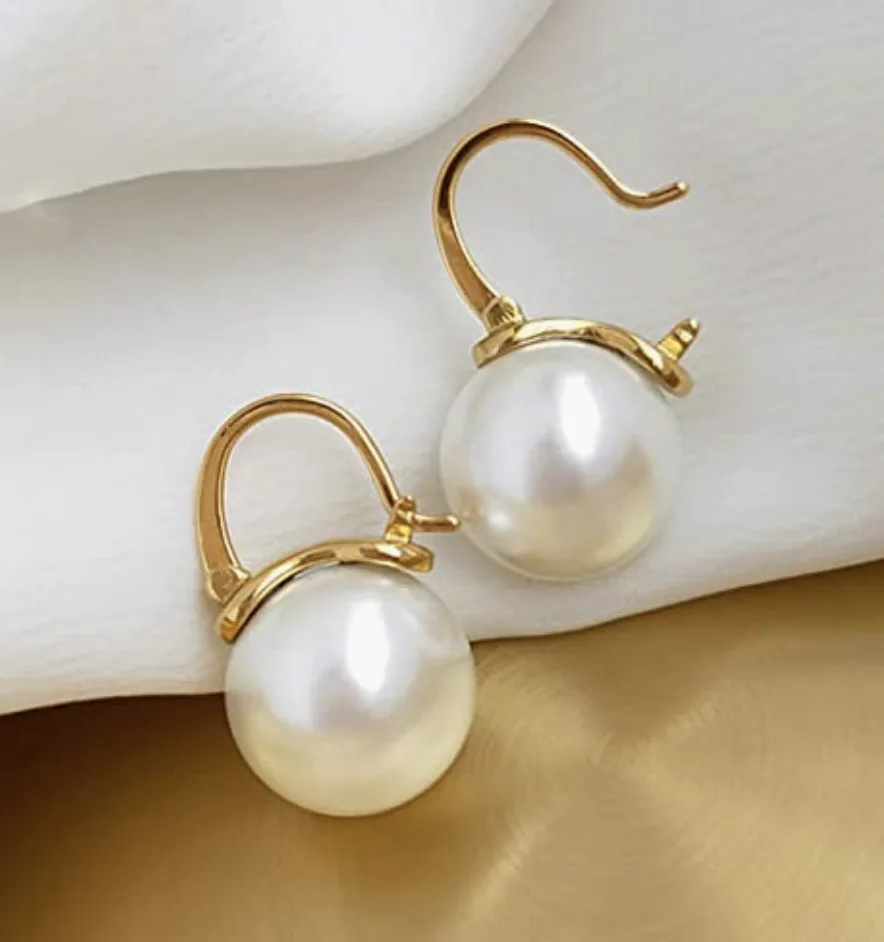 One trend I am so delighted to see is pearls coming to the forefront of jewelry.
Oversized pearls in all applications, from rings to necklaces will be everywhere at all price points.
So I'll be using these dangle pearls, our new favorite under $20 earrings in big rotation. Wear them like you would your studs, throw them on with anything.
They are super affordable so you don't have to be precious with them.
It's also a great time to pull out some your Julie Vos pieces, like here Penelope Pearl Stud Earrings.
Pair either of them with jeans and a white tee and sneakers, or with a flowly floral dress.
Collar Necklaces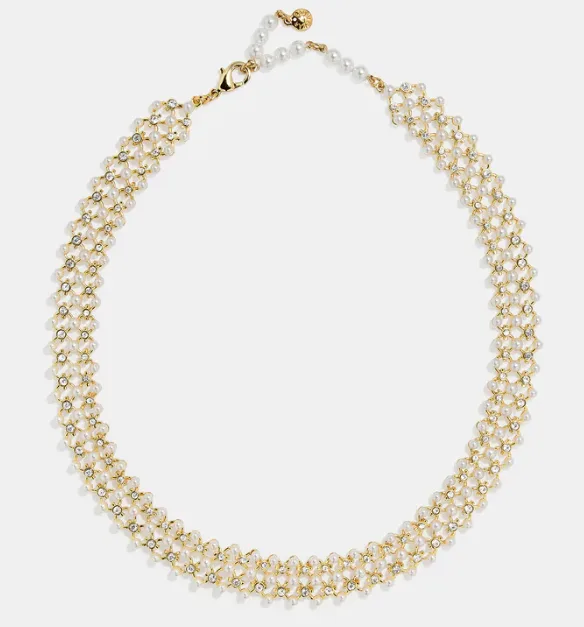 Collar length necklaces are the newest style to gain popularity.
Longer than a chocker but shorter than your standard 16″, these will fill in the collar of a button down or v-neck, sit in the band of a crewneck or just drape over a boat neck.
They remind me of the statement necklaces of the early 2000s, but way chicer.
Our featured necklace from Baublebar and mixes the collar length with pearls for a double hint of trend that you can easily dress up or down.
Cropped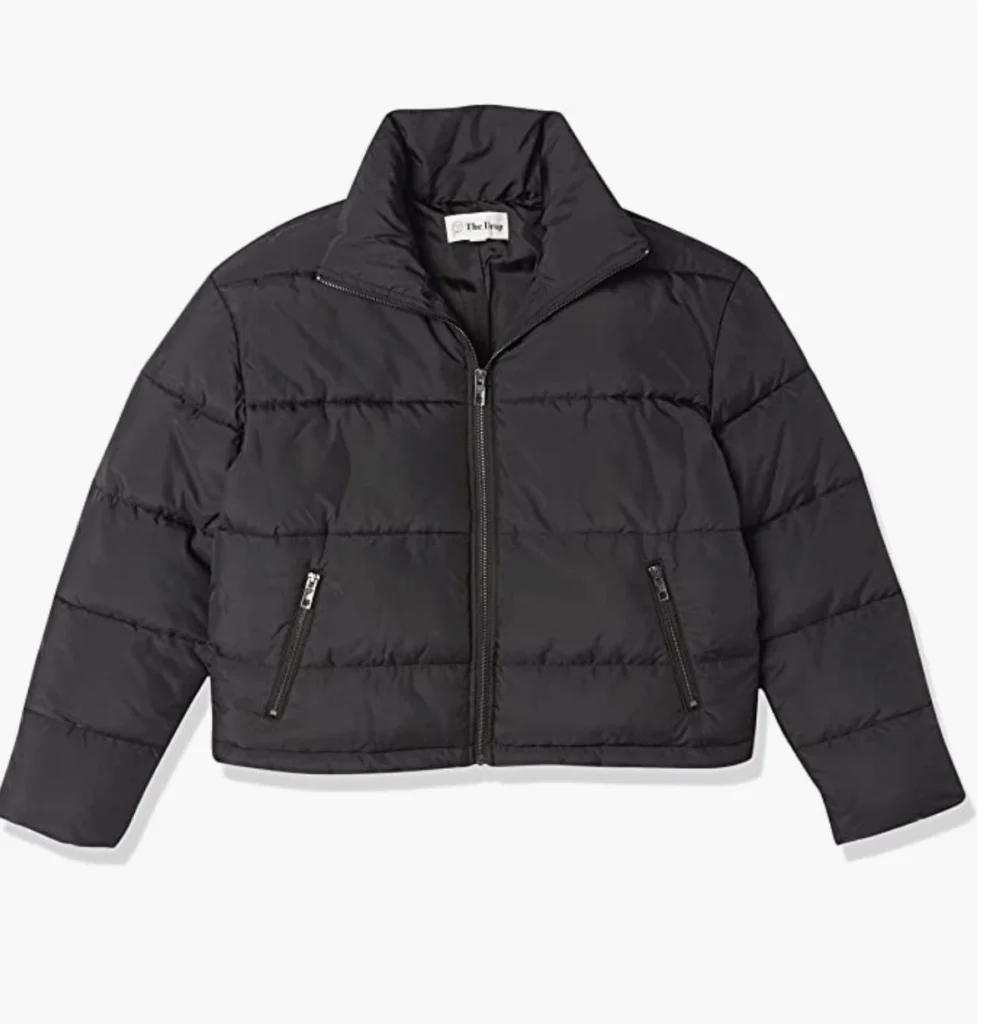 Finally, cropped length has reached mainstream popularity.
But don't freak out, we're not talking about cropped shirts – though they are abundant right now, too.
Instead, think of "cropped" as short. Short in length shirts, sweaters, and my pick jackets.
For me, a short top hits right at or above my hip bone, and helps show off my long legs.
I especially like this length in athleisure.
I just ordered this cropped puffer, from Amazon's the Drop, in black, to pair with leggings and joggers.
And I love this cropped half-zip pull over also from Amazon. It's a dupe for the Lululemon Scuba half-zip hoodie, for a fraction of the price.