We launched a simple 12 piece wardrobe capsule in March and everyone loved it.
So let's do one for May.
This month, I wanted to create a capsule that could not only mix and match together, but could layer into what you already have and add interest.
We share a lot of basics, as I want you to have your baseline set before you move on to interesting pieces.
And May feels like a good month to add some personality as we stroll toward summer.
So let's jump in.
12 Piece May Capsule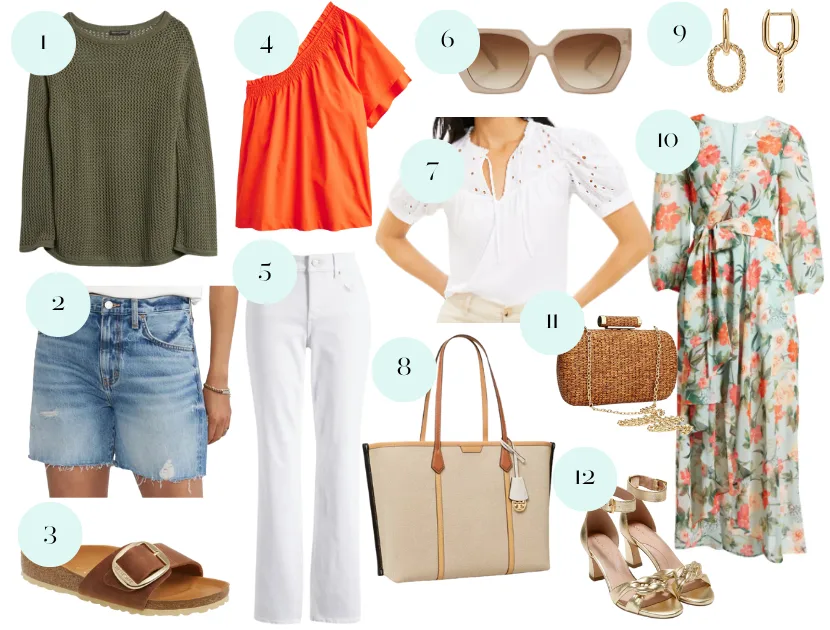 I start each capsule inspired by a print or color way I can build off of.
And this month I had an immediate reaction to this gorgeous floral high/low maxi dress from Eliza J.
With that as our starting point, the capsule really fell into place.
Below we're featuring pieces you've seen before and new finds that will elevate to your spring/summer wardrobe.
Please remember these posts are both shoppable and for inspiration. I only feature items I personally recommend.
And I do my best to include as many sizes as possible, but I'm bond by what retailers offer.
Also, this time of year things sell out quickly, please note I have no control over inventory.
Open Stitch Sweater
We have shared this Open Stitch Sweater several times, and I have some real life looks coming later this week.
Available in XXS – XXL (I took the medium) in olive (featured), black and white.
I like this because it is super light, so you can wear it in the summer, and it adds texture and dimension to any outfit.
Pair it with summer trousers, jeans or shorts.
From Banana Republic Factor for $51.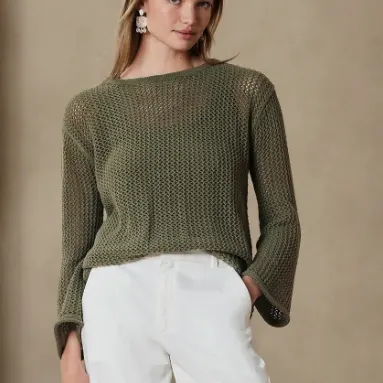 1
Open Stitch Sweater
Banana Republic Factory
$51.00
Etica Skylar Relaxed Denim Short
I have been on the hunt for a denim short with a subtle amount of distressing that fits my grown up body.
Up until now they have been too short, and styled like they were victim of a bear attack, or so long I look shipwrecked.
But I like this relaxed style denim from LA based brand ÉTICA, with lived-in distressing and a 5″ inseam.
Sizes are rather limited, ranging from a 25 – 30. I took the 29.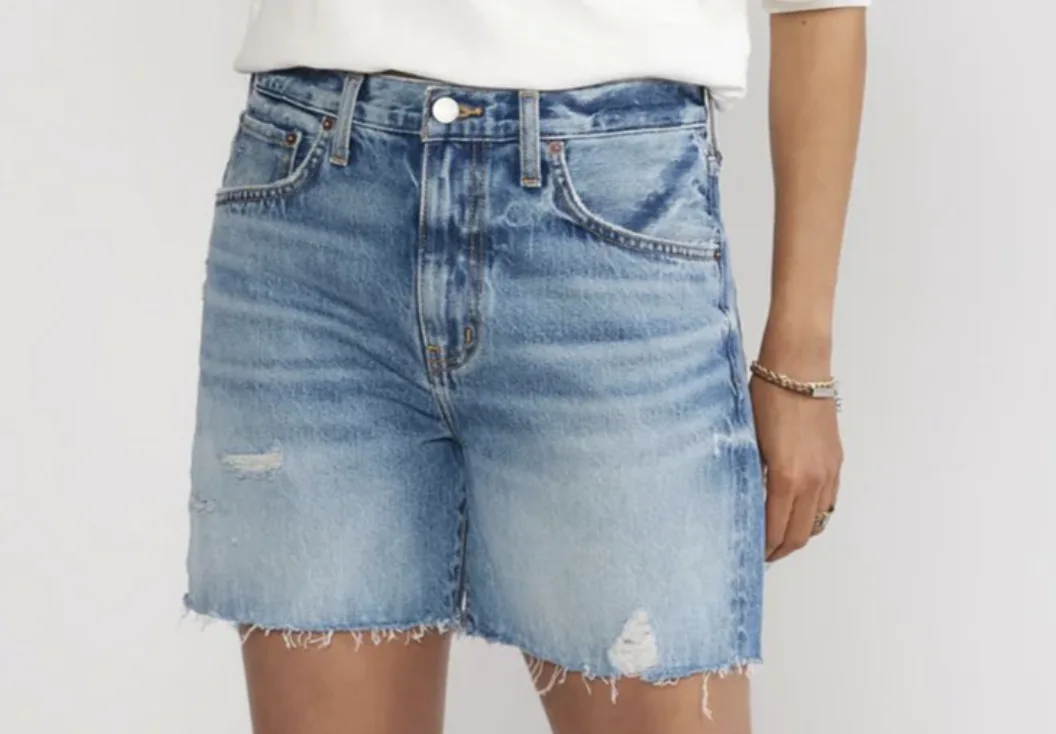 2
Etica Skylar Relaxed Denim Short
Faherty
$158.00
Madrid Big Buckle Slide Sandal
I love these updated Birkenstocks as a flip-flop alternative for casual summer looks.
They are super comfortable, and the oversized buckle detail makes these feel a bit more substantial.
I went with the cognac leather, since it will go with everything.
Black or white is also available.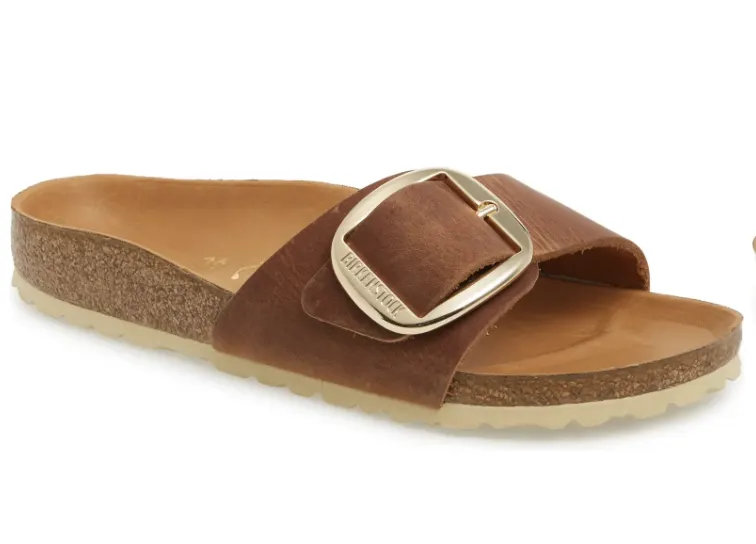 3
Madrid Big Buckle Slide Sandal
Nordstrom
$140.00
Smocked One-Shoulder Top
You're not all going to like this option and that's ok.
But I want to share personality pieces in this capsule.
I happen to like a one shoulder top as a novelty piece in the warm weather.
This one from J.Crew, done in a cotton poplin, is currently 30% off of $79.50..
And in this Persimmon color it looks great with white, any denim wash, navy or a olive green bottoms.
Also available in black, in sizes XS -3X.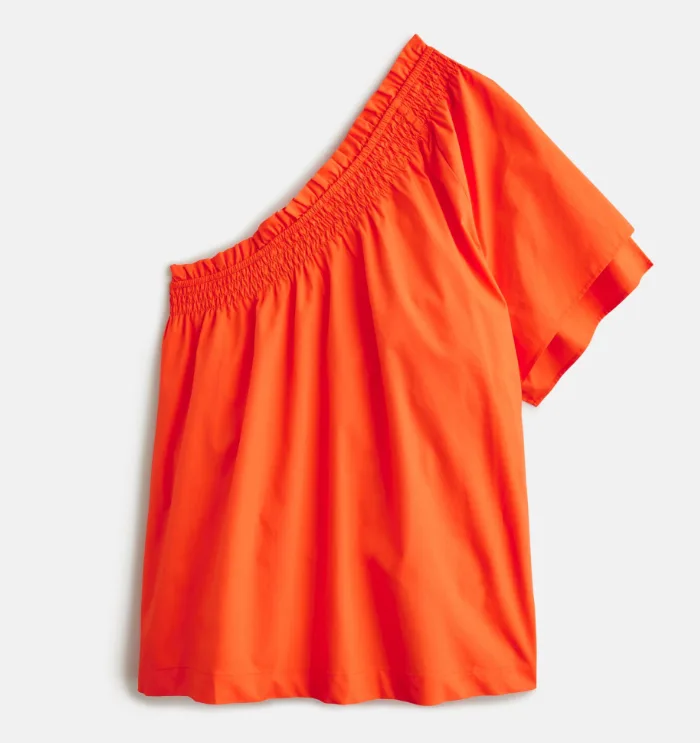 4
Smocked One-Shoulder Top
J.Crew
$79.50
Marilyn Straight Leg Jeans
Next, white jeans.
We talk about white bottoms all the time.
They just make anything you wear on top feel fresh.
And the Marylin Straight Leg from NYDJ are a reader favorite.
Available in sizes 00 – 18 here.
And all sizes including Tall and Plus here.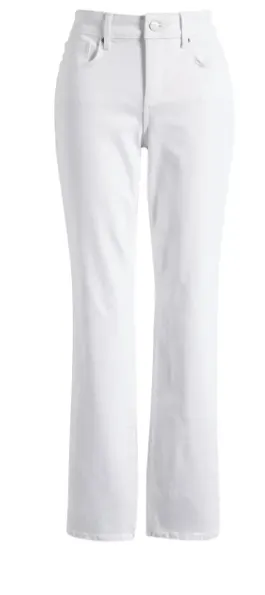 5
Marilyn Straight Leg Jeans
NYDJ
$109.00
Retro Polarized Oversized Sunglasses
A light colored pair of sunglasses ties in with our color story perfectly.
And these retro style sunnies from Amazon, priced at only $15 are just the thing to play with something different without committing to an expensive pair.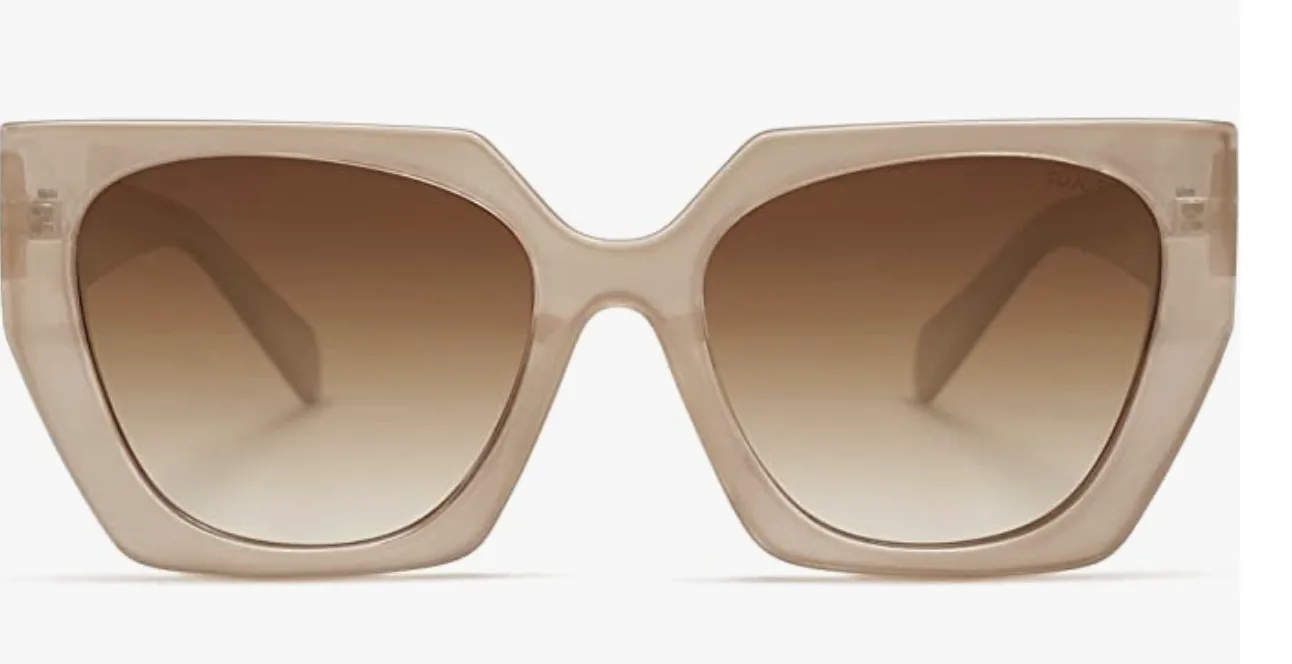 6
Retro Polarized Oversized Sunglasses
Sojos
$15.00
Eyelet Tie Neck Puff Sleeve Top
This pretty eyelet top from LOFT was one of our best sellers last month.
I like the open neck that helps balance the puff of the sleeve.
It looks adorable with denim shorts, twill bottoms or summer jeans.
And it's part of LOFTs current promotion: 50% OFF $200+, 30% OFF $100, OR 20% OFF $50! CODE: LETSGO.
Available in white, black or lavender in XXS – XXL in regular and petite.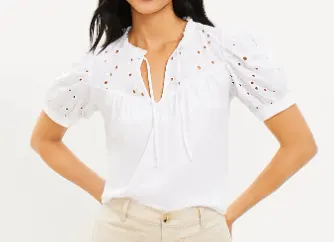 7
Eyelet Tie Neck Puff Sleeve Top
LOFT
$59.50
Tory Burch Perry Tote
Hold the phone, this gorgeous tote from Tory Burch might be the perfect summer bag.
Originally $398, now, save over $100 on this leather trimmed canvas tote, with protective feet and extra internal pocked.
I adore the neutral colors and sophisticated styling.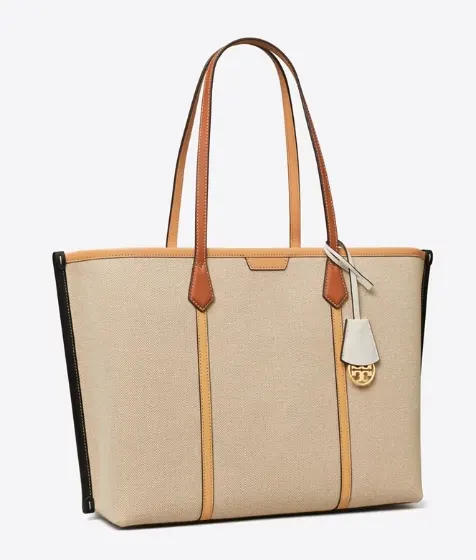 8
Perry Tote
Tory Burch
$279.00
PAVOI 14K Gold Double Hoop Rope and Plain Link Earrings
PAVOI is one of our best selling brands from Amazon.
They make fantastic jewelry for incredibly affordable prices.
I recently ordered these Double Hoop Earrings and they are fabulous.
Only $15 in either yellow or white gold.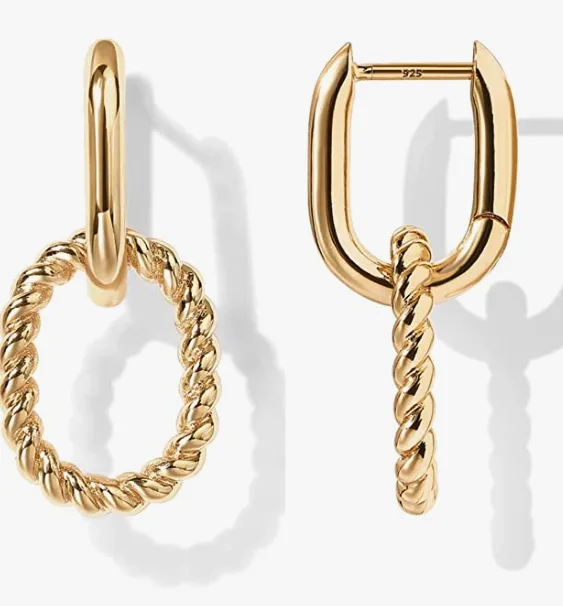 9
14K Gold Convertible Rope and Plain Link Earrings
PAVOI
$15.00
Floral Long Sleeve High-Low Dress
The dress that inspired our capsule is from Eliza J.
If feels like a garden party, so take it to a shower, brunch or afternoon wedding.
We love a high/low hem around here, and the v-neck and wrap style detail are flattering on everyone.
This pattern is selling out quickly.
I also like this pink floral pattern, and this one with a navy background.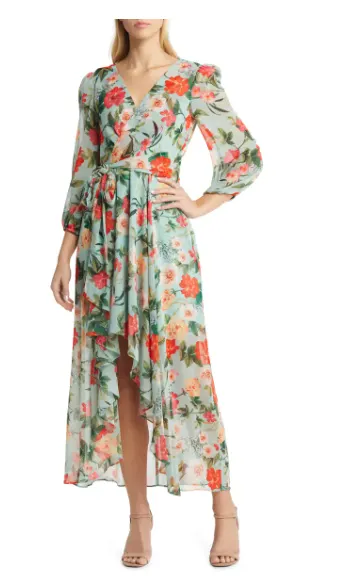 10
Floral Long Sleeve High-Low Dress
Eliza J
$168.00
Straw Clutch Purse
We can't feature an occasion dress without sharing our favorite summer clutch.
Done like a straw bag but it has some kind of coating on it to keep it smooth to the touch.
I've carried it several times already and EVERY time someone stops and asks where it's from.
Needless to say they are shocked it's from Amazon for under $30.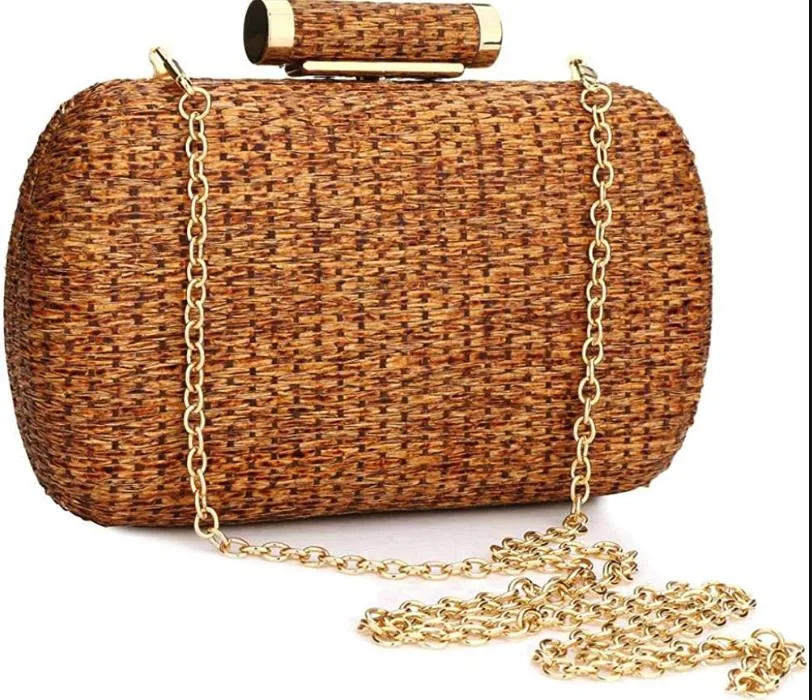 11
Straw Clutch Purse
Amazon
$28.00
Adella Braided Sandal
Finally, if you are looking for a special occasion shoe that has a modern, yet timeless style, you may like the Adella Braided Sandal from Cole Haan.
They have a nice 2.5″ block heel, which I find to be the easiest to walk or dance in.
And I love the gold color, braided detail and interesting heel design.
And these are dress-up, fashion shoes, ladies. I do not have any recommendations for shoes that look like this for any kind of foot challenges. 😉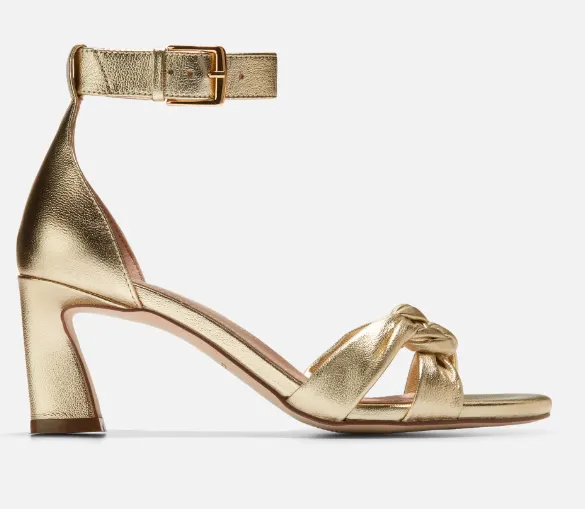 12
Adella Braided Sandal
Cole Haan
$180.00